It's that time of year when politicians from all sides of the political divide begin their annual trek north for one of the most important events on the political calendar, but this year's will be more important than most.
The Shane Jones annual party will be his last as the Ambassador for Pacific Economic Development, that much is publicly known.
It may be one of the last occasions at which he is more defined by his past, as an ex-Labour MP, than his future.
This time next year, he will almost certainly be a New Zealand First MP.
Less certain is whether he will be part of a coalition government and if he is, which ministerial portfolio he will hold.
But what happens on the way to his re-entry to politics will be as intriguing as what happens when he gets there.
Jones is one of those politicians who may not be a leader but who is such a known personality that he or she can enhance their leader's appeal.
Paula Bennett adds zing to Bill English, the guy who was known as the young fogey when he was in his 30s.
Jacinda Ardern would add a fresh dimension to Andrew Little's leadership team if he was bold enough to make room, as I argued here last week that he should.
Winston Peters is trouble to any establishment - except when he's in it. Jones and Peters spell double-trouble. Jones would be an asset for a party that has survived 24 years on the reputation of one man.
Quite how a small party like New Zealand First accommodates two such huge personalities will be a wonder to watch but there will still be only one boss.
Quite how Jones' highly orthodox views on economic development and trade will sit within some of New Zealand First's more Trumpish policies will be a curiosity, but not an obstacle.
The benefits of having Jones on board will outweigh mere matters of inconsistency.
The biggest threat to a resurgent New Zealand First will, ironically enough, be Trump himself, depending on whether his extreme America First doctrine persists beyond his first 100 days.
If he continues to unsettle and fascinate the world with nationalist fervour, it will have two effects on the election: it will consume a lot of interest and air time both of which are finite commodities in an election campaign, and it will create insecurity of kind that will favour the incumbent Government.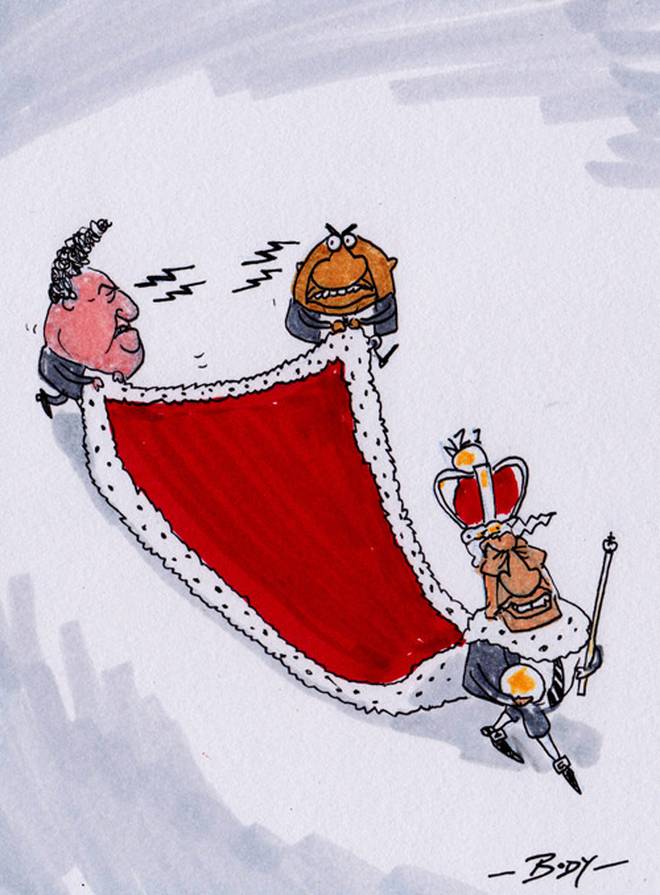 Jones is not a universally popular prospect for New Zealand First loyalists. A Never Shane Face Book page opposing his candidacy has been set up evidently by anonymous party insiders "to challenge the media narrative that Shane Jones is the next leader of NZ First".
"We're a network of NZ First members and supporters opposed to Shane Jones," it says, although with 190 followers it is not yet a mass movement.
It says Jones is "a neoliberal who supports the TPP, corporate welfare, and trickle-down economics - he is not NZ First".
The site also points out that any Jones candidacy would need a rules waiver from the party board because he is not a party member.
Deputy leader Ron Mark may be the most threatened by the imminent rise of Jones in the party and he might secretly delight at the Never Shane sentiment but he is too seasoned a politician to involve himself with such blatant dissension from what are clearly Peters' plans to at least have options over succession.
Jones as a new list MP for New Zealand First would not walk into Ron Mark's deputy leadership position.
But he would be a contender for the leadership in 2020 when Peters, at 75, may be reconsidering his immortality.
How a small party like New Zealand First accommodates two such huge personalities will be a wonder to watch.

SHARE THIS QUOTE:
The easy test for the New Zealand First board is to ask itself when considering waiving the rules is what National or Labour would think about the move - and the answer is obvious.

Whatever they say publicly, privately they will be worried, especially about the impact in regional New Zealand with whom Peters and Jones have some affinity.
Combined, they will have the potential to pick up loose support from both Labour and National.
Both are sons of the north, brought up on dairy farms, who understand the regions.
They have the gift of the gab, although it remains to be seen whether Jones uses his wit as cuttingly against National as Labour. (Any imbalance in that regard would offset Peters, who finds it easier to condemn his old party, National, than Labour).
Jones embodies a group of Kiwi men in particular who don't see Labour as their natural home any more, who believe it is too hung up on the identity politics and is too close to the Greens.
Jones and Peters would probably accept Gareth Morgan's attacks last week as compliments - the Maori who are not afraid to call out other Maori when common sense demands it.
Jones did it this week when Waitangi's Te Tii Marae tried to extract $10,000 from Newshub and 1 News for exclusive broadcast rights of the powhiri: the equivalent of a cultural "shakedown" he called it and a type of extortion.
Little's incredible tin-ear on Waitangi has persisted for several weeks. Despite his own MP Kelvin Davis now expounding on the dysfunction at Te Tii Marae, Little is still going on about English not going to Waitangi as a failure of leadership. As English said yesterday: "I hope he keeps on saying it."
Jones and Peters are more acutely attuned to the centre ground of politics. As almost all leaders accept that that is where elections are won and lost.
The Jones annual party attracts MPs of both the left and the right.
Some even go on to Waitangi.