More than $1 million will be spent on security bollards at Parliament that have caught out innocent drivers.
Labour MP Trevor Mallard went on a fact-finding mission after he fell victim to the notorious electronic bollards last September.
Mallard's Ford Mondeo station wagon was struck by the rising bollards, annoying him as he said he had waited until the lights signalled he could drive across.
He subsequently put 10 written questions to Parliament's Speaker David Carter, which reveal the total budget to install the bollards at four entrances is $1,078,000.
As of November a total of eight vehicles had been struck by the bollards, with three of the incidents involving ministerial VIP cars.
Carter said two of the incidents involved unauthorised vehicles tailgating another vehicle.
Mallard said whether the bollards were value for money would depend on the effectiveness of the system.
"Clearly I have had a negative experience with it ... they will have some report that indicates it is necessary. But I am yet to be convinced."
There was now an "enormous" amount spent on security and other aspects of the Parliamentary precinct, Mallard said, and he believed much would be better directed to health and education budgets.
The bollards didn't make him feel any safer.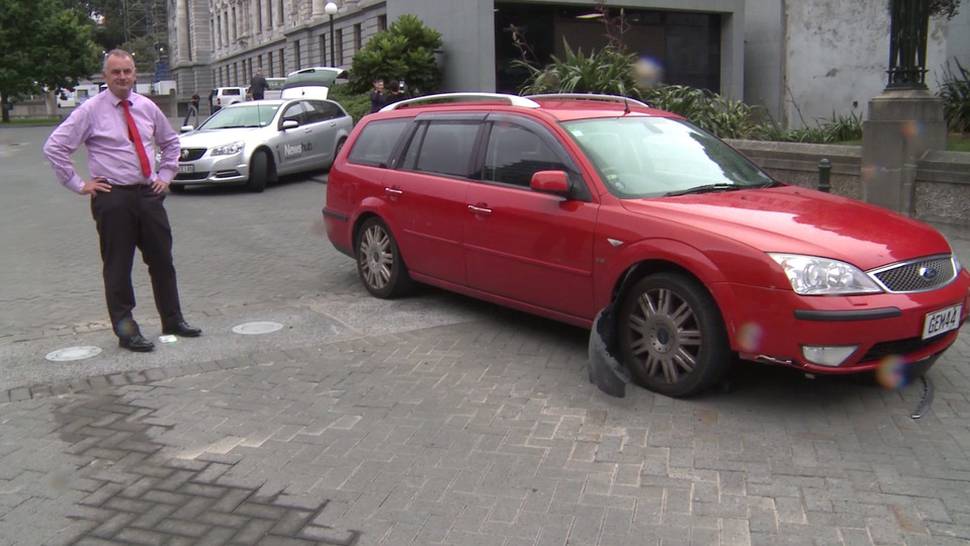 "Not at all. It would probably stop someone in a farm truck with petrol but wouldn't stop a terrorist in a taxi."
The sensor-activated bollards were installed in August and are designed to prevent attacks on Parliament.
The additional safety measure was introduced after a security threat on Budget Day in which a man drove a ute onto Parliament's forecourt.
The bollards retreat into the ground when activated by a sensor inside a vehicle.
Despite the accidents, Parliamentary Service maintain there are no design faults and drivers must time their run over the bollards as there is a limited window before the bollards come up again.
When Mallard's car was struck last year it remained wedged on the bollard, attracting the attention of press gallery reporters, whose offices overlooked the accident.
The noise of the collision had "attracted predators from not very far away", Mallard said at the time, adding that staff at the neighbouring Treasury building were holding a sweepstake on when the next crash would occur.