"The Auckland Council bylaws provide for quite severe penalties for littering. Perhaps Mayor Phil might like to come out to Mill Road, Bombay and pick up the rather tattered remains of one of his election campaign signs." writes Bruce Owen of Drury.
Barefoot in paradise
Are New Zealanders as laid back as they're famous for? asks Quora.com. Aaron Hodges answers: "Christmas Day I looked around at my family's feet. Despite being outside for the most part, out of 15 adults and children, only two were wearing shoes. And those were jandals (flip-flops).We're so laid back we don't even bother wearing anything on our feet in NZ."
I said get in the Roller, Euripides and Figgy
Tatler has produced a list of the best posh baby names for 2017. They assure readers every name is real, even Npeter (with a silent N). Yes really. Others names for boys include Euripides, Fenston, Wigbert, Victory and Quail. Making a comeback are Kenneth, John and David. Girls are also burdened with Debonaire, Hum, Figgy, Koala, Monaveen, Czar-Czar and Gethsemane. Although Una, Wendy, Nancy and Blanche have been revived.
Yes we have some tomatoes
"My dad who lives in Mt Roskill has one plant, a tomato plant which has over 260 tomatoes growing on it," writes Vanessa. The secret to such bounty? New fresh soil that has been dormant for a year or two (never plant a tomato plant in soil that has already had another plant in it). Add chicken manure and a slow release fertiliser, and regular watering. "He bought these particular plants from a grower in Oamaru (Riverview Growers). This variety he bought is called "Riverview Ruby", an Italian Roma type."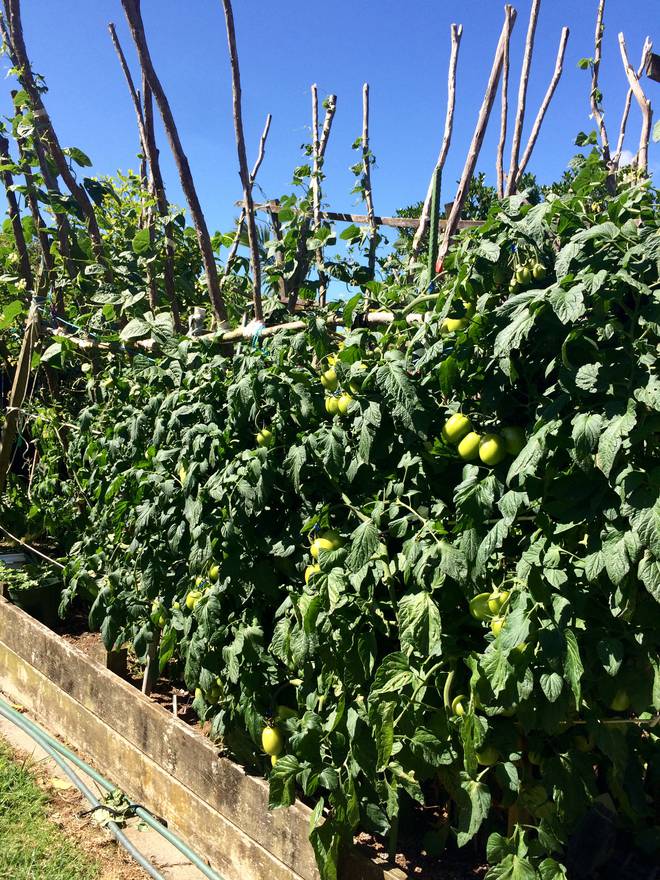 New words that may make you feel old
These words which all seem relatively new are actually 25 years old and all had their first citation to 1992 in the Oxford English Dictionary. According to Mental Floss:
MEH: The word meh was not invented in 1992. It's a Yiddishism that goes back a long way. But it first shows up in a 1992 Usenet post about the TV show Melrose Place with "Meh far too Ken-doll for me".
BOOTYLICIOUS: The original citation for bootylicious is from a 1992 line rapped by then-called Snoop Doggy Dogg ("Them rhymes you were kickin were quite bootylicious") where it had a negative meaning - weak. Later it became a positive word for shapely and attractive.
TRUSTAFARIAN: This blend of trust fund and Rastafarian got a first mention in the Washington Times, where it was defined as a "guy who has long hair and a trust fund, drives a Saab or Jeep, listens to reggae, and doesn't let a whole lot bother him."
BESTIE: (Best friend) started in the UK and has been around for 26 years.
Media: Mundane stories parading as news.
Picture this: The Year In Pictures from the New York Times.
In case you missed it: Dunedin judge living in a bubble; didn't know what an emoji was...Read more here.
Video: The Gotye/Kimbra hit 'Somebody I Used To Know Back' gets an 80s makeover and it's pretty good...