Lobby groups are vowing to keep putting up roadblocks in rural Northland until councils take action to fix dangerously dusty roads.
Protestors blocked four roads yesterday to draw attention to the risks posed by clouds of dust thrown up by heavy traffic, logging trucks especially, on the region's unsealed roads. They say the fine dust contaminates water supplies, harms health and creates traffic hazards.
The protests, at Pipiwai, Ngapipito Rd, Motatau and Matawaia, targeted forestry vehicles on the first day of logging after the Christmas break.
John Luisi, of Pipiwai Titoki Roading Action Group, said there had been four similar protests in the last four years but this time they would not give up until action was taken to fix the dangerous dust problem.
Dust tests at various sites near Pipiwai showed PM10 (the smallest dust particle) levels exceeded health guidelines. Inhaling the particles could be carcinogenic, Mr Luisi said. The dust also impaired visibility on the twisting, narrow roads and coated roofs from which rainwater was collected.
The protesters had informed police and logging companies about the roadblocks.
No log trucks were using Pipiwai Rd yesterday but any forestry support vehicles were turned away. Mr Luisi said the protest was legal because the road was not on a designated road reserve but crossed Maori land.
On Ngapipito Rd, west of Moerewa, a group of residents turned back all but local traffic from 7am. There too the protesters were polite, even handing out home baking to stopped motorists.
Local resident Murray Armstrong said the blockade was lifted about 10am after warnings from police.
They considered moving the roadblock to a point where the road crosses whanau land but blind corners would have made that unsafe. Instead they stayed where they were, on a straight stretch of road with good visibility, and allowed motorists through after asking them to drive slowly and handing out leaflets explaining the dust problem.
Another leaflet urged tourists riding the Twin Coast Cycle Trail to complain about the dust nuisance, to increase pressure on councils and central government for a solution.
The group had turned back two gravel trucks and three utes. Most drivers, even one of the truckies, had been supportive.
One driver was unhappy about the lack of warning, "but we don't get warned when a truck's coming through either".
Mr Armstrong said Ngapipito Rd residents' demands were realistic. Of roughly 17km of metal road they wanted the council to seal a 4.2km stretch where it passed 13 houses where kaumatua, kuia and asthma sufferers lived.
A polymer road coating being tested by the council had made a big difference, though the trial location could have been better chosen.
"Something is better than nothing," he said.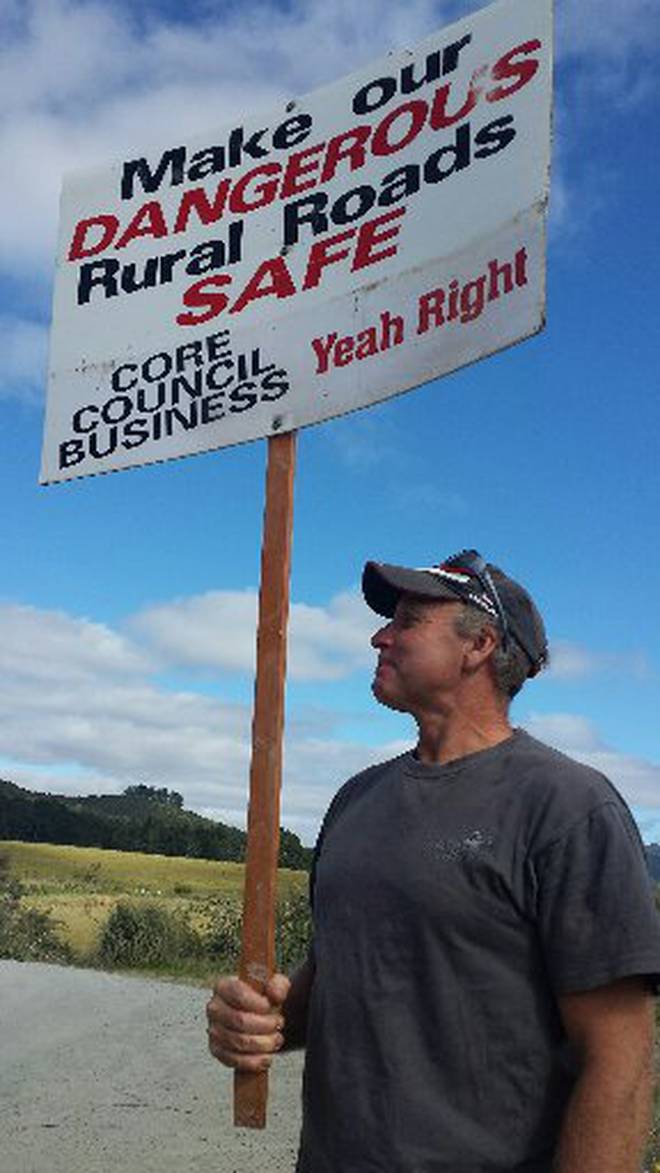 Another resident, Hirini Manihera, said the logging firm using Ngapipito Rd had put up 40km/h speed limit signs for its drivers but they was mostly ignored with many trucks "hooning" along the road.
Log trucks, stock trucks and milk tankers were the biggest problem, along with drivers using Ngapipito Rd as a shortcut between Mangakahia Rd and Moerewa.
Sergeant Ross Laurie, of Mid North police, said he sympathised with the residents but they had been instructed not to block their road. Instead they would talk to drivers and ask them to be considerate.
A spokesperson for Hancock Forest Management, one of the biggest firms operating in the area, said the protests' impact was "relatively minimal". For the past four years Hancock had contributed financially to the Far North and Whangarei district council efforts to reduce dust by tarsealing or applying dust suppressants, she said.
Meanwhile, Whangarei District Council has re-applied for NZ Transport Agency funding to seal parts of the worst-affected roads. The outcome is expected in March.
Far North District Council is trialling the use of polymer dust suppressants on 22km of roads. The council will decide whether to use the polymers on other roads when trials are completed at the end of summer.
Mr Luisi said the protesters were occupying four Far North roads but it was a cross-district issue in which the regional council should be taking the lead according to its RMA obligations.
Residents were not demanding all the roads be sealed but that dust levels be brought in line with the RMA, by road-watering, extended suppression strips outside affected properties, or other means.
Sealing of Northland roads ground to halt in 2009 after the government diverted funding previously used for rural seal extensions into its Roads of National Significance instead.