Fire crews have remained overnight at the scene of a major scrub fire that razed property and caused the evacuation of baches and homes in Hawke's Bay.
The fire, at Mahanga Beach on the Mahia Peninsula, was contained last night but more firefighters were expected to return this morning to dampen hot spots.
A Fire Service spokeswoman said an evaluation would be made to see if helicopters were also needed.
The substantial scrub fire broke out around 3.20pm.
At its height it spanned 35 hectares on the peninsula sending holidaymakers scrambling to safety.
The Fire Service shift manager David Meikle said one house had already been destroyed in the blaze on Pukenui Drive along Mahanga Beach, Wairoa District.
"Houses are being evacuated, but I can't tell you how many."
Meikle said crews came from Gisborne, Napier, Mohaka, Wairoa to respond with the local Mahia brigade.
Locals, including Kiwi light designer David Trubridge, mucked in to help out. Around 10 people used shovels, rags and buckets to attack the front line of the fire and prevent it from creeping towards vulnerable properties.
Trubridge was using a spade to bat down the flames licking at his feet. He said although his bach wasn't threatened, as it was on the other side of town, he thought it was important to help where you could.
He estimated around 10 people were helping to try and contain the fire. Others were flooding their gardens in case the blaze came too close.
Trubridge, who has a collection of design accolades, said he was scared when he saw the state of the "nasty fire". He estimated it reached 10 hectares at its peak.
"When it took off it was crazy, big flames leaping up through the trees
"Trees were exploding in violent storms of crackles."
Once he realised how easily the fire went out when it was smacked with a spade he got to work. He edged along the fire line stamping it out to slow its progress.
"It's very easy to actually stop it.
"It's one of those situations you don't know if you should or shouldn't, whether it's dangerous or not."
When the Fire Service arrived he was told to clear out.
Trubridge said baches were saved as the wind changed direction just as the fire crept towards the road. But it destroyed the only water pump for the village which was on the outskirts of town. With the wind change the fire was pushed inland along the road edge.
"It was lucky. There's a lovely little cottage it was heading for but they managed to stop it.
"I think it's under control. The wind has dropped, that's the main thing."
Auckland woman Sarah Young was at the beach with her three children and partner when they saw the fire break out.
They watched it gut a home, tear across 1 kilometre of dry grass and threaten baches and homes. Young said there were red hot flames and heaps of hazy smoke hung in the air. Her car started to fill with ash.
"It's pretty insane. It started moving really fast.
"All it had to do was jump the road and it would have been on top of us."
Young said she thought the fire had come from a new subdivision where a house had been relocated three weeks ago. She said it was luckily vacant but the fire had "completely gutted" the building.
Bystanders had at first been excited and intrigued to see the fire but people quickly got nervy as it became apparent how fast the fire was travelling. Young estimated the fire was more than half-hectare in size and had travelled more than 1km in the 30 minutes she watched it.
People were beginning to be evacuated from the 30 or so properties in the area.
Young said even the policemen were scared.
"The first policeman I saw looked quite shell-shocked. He looked pretty freaked out. He was heading into the settlement. I think he was going to start evacuating people."
Young decided it was time to evacuate with her frightened children for their safety.
"One of them started crying because it started moving so fast towards us.
"I was scared. I wasn't to begin with."
In video she took of the fire, the roaring flames spread rapidly over dry grass, trees and a caravan. Bright orange fire and thick black smoke can be seen enveloping the land.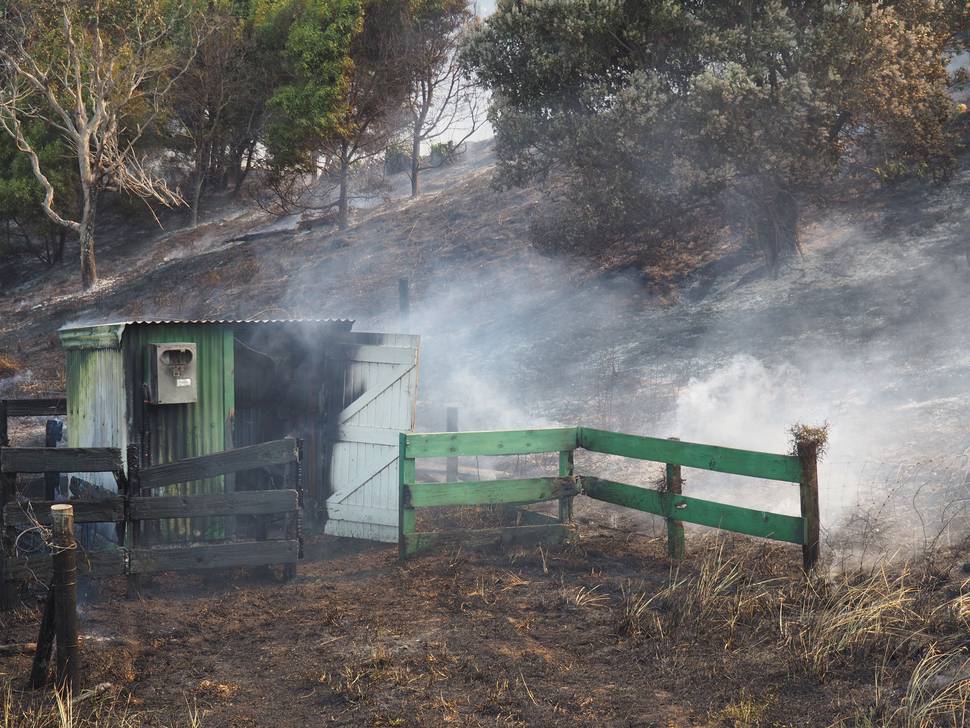 A bystander can be heard panicking about the quickly approaching fire: "This is just the start of a full on forest fire ... It's spreading faster..."
People can be heard panicking and asking where the fire trucks are.
"There's a house there that's just completely burnt.
"The wind is going straight into those baches
Children can be heard begging to leave.​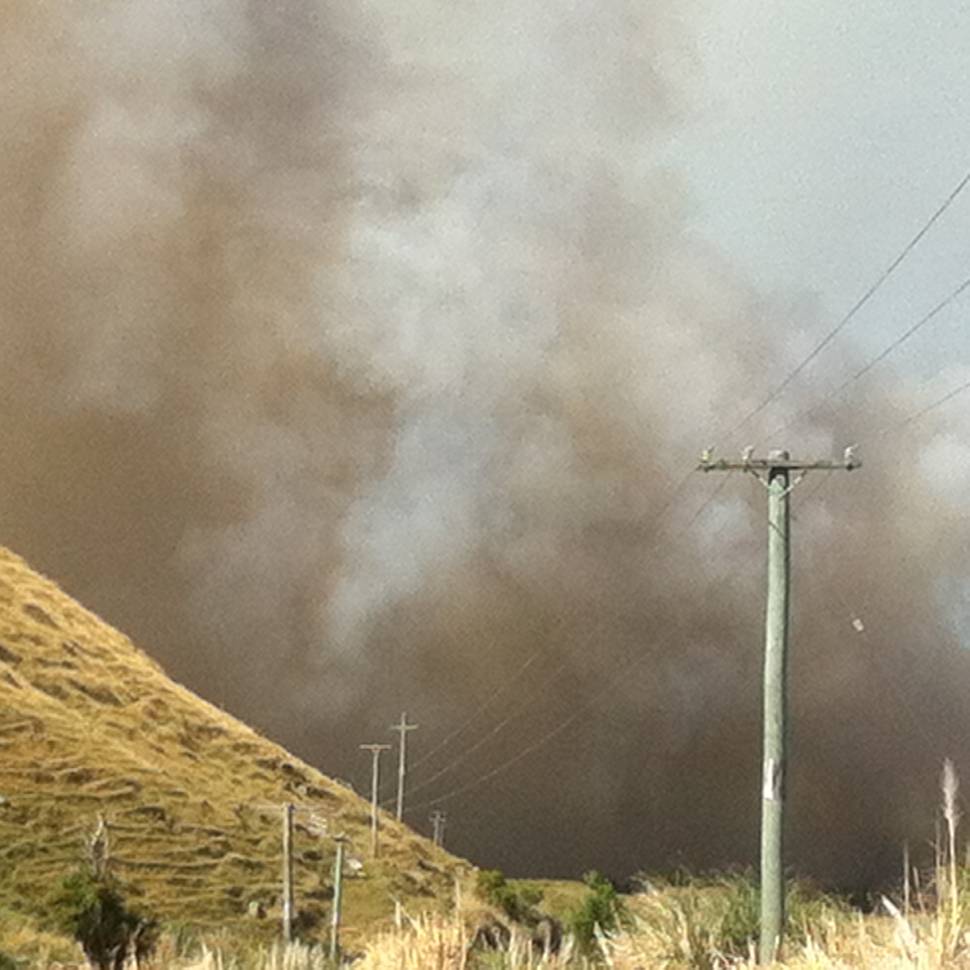 Wairoa District Council urged residents to leave the area or go to their evacuation centre at Gisborne Boys Education Centre.
It posted a warning to Facebook that the "significant fire" meant residents should evacuate.
Six helicopters had been deployed and fire crews from across the region were involved, it said.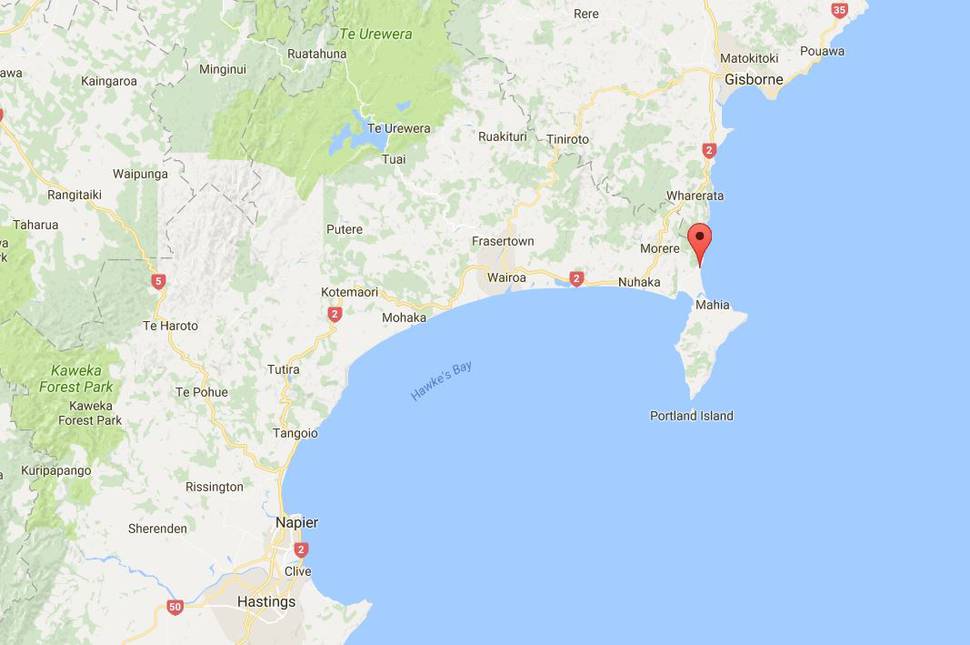 "There is a significant fire at Mahanga, some residents are being evacuated. Three helicopters have been deployed. Mahanga residents are encouraged to go to friends and/or family outside the area. If this is not an option, an evacuation centre has been established at the Gisborne Boys Education Centre just pass Mahanga Marae."