"It's not how I thought the start of my holiday period was going [to be]," Sarah Allen says.
The principal of Riverhills School in east Auckland is in her office two days into the school holiday, busy sorting out the aftermath of a suspicious fire at her school.
The Pakuranga Heights primary school is one of a number of schools which fall victim to deliberately lit fires every year.
READ MORE: Fire at Auckland primary school treated as suspicious
There were 23 arsons or suspected arsons at schools around the country in 2015, with almost half of those happening in Auckland or the Bay of Plenty, according to Ministry of Education figures obtained under the Official Information Act (OIA).
There have been 8 in the 2016/17 financial year to date.
Schools in Auckland and the Bay of Plenty reported five arsons each in 2015, the highest in the country, closely followed by Northland, with four.
Authorities say this is a vast improvement from seven years ago, following a concerted effort to reduce deliberately lit fires on school grounds.
School arsons cost the Ministry of Education millions of dollars every year. The Ministry spent $8.9 million paying for damage caused by such fires in the 2008/09 and 2009/10 financial years.
Allen says she knows her school was "very lucky", as the damage caused by the fire was isolated to an old boiler room that was being used to store the caretaker's equipment.
The fire was started outside, at the school rubbish station, where its paper recycling and rubbish bins are kept.
The cladding, roof and ceiling of the boiler room were damaged, but none of the equipment inside, she said.
"A neighbour of the school was really quick to call for help, and the fire service got here very quickly, so we're very lucky the level of damage has not been too bad," Allen said.
"It's always worse when it's children's work or a learning resource."
The school had closed for the holidays the day before the fire on Saturday, December 17, Allen said, so pupils and parents were spared any disruption, and all repairs will be completed by the start of the new school year.
Police had spoken to the culprits, Allen said - youths who were "playing around with a lighter that they shouldn't have had".
"I don't think they would have had any clue that it would have got that bad that quickly, so I don't think it was intentional, wilful, 'let's burn the school down' behaviour."
Peter Wilding, the Fire Service's national manager of fire investigation and arson reduction, said this was typical of school fires, which are usually started deliberately by pupils or youths.
"There's often not an intent to completely destroy a school. It's often just silly behaviour going on," Wilding said.
"They might light up some rubbish in a bin that's attached to the side of the building and once a bit of rubbish gets going, unless you've got a decent hose - which they don't - the thing just takes off and gets into the building and you lose a building."
Schools are four times more likely to be damaged by arson than other types of businesses, Wilding said.
The Fire Service tackled roughly 80 school arsons every year up until 2009 - around six or seven per month. That figure doubled come November, with notable spikes seen during the school holidays.
In 2009 the Fire Service started to work with school principals, schools trustees, Ministry of Education, and police to actively find ways to reduce school fires, he said.
A "good bit of house-keeping" was recommended, Wilding said, as youths most often used rubbish and other items they found lying around the school to light fires.
"Very rarely would you get a kid walking down the road with a 20 litre flagon of petrol."
Keeping wheelie bins chained and away from buildings, tidying away any material lying around, closing off gaps underneath school buildings which were often used to store old furniture, were among the recommendations.
"What we have seen is a significant decline since 2009 and that's continued to this day, which is probably one of the best examples of the continued impact on following a fire prevention measure," Wilding said.
Angela Roberts, president of the Post-Primary Teachers Association (PPTA), said schools spent a lot of time and money on efforts to reduce the risk of arson.
"It might not be like having somebody set fire to your house, but schools are pretty precious places, they're communities," she said.
"For teachers it's losing, not just their resources, but we put a lot of energy into creating great motivating, provoking spaces for our students, and to lose all that stuff is hard.
"For kids to lose their work is really hard. The worst end of it as far as material loss would be when students lose internal assessment work."
Jerome Sheppard, head of education infrastructure at the Ministry of Education, said fires at schools were "distressing and disruptive for school students, staff and wider communities".
"We offer affected schools assistance through providing access to our Traumatic Incident Team, which has specialists who can provide advice and support," he said.
Staff also had access to the Employee Assistance Programme counselling service.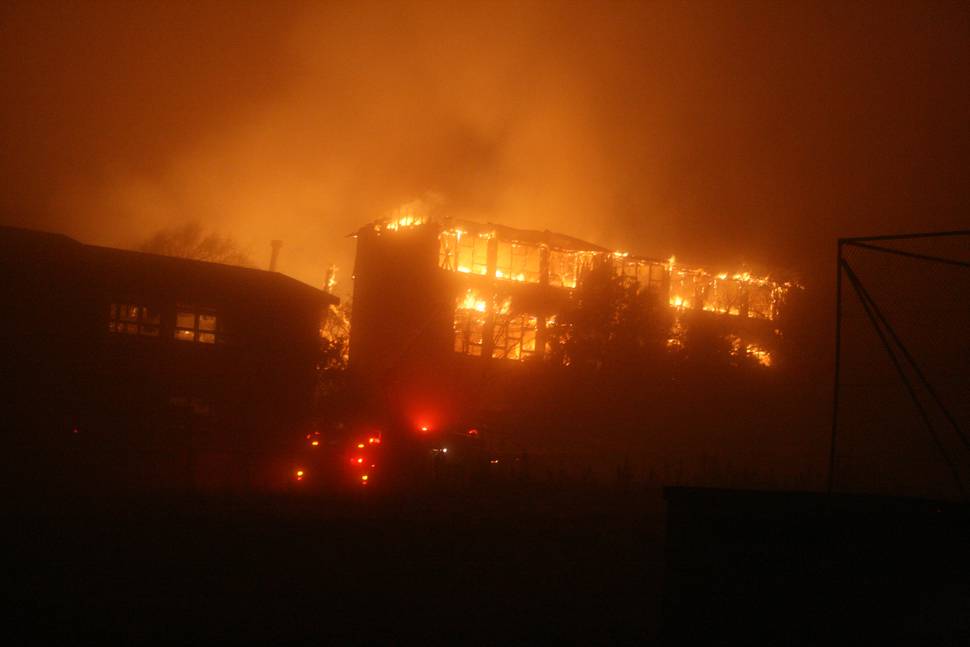 The ministry works closely with a school after a fire to help them reopen as quickly as possible, he said, including bringing in relocatable buildings from other schools if needed.
Repairs to state school buildings are paid for by the ministry, which is back by private sector insurance in cases where its funding cannot cover the repairs.