The shaking may have shattered homes, dreams and livelihoods, but the spirit of the people remains unbroken.
Maybe it's something about country or fishing folk that makes them wired to better deal with adversity and Mother Nature's unpredictable ill-temper.
Maybe it's just us Kiwis.
Whatever it is, in spite of everything, the earthquake-rattled inhabitants of southern Marlborough and North Canterbury have remained true to themselves over the last fortnight.
I've knocked on so many doors, it's a surprise there's any skin left on my knuckles. Two notepads have been filled. My car is caked in dirt and dust.
And at every corner, I've been astounded at the hospitality, generosity, warmth, stoicism, positivity and humour of those I have encountered.
"You just get on with it, don't you," they say.
"Knock the chimney down, few pieces of corrugated iron, she'll be right."
Cheviot Volunteer Fire Brigade took me into their station in the dark, uncertain times just hours after the thunderous magnitude-7.8 struck at 12.02am last Monday .
They told me what they could. The power was out, communications were limited. They used head-lamps to check on the elderly residents as bewildered, afraid locals wandered the streets guided by the light of their cellphones. We shared coffee made from boiled water on a gas hob.
Later, after not eating for some 20 hours, the fire guys and girls served up the best sausage roll I have ever tasted in my life.
That night, as the aftershocks rock and rolled, the Cheviot pub offered a bed, cold beer, and an occasional whisky. The next day, they refused to take my money.
Down driveways, families sweeping up glass and stacking collapsed bricks stopped to talk. The last person they probably wanted to see was a reporter. Yet, they all opened their homes - what was left of them.
"Would you like a cuppa? The power has just come back on. Sorry we don't have any baking," they'd say apologetically, standing amidst their kitchen where a hand-grenade could've gone off.
Sleep-deprived, dehydrated Civil Defence volunteers, rural firefighters, out of town policemen, gave me lifts, shared insights, stories, jokes. None of them had to. Yet they wanted to.
Walking up to a Scargill farmer whose bricks had leaned away from his house, he shook my hand and looked at me. It was 31C and I'd left home hours ago without water. I was out of muesli bars.
"We're about to have lunch, come and join us."
Under a tree on the lawn, I sipped iced water as the gathered farmers wiped sweat from their brows. They'd been helping remove brick chimneys down the road all morning and hadn't even checked their own land for damage.
You just get on with it, don't you? Knock the chimney down, few pieces of corrugated iron, she'll be right.

SHARE THIS QUOTE:
From that first day nearly two weeks ago, and every day since, armies of volunteer helpers - builders, plumbers, sparkies, farmers - have descended on the worst-hit communities.
"What needs to be done?" they ask. And then they do it.
Vans, trailers, boots come filled with home-baking, baked beans, cat food, nappies, water bottles, and toys. It all comes from schools, supermarkets, small businesses, and families from the next town, the one after, and all across Canterbury and Marlborough.
It's unloaded, thanks are waved away.
"What else do you need?"
It was road contractors - father and son teams from Lyford and Kaikoura - who got stuck in off their own back and opened up the Inland Rd. They met in the middle.
Stomping through Kaikoura after hitching a ride with the army aid convoy, I'm considering thumbing for a ride when a private bus pulls over, its door open.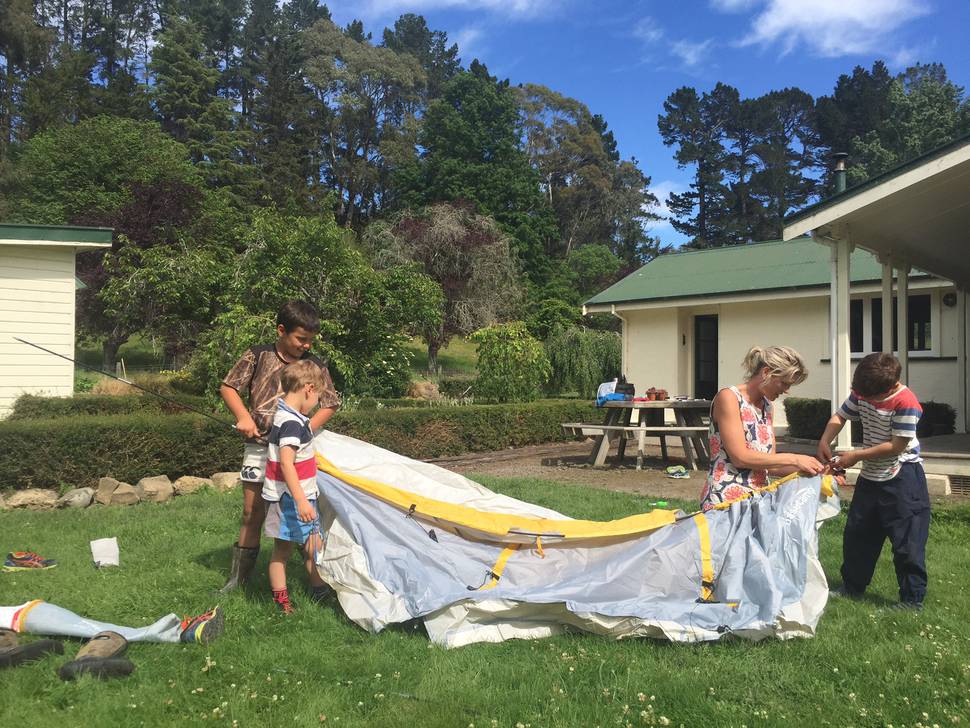 "Need a lift, mate?" Baz the smiling driver says. He drives around the stranded seaside town providing free transport.
"We're all doing what we can," he says, dropping me off up the road.
Back in wee Waiau, population circa 300, where 26 buildings and houses including its pub, kindergarten, and swimming pool have been red-stickered, the tea-room ladies give me cheek. They accuse me of being a townie and fuel me up on strong coffee and carrot cake.
Everybody waves to you. Nobody is angry. There is frustration, sure, but it's directed at the faceless bureaucracy which follows disaster zones like the Norovirus.
The high-vis on the ground throw their hands up: "Sorry guys, I don't make the decisions."
For farmers and fishermen and digger-drivers, a lack of common sense is a heinous crime.
Yet they remain upbeat. The aftershocks will stop, the roads are getting better every day, and the tourists will return.
Tragically, two people - Mt Lyford's Jo-Anne Mackinnon and Kaikoura man Louis Edgar - died during the quake.
The fact it struck in the midst of night probably saved other lives, many people believe.
Now, the main thing is that the quake survivors are there for each other. With a helping hand, a cuppa, an ear, and a shoulder to cry on. That's what counts.
Go and see them. Buy their stuff. Or just pop in and say g'day.
For as the old Maori saying goes, 'He aha te mea nui o te ao? He tangata! He tangata! He tangata! What is the most important thing in the world? It is people! It is people! It is people!'