The badly decomposed body of a popular, creative man who attended Auckland Grammar and emigrated to Germany was found in a reserve at Orakei in 2016. Who was Socksay Chansy? Steve Braunias reports.
His
body was found by a gravedigger. Likely one of the last things he had ever seen, lying on damp earth near a sewer line in a grove of trees - pretty in the daytime, sunlit, with fantails hopping on low branches of flowering manuka, but lonely and terrifying at night - was an urupa, the graveyard at Orakei. It has a chapel and a low white wall and a bell tower. This was all that was left of the Auckland he had come home to, the city narrowing to a graveyard, a bell, a tap for visitors to wash their hands. He had only just returned after productive years in Germany and then a kind of breakdown in Sydney. He had friends, family. There was a queue of people to offer shelter, support. But he lay down in the cold. Across the road on Tamaki Drive, the tide swept in and shuffled out at Okura Bay, sucking at the sand; and his own life ebbed away, Socksay Chansy giving up the ghost on the edge of a park right beside a village of the dead. His body lay there for a month, maybe longer.
He was 36 years old. To report on this story was to talk with other men all aged 35 or 36, a generation of guys from the same background - classmates at Auckland Grammar, friends from King's College - who had all gone to university or some other tertiary course, partied hard and perhaps unwisely, but survived the crazy years of passage to settle down and get good jobs, buy property, start young families. The more ambitious and entrepreneurial created their own line of work. Socksay Chansy was in that mould. He was part of a quite large and loyal gang of middle-class guys who valued the material life and weren't especially artistic but neither were they white-collar straights chasing the company bonus. He was cool.
The friends remained friends. They still sometimes call each other by a sort of nickname inspired by Socksay - everyone added the "-say" in his name, pronounced sigh, to their name. Duncan-say. Jamie-say. Hugh-say, and so on, an affectionate gesture in honour of their friend with the unusual name. It means "blessed". His parents are Laotian. There was a Buddhist ceremony at the place where he died, monks chanting in that pretty sunlit grove, a manhole marked with paint from the police crime scene. Someone had built a teepee from upright branches, and there was a more sophisticated structure, beneath a bank, of bamboo lashed together with string, next to a piece of soft foam that would make a decent pillow. How did it come to this? Even in death, Socksay Chansy didn't belong. It was one of the themes of his life; it was as though he was always on the outside, stateless.
Is that how he viewed himself? Was there some keen awareness of it that drove him away from his friends and family? He was a man on the run. He skipped town, he bailed - that was his MO when things got bad. It was always abrupt, no notice. Next thing anyone knew, he'd gone. And when he fled, he always fled alone.
There was a distant echo of it at his old school. Paul Paton, the archivist at Auckland Grammar, had photocopied Socksay's class photographs and his end of year results. We met in a small room tucked behind a screening room, where Socksay had probably sat and watched arthouse films in 1997, when he belonged to Grammar's film society. There wasn't much from Socksay's school career to look at. "Date of entry to school, February 2, 1994. Father's occupation, joiner. Home address, 175 Mt Wellington Highway." In class photographs (3G, 4C, 5D, 6J - the descent to the lower academic classes is a common enough occurrence at the school, and known as "the Grammar slide"), he's a tall, slim boy with a happy face and high hair. He was bottom of the class in form five, second in the class in form six. He played soccer, and was part of the victorious fifth form side which played eight, won eight, including a 6-0 rout of St Kentigern and a 10-1 humiliation of Dilworth. Porter pointed to one of Socksay's teachers, and said, "He went into a seminary, and became a monk." Then he pointed to a teacher from another class, and said, "Hm. He did, too." Neither the report cards or the stories of Grammar's monk exodus revealed anything about Socksay; but there was a kind of clue, something poignant, in a glass cabinet of old things in the assembly hall.
"I've got John Mulgan's cap," Porter said. "Would you like to see it?" It was a rugby first XV and cricket first XI cap presented in 1929 to John Mulgan, who became one of New Zealand's greatest authors. He only wrote one novel, the classic Man Alone, in 1939. He killed himself in Egypt in 1945 at the close of the war. Exactly why he did it remains a mystery, guessed at but unsolved even by his scrupulous biographer, Vincent O'Sullivan. In his citation at the Dictionary of New Zealand Biography, Mulgan is described thus: "Those who knew John Mulgan agree on the attractive openness of his personality; he was affable, cheerful and outgoing....But there was another side to Mulgan's character, rarely glimpsed. One of his colleagues at the Clarendon Press detected...Mulgan's 'feeling of being between two worlds'."
Two old boys from Grammar, both popular and creative, both somehow or other at odds, disconnected, both arriving at a tragic and inexplicable end. Mulgan's forlorn old cap was shoved at the back of the cabinet. What was there to look at that ever belonged to Socksay Chansy? What had he left behind?
He was born in a refugee camp. Between two worlds at birth: his parents fled Vientiane in Laos during the terror of the Communist regime, slipping out of their house onto a boat that took them silently up the Mekong River. "We leave night time," said Socksay's father, Sam Chansy. "You don't let anyone know. Someone know, they shoot you. We hired canoe. Eight people on canoe. One hour up the river to Thailand. Very frightening! No suitcase, nothing. Only we got money and gold. That's it. Socksay never born yet, must be eight months inside his mum. When he born, his mum stay in hospital two hours. They say, 'You go now.' But is okay."
Sam is a trim man now aged 65. He has a new family, including a pretty, very watchful eight-year-old daughter. We met at his big bright home in that suburb almost exclusively made up of big bright homes, Dannemora. Laotian refugees in New Zealand enjoyed a reputation as "the Dutch of Asia - incredibly industrious", as recorded in David McGill's book, The Other New Zealanders; Sam had done well for himself, worked hard as a window fitter. He said, "I am lucky man. People came refugee camp and say they want 100 people to go New Zealand." The family arrived in 1980, and were housed for six weeks in a refugee reception centre in Mangere. Socksay's brother Peter was born in 1982. They lived in a plain house high up on the Mt Wellington ridge on a busy road surrounded by massive electricity pylons, each humming with 110,000 volts.
Directly across the road is one of Auckland's most arresting landmarks, the cactus farm of Coromandel Catcus sellers. And right next door to the old Chansy house is another remarkable sight in that tough, under-class suburb - a market garden, with rows of book choy, red cabbage, broccoli and other hardy annuals on nearly a hectare of heavy clay, tended by Roy Yee, 79, these past 60 years. He said: "I'm a refugee." Another one, with another exciting story of getting out of Asia alive - from Taishan, China, in 1939, as the invading Japanese laid waste. "There was a complication": his father was involved in a tribal feud which ended in a killing, and was "spirited out of the village with a bounty on his head". He came to New Zealand. "But with the threat of the Japanese, our mother, who couldn't write, employed a village scribe to write to our father, and implored him to send passage."
"Scribe", "spirited out", "send passage" - he used such antique terms, and said them with real pleasure. We sat together on the back of his ute. He was about to spray for white cabbage butterflies. He talked about the soil, how he and his father broke it in, in 1954. "There's not another generation to follow on," he said. "No sons. I've got a daughter, but she's too busy with her own life." He'd simply give up the long lease with Transpower when he felt too old to want to continue. An end, perhaps, to 60 years of vegetables fighting their way out of the hard clay loam, bordered on one side by rosemary. It formed a kind of hedge beside the house where Socksay grew up. No, he said, he didn't know who ever lived there.
Who knows what goes on with families? What was the atmosphere inside that home, where telephone wires and pylon wires criss-crossed above the roof? Two sons and their parents in a new city. Only the boys could speak English. In the Nong Khai refugee camp where Socksay was born, there were some 20,000 Laotian refugees cooking on open fires; in the 1976 census, the total Lao population in New Zealand was 13. Between 1979 and 1982, New Zealand took in 239 "displaced" Laotians, and scattered many throughout the country. They were an obscure community, far less in number than the so-called "boat people" of Vietnam or the Cambodians who fled the Khmer Rouge. Their presence was low-key, near invisible.
Socksay's service was held at the combined Laotian and Thai temple, Wat Lao Buddharam, in a side street off the Great South Rd in Otahuhu. On a recent Tuesday one of the monks swept the front steps and Toulay Thaivichit, 70 ("I am, what you call it, advisor to temple"), directed a workman on the roof. "This is Buddha tree from India," he said, of the fat-leaved tree in the front courtyard. "I plant myself 25 years ago." Inside, lunch was ready, served on a low, round wooden table - bowls of extremely spicy and quite delicious Laotian dishes. Another monk sat in front of shrines of the Buddha and enormous bouquets of plastic flowers, and wrapped himself in his robe.
"I knew him when he little," Toulay said of Socksay. "He good boy. He brainy. Learning very good. He could be doctor! But when he pass away, he got nothing. No money." The thought of it scandalised him. "Nothing! His mum give him $500. But he spend it. He just walk around. He go Orakei. No home. Cold, hungry. No money." He was more cross than sad. He sighed; his breath was very bad. "But he good boy. Could be doctor."
Socksay was never going to go down that path. Toulay simply didn't understand him. But he didn't really make it easy for anyone; there was something opaque about him - remote, hard to reach. To talk to his friends was to discover the kind of person he could be, someone gentle and kind, witty and cool. To talk to his family was to learn about the person behind the considerable charm, someone who wanted to hide from the world. He was hiding - concealed, sinking into the earth - when he died.
He was abandoned. The secret life of families: his mum and dad split when Socksay about 10, and the boys were raised by a single parent. His cousin, Mel Wongsaene, had mentioned it during an interview at her home facing the water at Mangere Bridge.
"It was quite a hard time for Socksay," she said. "But he didn't say anything. With his personality type, he wasn't good at sharing the bad times." She didn't go into any detail about the break-up. It was only while sitting with Socksay's father Sam Chansy in his lounge when the penny dropped that it was Socksay's mum was the one who left her family.
"She run away. Go to Australia."
What?
"His mum left me letter saying she go. I come home from work. No mum. Just letter, saying she go. It say, 'Oh look after the kids, I go now. I can't handle it.'"
Can't handle what?
"Gambling or something. She gambling, I think."
But even if the accusation were true, it wasn't that simple. Sam later mentioned the fact that he'd actually left first, gone to Las Vegas to start a new life, but returned home. About a week later, his wife fled. What about Socksay? How was he during all this drama? "I think he have broken heart when mum leave him. He keep it inside. He never talk to no one about it. He read letter, go for walk." A walk along the cracked footpath beside roaring Mt Wellington Highway, maybe down to the volcanic crater lake of Panmure Basin...How long was he away? "Maybe half an hour. He come back and said 'I don't talk about her. That's it.' And he didn't. If someone come to house and talk about the mum, he not say anything."
Two clever boys and a dad in Mt Wellington. Sam said, "But I didn't talk to kids much. Got no time. They still sleeping, I leave money and go to work. I got no time. Too busy, working and supporting the kids. Uniform, school fees. I'm by myself..."
Well, he was and he wasn't. He made reference to other partners, other children. It was hard sometimes following Sam's stories in his broken English. Sentences would come and go, and sometimes fail to make a lick of sense. But it wasn't just the communication problem. The mess of family life is hard to understand or comprehend even when it's your own family.
After Socksay's body was found, police said that he'd been estranged from his family for a long time. In fact he'd been living with his mother and his brother Peter in Sydney before he arrived back in New Zealand and escalated his inexplicable slide towards a private, tormented death. He was only estranged from Sam. They hadn't spoken since Socksay left home, and New Zealand, when he was 21.
Why not? What had gone wrong? Sam said it was nothing, just that he was hard to get hold of - he changed addresses, he changed phone numbers...We tell stories to ourselves to tidy up the mess of family life, to straighten things out. "I not stay at one place. He write letter, where he send to?" Fifteen years of silence, of some cold intense private rage, reduced to the postal service. The separation was Socksay's MO - cut and run, and leave the past behind - at its most severe. He removed Sam from his life.
They'd obviously been close, loving. Sam took Socksay to play soccer all over Auckland when he was little. "Every game! Every park. He good player. Want to be number one. He always shoot the goal! Every game, he shoot the goal."
Every park: including one in Orakei, near where his body was found. "I remember that time when I take him to play there," said Sam. His voice became softer, quieter; he placed his hand over his face. "I think he was maybe eight or nine. I don't know. Just a kid. The game finish, and me and him walk down to the park, at Orakei, and he say he like the sea, and the trees, and he say, 'I want to build a house here one day.' Maybe this why he go there. I don't know."
The father of a baby born in a refugee camp, weeping in his house in Dannemora. A copy of Socksay's death certificate lay on the table beside the plate of chocolate biscuits. It read, "Place of birth: Nong Khai." And next to Socksay's name: "No fixed abode."
He was wildly popular. "He was like a hero," said Jamie Connor. "It was like, 'Socksay's here!' He was always laughing. Big teeth, big smile. Really cool guy."
We met at Hell Pizza in Wairau Park on the North Shore near where he works in IT. Connor was the first in the gang of 36-year-olds interviewed for this story. They were all really nice guys, and they all shared one particular characteristic: gentleness. None of them were emphatic or judgmental. They existed in a state of chill; it was as though they regarded chill as a way of life, that it was part of their moral code.
They hung out with each other and looked out for each other. At school, the gang would congregate in a shed out the back of Jeremy Bailey's parents' house in Mt Eden. "His mum was like, 'Yep, cool, do whatever you like'," Connor said. At university, there were party flats in Gillies Ave in Epsom, and Buchannan St in Kingsland, where the flatmates included Connor and Dan Kerr, who now works as an editor at TV3. We met around the corner from the network and sat in the sunshine. Kerr said, "There were four of us in the flat, and it was where people would go to drink and smoke weed and play Nintendo 64 PlayStation.
"I remember Socksay worked at Video Ezy in Ellerslie, and we'd go out there and visit of an evening sometimes, and we ended up with a Nintendo 64, a rental one which I guess we swiped, because it still had the Video Ezy stickers in it. So we'd sit and play marathon sessions - it was a wrestling game, one of the first games you could have people on at the same time. So you had to wait for your friends to come around before you could all play. And the weed would come out, and someone would bring beers...It was a party every night."
Jamie Connor told a colourful story about Socksay setting up party headquarters in a downtown insurance office. He'd found work as a night cleaner and invite friends up to raid the company's open bar and drink on the rooftop. "So there we'd be at 2am, 3am, and he'd be like, 'Have as much as you want to drink!' It was epic. It didn't happen just once, it was like weekends in a row. It was like, 'Party at the insurance place!' It was great."
But things were already unravelling. Socksay bought a black Audi, which blew everyone's mind. Connor said, "We were like, 'What are you doing, bro?' Before we knew it, we were all going around in his Audio. It was fun while it lasted...But the partying wasn't working for him. And financially, I think he got into a bit of trouble. He had debts. Like he turned up to my house one time, crying and upset. He wasn't very happy with where he was at.
"All of a sudden he just picked up and bailed, you know? It was like, 'Oh, Socksay's gone.' It was amazing. He just left without telling anyone."
The Audi was repossessed, and there were other debts that he couldn't settle.
"He was always a precarious individual," said Tom Cotter. He was part of the gang and now lives in Munich, after arriving in Germany to complete his PhD in chemistry. "His reputation preceded him. There were lots of stories about him. He was a contentious character, someone who inspired numerous feelings. People had a lot of opinions about him and one was that he could be a bit of a bullshitter. But he had such a magnetic personality. He was always a lot of fun."
Dan Kerr said, "I never remember him being unhappy. He was always smiling, always laughing." Yes, he said, he was Dan-say, his flatmate Jamie was Jamie-say, everyone was someone-say. The names stuck. "When he left the country, we all remembered Socksay fondly because of that. There were all these people still carrying his memory, if you like. "
When he thought of Socksay now, what picture of him came to mind? He said, "He's smiling. He's laughing. That slight cackle he had. And I see him with other people, with a group of friends. I don't see Socksay alone. I think of him with all my other buddies."
"He was Filipino," said one of his friends. "Thai," said another. A third said, "His parents are from Hong Kong." Well, at least they all agreed he was Asian. But his father Sam said, "He not like Asia boy. He want to be like Kiwi boy. When he eating dinner, that food belong to him. He eat like Kiwi. Not share. People come to house, he say, 'Mum not home. Dad not home. Come another time.' Peter is different, he say, 'Come in. Eat, eat.' Socksay not like that. Maybe he born like that, I don't know."
Always on the outside of things - the friends at Auckland Grammar going to school from nearby soothing suburbs (Kingsland, Epsom, Mt Eden), Socksay making the long trek by bus (about 45 minutes and 20 stops) from the pylon kingdom of Mt Wellington. And then the abrupt departure, at 21 or 22, skipping town for points unknown. It's difficult to accurately trace his whereabouts and wanderings over the next few years. He left New Zealand for Australia, and stayed with his mum. He met a girl, a German backpacker. He travelled to the US, where he stayed with his aunt in Rhode Island. That didn't go well. His cousin Arouny Wongsaene said, "He lived there for a few months. He said he wanted to help out around the house, but he ended up just sleeping and eating, and staying in his room. 'You know what', my mum said, 'you're not really helping.' So she paid for his ticket to Germany, and off he went on his merry way."
He never kept in touch with anyone - friends, or family. He simply disappeared. Next thing anyone knew, he was living in Berlin, had married the backpacker, and was doing pretty well for himself as a film and video editor. No one back in New Zealand had heard from him in years but by coincidence a group of old friends from Grammar and King's all fished up in Germany, and Socksay eventually, perhaps reluctantly, got in touch.
These were good years. Jamie Connor said, "I went over and hooked up with him in Berlin. I hadn't heard from him in years, not a word, nothing! But he was just like the old Socksay. We had picnics, went on bike rides. Everything was going really well. And he was such a great host. Anything he was doing, he was like, 'Come along. Come with me.' Super generous."
Hugh Smith knew Socksay at Grammar. He travelled to Berlin in 2012, and saw him for the first time in over 10 years. He works as a landscape architect now, and we met at a nice café in Parnell. He said, "He'd got it together. I was impressed. He had a great group of friends, and he was really generous with his money. He introduced me to all these people.
"I was actually the first person from the old days who he saw. He really wanted me to stay with him. I got the feeling it was really important to him that someone he knew from Auckland was back in his life again. He was making new friends all the time, but he needed an old friend, I think. He wasn't desperate about it; it was more like he was anxious that I come and stay.
"And it was great. at first. But then I started seeing a dark side."
Hestayed in his room and heard voices - his own voice, talking to himself. "Socksay was unravelling," said Hugh Smith. "Berlin has a big party scene. His partying escalated, it got out of hand, and he went on a downward spiral. He'd go out and not come back for a couple of days, and then he'd shut the door of his room, and not come out for a week.
"I'd say, 'Hey man, I'm going out with some friends for dinner at their house, it's free, so no cost, come along!' And he'd say, 'No. I don't want to come out of my room.' I'd hear him holding conversations. I was like, 'Did you say something?' He'd say, 'It's just me talking to myself.'"
He stopped going into work and the money stopped coming in. His marriage had already broken up; Socksay kept their cat, but it defecated in the corner of the apartment, and he wouldn't bother to clean it up. Meanwhile, the voices in his head. What were they saying? Demons are capable of saying anything, of bringing down the whole unstable house of cards.
"I think he was fighting against his demons for a long time," said Pedro Deltell Colomer, a Spanish film editor who formed the Lemon Face video editing company with Socksay. They met at an advertising agency. When the company went under, the two friends created Lemon Face. "He was a very intelligent man, happy, a funny person. A lot of friends. But from the beginning he had a dark side."
There it was again, the "dark side". He said, "He could be quiet and depressive." Later, Socksay told Pedro about hearing voices. And this: "He was taking medication for his illness. I don't know what kind of illness it was." He didn't know the name of it, or the type of medication, but he knew it was to do with mental illness.
"He was showing signs of depression," said Jeremy Bailey, an old schoolfriend who hooked up with Socksay in Germany. Bailey is part-owner of the very hip, very successful restaurant The Burger Lab, described in tourist literature as "a kingpin of Hamburg's artisan burger craze". Taking hamburgers to Hamburg, and knocking it out of the park. Life has been good to Bailey in Germany; when we spoke, his newborn baby was gurgling in the background. It was at his stag do where a tremendous reunion of Auckland friends took place - Jamie Connor was there, Hugh Smith, Socksay. That was in 2012, when life was good to Socksay, too.
"When I met him in Berlin I was surprised at how established he was," said Tom Cotter. "He had an apartment, and a girlfriend, and he was engaged in running a small production company. He was paying the bills and spending time with creative people. Berlin is an artist's city, and he was living the kind of life people really want to carve out for themselves over there. He had a nice place, and he took me to his studio - it was the real thing, you know, because there was always a question of whether there was anything behind what he said. But we went there and he was really doing things, and making things which were fulfilling for him."
But the two old friends were both in Berlin for a long time before Socksay got in touch. "I had the impression he was avoiding people from the old days, and was reluctant to get back in contact," he said. "Maybe he didn't because he needed to be in a good place first, and didn't want to been seen as someone who was struggling or failing. I think he might have had the pathology of a manic depressive. You only saw him when he was on a high, when he was up."
Jeremy Bailey said, "I think that it really boils down to mental health issues which went unchecked, or properly medicated, and Socksay being stubborn and not wanting to reach out for help. Those issues just spiraled out of control." A strange thing kept happening during the interview with Bailey. He'd say something, sometimes at length, and then a little later he'd repeat it, verbatim.
"I don't know if there's a story here," he said. "I think it just boils down to mental health issues which went unchecked, or properly medicated, and Socksay being stubborn and not wanting to reach out for help..."
"He was this cool Asian dude," said Johannes Ostertag, one of Socksay's closest friends in Berlin. "He was very witty, a gentle person, bright, a good friend." They worked together as film editors. For once, a date could be fixed to Socksay's whereabouts: Johannes's girlfriend at the time, Katrin Katz Kobberg, emailed her reminiscence of Socksay, and wrote, "We all met at the video company when I was an intern in mid-2009. Socksay was always one of the hardest workers there, you know, someone to look up to, and also a very nice person to hang out with."
She furnished another date: 2014, the year which seems to have been the beginning of the end. Johannes Osterberg sublet his apartment to Socksay. Katrin: "I am not sure what happened exactly but I know that Socksay was a li'l party animal and went wild from time to time, meaning using lots and lots of drugs. Either this destroyed his relationship [with Johannes] and led him to lose his job or other way round. I am not sure. Anyways, he couldn't pay the rent and owed Johannes lots of money, and then suddenly he left Berlin to go to his family in Sydney.
"Last time we spoke before he suddenly left he was anxious and seemed desperate. No job, no girl. And it was tense because Johannes was there and they were arguing."
Cut and run, leave the past behind. Johannes said, "When he left - he didn't tell me. He just left, just disappeared."
He was like a fugitive. He travelled light, hardly left a trace. There was the cat from his marriage, a small old wooden box that he left in Johannes's apartment and which Kirstin took, and keeps on her make-up table. "It's a little reminder of him," she emailed. "All I can really tell you about Socksay is that he was a sweet and kind person. He had his flaws as everyone of us does, and also his personal struggles and demons he was fighting. It made me sad to see that they won."
All the old friends from the past in Auckland were guys; it was striking to hear a woman's perspective, the tenderness which she felt for him. Slim, funny, gentle, charismatic - he was attractive to women, and there were stories about two relationships after his marriage broke up. There was a German girl: "She was pretty kooky," remembered Jeremy Bailey. "An interesting character, a unique character. There were lots of arguments, it was a very emotional relationship."
Pedro Deltell Colomer - a Spanish guy talking about a New Zealander's relationship with a German girl - met her, too. He said, "She was a bit dark. A philosophy student. A bit depressive. But she was okay actually, she was good for him. Arguing maybe too much. Then he meets an American girl. She was very beautiful and a bit older than him. I don't think she was bad for him exactly but I think she was maybe a bit too exciting for him. She loved to party, you know."
That romance faltered. Alone, broke, out of it, in debt - "No girl, no job," as Katrin Katz Kobbert said. He was heading for a fall. His exit from Germany was like a photocopy of his departure from New Zealand. Beneath it all was depression or mental illness. There were probably diagnostic terms for it but definitely it was a profound and hollowing unhappiness. Tom Cotter said, "People who have these lives which involve a lot of movement, and get into debts or obligations which in the end they're not capable of delivering on...There's an underlying neurological aspect to that. It's that precariousness Socksay always had."
Jeremy Bailey talked about Socksay's descent into depression in 2014. "We were talking about the past in New Zealand, and he said he'd made mistakes, that there were things he felt guilty about and he couldn't get over it, things like owing people money, and not doing the right things by them or whatever, but it was all in his mind. Any good friend will forgive you if you front up. It was more just that it was like a catalyst for his mental health issues.
"One of the last times we spoke I said to him, 'Look, I think maybe you've got some depression issues, maybe paranoid schizophrenia or whatever,' and I tried to advise him to seek help. Then he moved back to Sydney."
Katrin Katz Kobbert: "The last thing I heard from him was a short Facebook conversation when he was in Australia. He said he was sad that he left without paying Johannes and to ruin their friendship. I tried to calm him down and told him they will be friends again."
He Skyped Johannes from Australia, and wired him the money. "I said, 'Well, thank you, Socksay, that's great.' And we had a nice talk. He seemed okay," said Johannes. "Actually I travelled to Australia in 2013, and visited his mum and family. They were really nice people and just had a normal life. When I heard he left Germany to go there, I thought, 'That's good! They will make things alright.'"
"He stayed in his room for a couple of years," said his cousin Mel Wongsaene.
She was bottle feeding her baby on the couch; her daughter was born the day before Socksay's funeral. Mel and Socksay were close as kids. Their mums are sisters, and came to New Zealand a year apart. "We were like brother and sister," she said. "Tree climbing, jumping off roofs. He had a calm personality, and I was quite bossy, and loud, but we never really had fights. We made make-believe TV ads! He was always really creative. I always thought he'd do really well. Later he talked about wanting to go and live in Berlin, and he did it."
The note of pride in her voice fell away as she puzzled over what led him to die alone, in the cold, at the edge of a park. "We've talked about it, and no really has got a conclusion about what happened," she said. "I don't want to say it's depression or mental illness because I'm not 100 per cent. But towards the end of last year my mother kept in close touch with Socksay's mum, and she was very concerned for him - sleeping all day, not working, talking to himself in his room. She was concerned with his mental health. But he refused to see anyone."
When he first arrived in Sydney towards the end of 2014 to stay with his mum and his brother, though, he was hopeful about picking himself up and finding work. He Skyped another cousin, Mel's sister Arouny Wongsaene. She said, "He sounded really positive. He said his next step was to look for Melbourne, that he had quite a number of contacts there. He was up about life in general and asked how the kids were, and he spoke about coming back to New Zealand and visiting us, and meeting his nephews and nieces."
It was Socksay's last stand. The call marked the final time he felt confident about the future or made plans. 2015 was his lost year. He went into his room, and shut the door.
"That Skype call was when he last spoke to me," said Arouny. "I hadn't heard from him for a few months, so I Facebooked him. He didn't reply, but that was just how he was. He never needed to keep in constant touch with you. He'd go and do his own thing, and come back when he wanted to.
"Then my auntie [Socksay's mum] called me, and said he wasn't doing well. Whatever prospects he had in Melbourne must have fallen through, and she said he was spiraling into depression. She said, 'It's really bad.' I said, 'Oh you know he how he is, he'll get over it, and he'll find something, you know, to get him back on his feet.'
"In the past, like at my mum's house that time, when he slept all day and only came out to eat - I don't know, I just thought it was past of his, I guess, creative process. I didn't think there was anything different. I kept reassuring her, telling her he'll come out of it."
"You can see on his Facebook that he stopped talking to people from the end of 2014," said Mel. "He didn't make any contact with me or anyone." Arouny said he didn't respond to her messages on Facebook. "I'd call, and they'd say, 'He's in his room.' He was like a recluse. He'd come out to eat, and go back to his room."
He was falling to pieces, the pieces getting smaller and smaller. He was disappearing. He was hiding. He was sick, and he wasn't taking any medication. If he was in hell then he was surely dragging everyone else down with him; it must have been intolerable to have to live with him while he stayed stuck in his room, talking to himself - worse, listening to himself. What gloom he must have created, what anxiety and distress. If the walls were closing in on Socksay then they were surely closing in on his family, too. They were living with a kind of monster, a creature in depression's black lagoon.
It was always going to come to a head. It duly exploded, and afterwards it left everyone in an agony of guilt. But no one was to blame. It was just a sick person forcing his way out. According to Arouny, the fight began when Socksay started yelling at his mum, and then yelling at Peter's fiancé, so aggressively and frighteningly that she locked herself in he room and called Peter. He raced home and there was another massive argument. It ended when his mum paid for his ticket to Auckland, and gave him $500.
Yes, said Mel, a fight was inevitable. "It was going to happen. And when it did, that's when his mum decided to buy his ticket. It all happened in the heat of the moment, and he said something to her like she wasn't ever going to see him again."
Families carry their secrets and their various assorted shames, and bundle them out of sight. We try and make an accommodation with unpleasantness. We make things comfortable, reach a compromise which involves silence and a tacit understanding that lids are best sealed tight. Arouny said, "I guess it just runs in the family where nobody ever really says anything until it comes to a head and it all spills out and what is said is said."
He entered a happy home, and broke it. Peter had reunited with his mum. He'd got engaged, and there was a wedding to plan. The idea was that when Sam Chansy came to Australia for the wedding, he'd fly home with Socksay. "He really wanted to come back to Auckland," said Mel. "It was his thing, that he kept asking to come back to Auckland, and he'd secure a job. The plan was for his dad to help him and Socksay was very open to that."
He had his ticket. He had $500. He must have calmed down, and at least said goodbye properly, because Arouny said, "He told his mum he would get in contact. He reassured her that he's got friends there, he's got family, and the worst case scenario was he'd be taken care of by the system and go on unemployment benefit."
Was there ever any job prospects in Melbourne? Did he ever intend to get in touch with people who loved him and would have taken care of him in Auckland? It's possible. He'd been badgering to come back to New Zealand; it must have signalled a fresh start, an opportunity to get his shit together. He'd had a lot of good times in Auckland before things got too much. He'd been happy there. It was his city, he knew it intimately. He could renew old friendships, straighten himself out. He was only 36.
He was depressed, and the depressed person laid down and died. A gravedigger had gone into the bush to look for ferns. There was a tangi scheduled that day, on Saturday afternoon, at the Orakei urupa. A cold wind blew in off Okahu Bay. It had been raining heavily that week, and the ground had turned to bog. The body had been in an advanced state of decomposition, and even the gender wasn't immediately apparent. His old friend Hugh Smith who knew him during good times in Auckland and later in Berlin went for a jog along Tamaki Drive and saw the crime scene - the yellow tape, the forensic team in paper overalls.
Socksay hadn't called anyone. Not his father, not his friends. He didn't let anyone know he was back. He roamed around the city with just the clothes on his back as autumn turned to winter and he lasted less than a hundred days. He was always on the run from dates, they revealed his whereabouts, but they finally caught up with him and pinned him down - he arrived on or about April 1, he was spoken to by police on April 25, his body was found on July 23.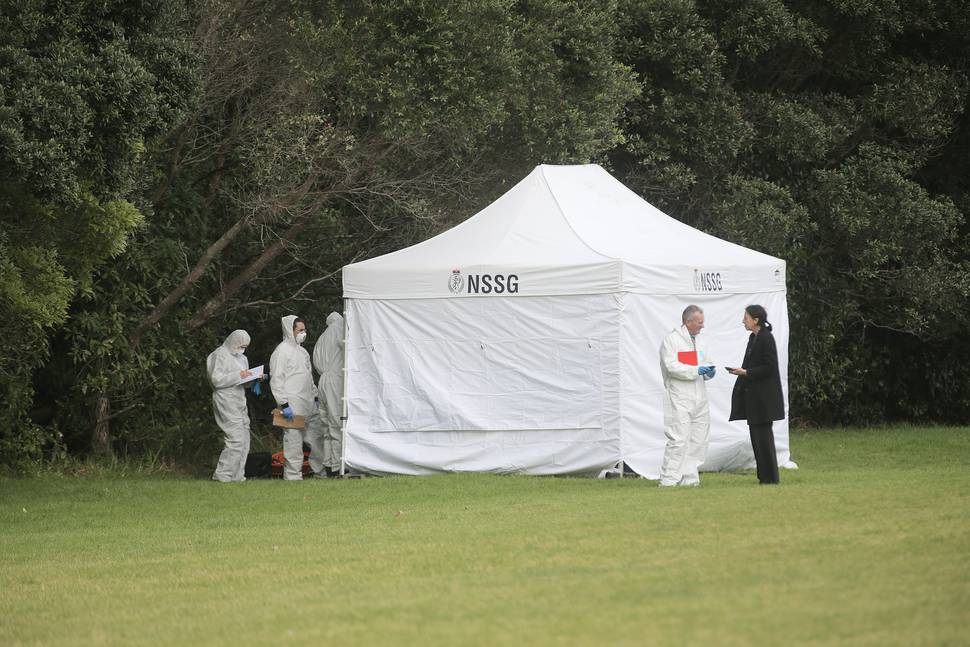 Sam Chansy got a phone call from the police a few days later. He'd been in the police force himself, in Vientiane, as a sergeant. "Policeman say, 'I got something to ask you, Mr Chansy.' Then they come to house, show me photo, and say, 'Is that your son?' But I'm not quite sure. I cannot identify him. I'm 65, my memory's not much good. I never seen him in long time. So I phone up the mum straightaway."
What misery it was for him to sit and talk about the death of his son who he didn't recognise. And part of the wretchedness of it was that it could have been prevented, that there were at least three occasions after Socksay arrived in New Zealand when he could have been saved from himself. He managed to slip through each time.
There was the case of the unread email. When he left Sydney, his mum emailed Sam to tell him that Socksay was on his way and to pick him up at the airport. But he didn't check his emails until after the flight had arrived.
Well, that could have happened to anyone. It was just bad timing. But there was another, stranger incident when Socksay was put into a kind of protective custody - and still slipped out of reach. It was at the airport. Police later told Sam that he attracted suspicion. "Police there, immigration peoples, they say he doesn't look like he has nowhere to go. He just walk around and around."
Was he looking for his father? "I don't know," said Sam.
"Police hold him and check him and see if he have a drug. They say, 'Are you alright, do you need help?' He say, 'I am alright.' They bring him to the hospital for two days. They check him, and ask if someone can help him, but he say he is alright. He got my business card.
"They say, 'Well, he still got some money.' The mum, she gave him $500. He still got $407. He got money, he is 36-years-old, he's a man, he not harm anyone, they can't hold him."
What was all that about? A guy shows up in New Zealand after an absence of 15 years, with a little over $400 to his name, no one there to meet him at the airport, wandering around, and he's apprehended, questioned, taken to hospital, given a bed - the apparatus of the state appears in good working order, and acting responsibly, even vigilantly, but someone who was surely showing evident signs of instability still manages to leg it, to just walk out. He was like some kind of escape artist. Nothing could hold him.
Sam went looking for him, the whole family were anxious and worried. "I drive up to that place where they collect the food. You know? In Hobson Street. Yes, the City Mission. There. I stop the car and see if he come out or not." He parked outside backpacker hostels, he drove around and around downtown.
Where was he, what did he do after he arrived back in Auckland? The trail goes cold, and then it's picked up again on April 25, when a third opportunity presented itself to stop Socksay from his descent into a dangerous and ultimately fatal madness. The police caught him committing a crime. He'd broken into a house. He hadn't taken anything, he was just using it for shelter. They took his photograph, they questioned him - and let him go.
His friend Jeremy Bailey said from Hamburg, "I wouldn't blame anyone or place criticism on the system but there seems to me like there were some small opportunities there for someone to realise this guy has some issues and needs help. It's a massive shame. It's frustrating for everyone because he had so many good friends who would have done anything for him.
"He had his problems and everything but he was a good person. He meant well. He screwed up with money and things sometimes, but he was just a - he was a good guy, and people would have helped him out. I don't know if there's a story here. I think it just boils down to mental health issues which went unchecked....", he said, and once again repeated himself, at length, verbatim.
The incident with police was Socksay's last chance at salvation. He didn't want it. He wanted darkness, he needed rest.
He chose Orakei, out in the pleasant east, around by Kelly Tarlton's Sea Life Aquarium on the beautiful waterfront of Tamaki Drive, beneath Bastion Point and the wonderful views from the Michael Savage Memorial. Strange that he kept to that side of town, unless he really was drawn to the memory of a happy, innocent day in childhood, when he told his father that this was the paradise where he wanted to build a house. He made his final bed in bush beside a park overlooked by the magnificent homes along Paratai Drive. To meet his friends, that generation of 36-year-olds from Grammar and King's such as Brody Nelson and Duncan Greive - homeowners and talented entrepreneurs (Nelson is technical director of the app-driven Parkable, Greive runs the Spinoff media site), both with young families - was to see the life that Socksay could have enjoyed, too. He was just as clever, just as chill.
But he was suffering. Maybe what he managed to achieve is more remarkable than the extreme circumstances of his death; he overcame his illness to carve out an awesome life for himself in Berlin, he helped create a successful film editing company, he got married, he made new friends, he remained the same sweet, kind, funny, generous guy. All of that was a triumph. To do as well as long as he did, despite whatever profound and ultimately tragic disturbance, might be something to marvel at.
But he was too vulnerable, too far gone. When the body was discovered, word went around the immediate neighborhood that it was probably the crazy old lady who lived rough and could be seen most days outside the local bakery, feeding seagulls and pigeons. The ex-Grammar boy who was mistaken for a homeless woman. Police ruled out foul play, and an inquest will be held to establish cause of death. It seems far less likely to be suicide than exposure. But there's hardly any more comfort in that for friends and family, who are left to contemplate the horror of Socksay dying on the wet ground at the edge of a reserve. One call or Facebook message would have changed everything. A bed, a meal, friendship - it was all there waiting for him, all over Auckland. But as Tom Cotter wondered, hadn't he always been too afraid to show signs of failure? The thought of asking for help must have been horrifying.
Jamie Connor said, "How could someone die like that? What were they doing there? It's - I mean - it's - it's unspeakable."
Tom Cotter said, "That such a miserable thing should happen to someone who had such a genuine spirit, if not the most straightforward of characters, to come to such an end - it's pretty awful. It's a tragedy."
Auckland friends held a wake at Galbraiths in Mt Eden. They sat around in a state of shock and tried to make sense of it. It was a very New Zealand send-off - beers, low voices. In expressive Berlin, about a hundred people who knew him on the party scene assembled one night at Gorlitzer Park to light paper lanterns and say goodbye to Socksay as the pretty lanterns drifted, glowing, into the sky.
The family have the worst of it. Sam Chansy wept in his home in Dannemora and said, "I don't know why this happen. I got a good house, I got spare room for him, he be comfortable. I prepare a job for him; I ask my boss, he said he can start anytime."
He said he went to the spot where his son died. "I think he lie down there and not have energy to get up. Too cold. Just not get up."
Socksay's brother Peter Chansy initially agreed to an interview. He emailed, "We are still shocked and devastated about it all but I will answer what I can." We arranged a time to talk on the phone. But the call went unanswered, and he didn't reply to messages or emails.
His cousin Arouny talked about the Buddhist service held for Socksay at the temple in Otahuhu. All the family were there. She said, "Peter told me he'd written a eulogy but couldn't bear to get up and say it. He hasn't found peace yet. He said when he was in New Zealand [for the funeral], every night when he closed his eyes, he'd see his brother, and thought about how his brother was lying there in the cold. He was scared to close his eyes because he'd see him, and he'd imagine Socksay in the cold."
Sam's lovely eight-year-old daughter watched and listened as the brother she never knew was being farewelled. She said to her mother a few days after the funeral, "Do people really go to heaven when they die?"
"Yes."
"Good," said the little girl. "Because that's where Socksay is now. He's not cold anymore. He's warm."
He talked with someone not long before he died, very likely the last person he spoke to, not far from where he lay down in the cold. "He made a profound impact on me," said Neil Mahi.
We met at the Savage Memorial. Tourists from China bent forward against the wind that tore around the grassy point. Neil was a big man, with a thoughtful, open manner. "Let's walk," he said, and we strode down a hill towards Tamaki Drive. The water was choppy, and boats rose up and down. "I met him there." He pointed to a concrete gun emplacement that clung to the side of the bank; the roots of a tree twisted around the roof in a kind of embrace.
Neil is security manager at the nearby Orakei marae. He patrols the grounds most afternoons. It attracts vandals, drug users, vagrants; he asks them to respect his ancestral land, and to move on. He'd been told about a guy who was sleeping in the emplacement. He went there, and found Socksay.
The old military bunker is a snug kind of place. It's an ideal spot for someone sleeping rough and needing shelter. It has a roof. There's a small window where a shaft of light creeps in. There's a kind of gutter in the middle of the floor where rainwater collects. Neil found Socksay lying on a black plastic rubbish bag.
"What struck me straightaway was that he had almost nothing on him. Nothing substantial. A little backpack, and the plastic bag - that was his bed. That was him. He had a supermarket bag with a few supplies in it. He had light clothing on and it was obvious there wasn't much in his backpack. He looked like he was out for a stroll."
The two of them went outside, and sat on the grassy bank and talked for maybe quarter of an hour. Socksay told him he'd been out of New Zealand, and had got back not long ago. Neil said, "Where are your family?" Socksay didn't say anything. Instead, he opened his hands and moved them apart, in the gesture that says: don't know. "I didn't push it," said Neil. "How could he not be where he was without a heartbreaking story behind him? If he wanted to volunteer it, I'd have listened. But I'm not going to flush it out."
Neil asked where he'd been staying since he arrived back, and Socksay said in the city, but that he thought it'd be better to get out of there and come out to Orakei. Perhaps Sam had come close to finding him on those night drives aorund the city, searching for his son.
"I said, 'Are you hungry, bro? Do you want some lunch?' He declined. He said, 'No, I'm fine.' I told him he was on Maori land. He didn't realise. He said, 'Oh, I'm really sorry.' He was really understanding. He offered to give me some money as an offering. I said, 'No, you keep your money, bro.'
"He really was the nicest guy. Quietly spoken, polite, courteous, respectful. But his body language was all closed. He sat there huddled, with his head down. No eye contact. He was holding something within himself.
"He really made an impression on me. I went home and I was in such conflict about asking him to leave. There's always been a level of conflict that I've felt but none like this before and it was because he was such a sweet guy.
"'Bugger it,' I thought, and I filled a container from my dinner - we'd had a chicken meal - and my old army thermal mat. I thought, 'He'll have come back.' So I went there but he was gone.
"I went inside the emplacement and there was $2.40 in coins that he'd left on the black plastic mat as a koha. That broke my heart."
Socksay's last act was to honour an debt. Unpaid debts always meant a lot to him; they were a torment, a sign of bad faith, of letting people down. He couldn't bear that. The coins might have been the last of his money and he spent it on paying a debt he didn't actually owe.
Neil Mahi kept an eye out for Socksay over the next couple of weeks, looked at other gun emplacements at Bastion Point, all around. "But there was no sign of him." The reserve where he died wasn't far away.
"I come back here sometimes," he said. "I had my own ceremony for him. I have a Buddhist faith, so his passing resonated with me on that level, too." We looked out towards the water, and North Head. "He was such a nice guy. Gentle."
When we'd first walked inside the emplacement, and we were looking around that small, damp tomb, Neil pointed to a coin on the floor. "I think that was Socksay's," he said. We weren't in there very long and then he said, "Let's get out of here."
Where to get help:
• Lifeline: 0800 543 354 (available 24/7)
• Suicide Crisis Helpline: 0508 828 865 (0508 TAUTOKO) (available 24/7)
• Youthline: 0800 376 633
• Kidsline: 0800 543 754 (available 24/7)
• Whatsup: 0800 942 8787 (1pm to 11pm)
• Depression helpline: 0800 111 757 (available 24/7)
• Rainbow Youth: (09) 376 4155
• Samaritans 0800 726 666
• If it is an emergency and you feel like you or someone else is at risk, call 111.
This article was first published in November, 2016.