Love for all was the message being sent to Brian Tamaki by a group of peaceful protesters outside his Rotorua sermon this morning.
About 20 locals gathered with rainbow flags and placards across the road from Destiny Church, protesting comments made by the church's leader earlier this week.
Former television presenter Tamati Coffey, who is set to stand in the Waiariki electorate for Labour at next year's general election, also took part in today's protest.
Bishop Tamaki came under fire after he blamed gays, sinners and murderers for earthquakes during one of his recent sermons.
It came one day before a 7.8 magnitude earthquake killed two and left thousands stranded, with limited food, water, shelter and communication.
Teach Brian Tamaki Love protest organiser Dan Woodward said he had been tossing up the idea of doing something since Wednesday.
"Some say turn the other cheek but there are some comments people should not be allowed to get away with.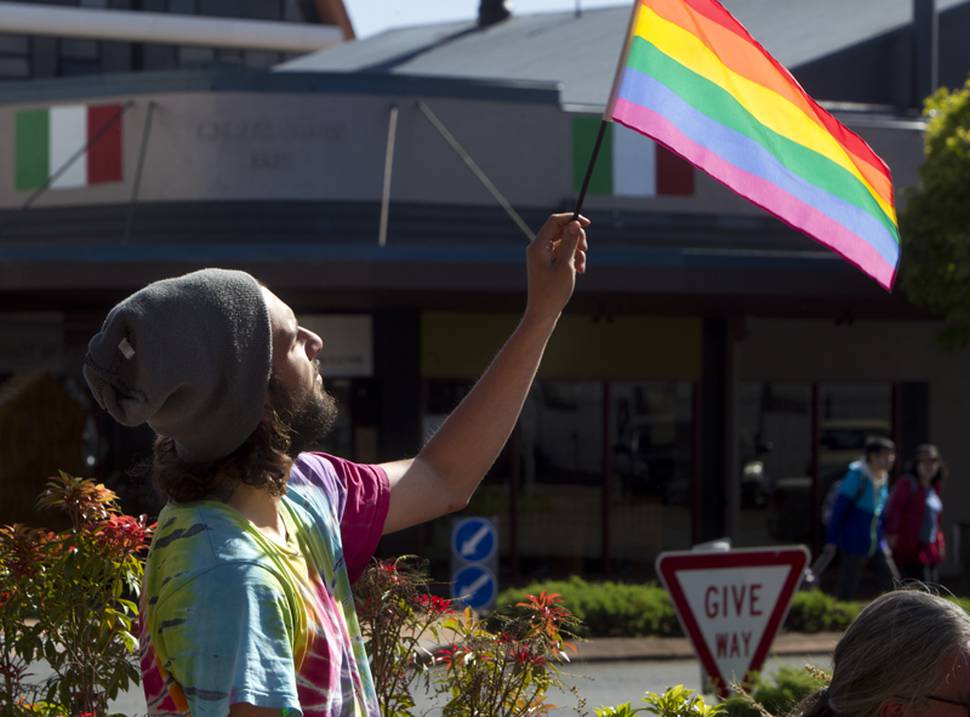 "People should have the same freedom to be able to explore their own identities as much as they have their own religious preferences. That is what we felt Brian's comments were in opposition to.
"By making those comments, Brian put a whole lot of stupid on the already-full plates of people who are trying to find out who they are.
"The other unfortunate outcome of his comments is that it completely overshadows a church that does a lot of good in the community and has a lot of good people in it.
"Although he is their leader, I don't think his comments reflect the attitudes of all the people he preaches to. This protest is about Brian Tamaki as an individual, not the church he leads."
Mr Woodward said he would accept an apology from Mr Tamaki but did not think it would likely come.
"Absent an apology, what would be good is if he made a real donation to the disaster relief efforts or to something like Rainbow Youth."
Fellow protesters Krissie Knap and Ashleigh Jensen said they were there in support.
"It's about giving love, there's not enough of it in the world. It doesn't matter whether you are gay, straight, black or white, love is love and you can't help who you fall in love with," Ms Knap said.
"Right at its essence, Brian Tamaki's comments are just hateful. You don't expect this kind of discrimination against minorities, not in this day and age," Ms Jensen added.
Tamati Coffey closed the protest by saying it had been an awesome morning.
"We came and did what we came to do which was show a bit of unity and love."
A Destiny Church spokesman initially told the Rotorua Daily Post they would not be answering any questions until after the service.
He later said Rotorua pastor Rewi Hare would be making no comment regarding Mr Tamaki's comments, today's protest or what this morning's "special sermon" was about.
It is understood Brian Tamaki entered the church through a side door.
The peaceful protest ended as the church service began.