For Dannevirke's Todd Mancer and Chloe Turton, Monday morning's massive earthquake couldn't have been any closer with the epicentre of the 7.5 magnitude quake on their doorstep.
Todd, 22, son of Dianna Mancer, works on a large dairy farm on Leslie Hills Rd, 10 minutes from Waiau in the Hurunui District and his partner Chloe teaches at Waiau School.
"The epicentre of the quake was bang on the end of their road," Scott's grandmother, Liz Edwards, told the Dannevirke News. "The impact of what has happened is still sinking in and while all the attention has been on Kaikoura, for those on farms it's been pretty horrible too."
The earthquake has also left the historic 36-room Rutherford homestead on the property in a "sorry state."
"It was a beautiful home, but at this stage they don't know if it'll be up and running again," Liz said.
Todd and Chloe's farm cottage didn't escape the violent force of the shake either.
"They couldn't get into their kitchen, everything was on the floor and they've had furniture smashed too," Todd's mother Dianna Mancer said.
"Their house is a bit of a shambles, but structurally there isn't anything significant, so at least they've a roof over their heads.
"Todd and Chloe said the earthquake was unbelievable and they haven't had much sleep and are very weary."
Despite patchy cellphone coverage Todd was able to call his mother in Dannevirke just after midnight as soon as the shaking on the farm stopped.
"Surprisingly, we were still rocking and rolling here in Dannevirke when I picked up the phone," Dianna said.
"Todd said the experience had been horrible and they're both exhausted. It's been tough for them and with Waiau School not open, Chloe has been pitching in to help on the farm."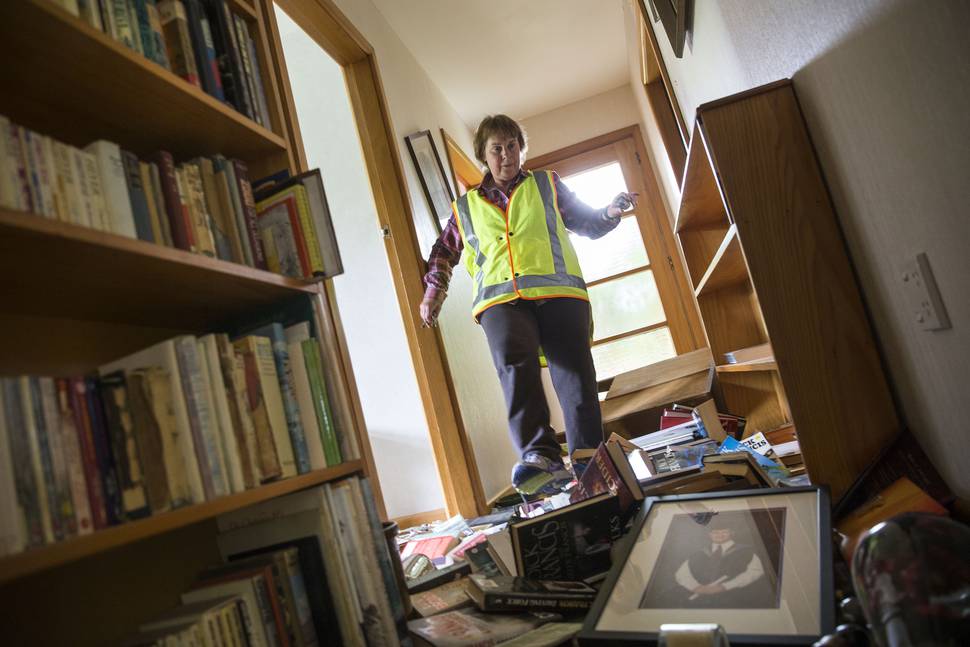 Yesterday morning there was still no power or water at the cottage or on the farm.
Todd works on one 1200-cows unit on the property, with another 1200 cows milked on another part of the farm.
But as the earthquake hit just after midnight Monday, the force wrenched the rotary milking platform from its base.
"That lost platform meant Todd and others had to take their herd through to the other cowshed at 2am and those milking spent all day at it, putting two huge herds through the one shed, which was operating on a generator," Dianna said.
"They didn't finish until 7pm Monday."
And while the milkers were hard at it, between 10 and 12 men managed to lift the milking platform of the rotary shed back on to it's tracks.
"Todd said he didn't have a clue how they managed to fix it, but the shed is up and running on generator power," Dianna said.
"However, they're not able to run the wash-down pump. Unfortunately a neighbour hasn't been so lucky as his cowshed has to be demolished and his cows have been taken off the property."
All this comes at the peak of the milking season, but the community has been rallying to help.
"It's a really good community there and at Red Hills, towards Waiau, 4000 cows went through that shed Monday morning as farmers got together to help each other out," Dianna said.
Aftershocks continue to rattle the area and Liz said she was talking to her grandson when another one occurred.
"He said 'holy s..t', then asked me to excuse his language, but apparently it was a beauty," she said.
"An Irish lad working with them has been absolutely terrified by the experience."
Fonterra managed a pick-up at Leslie Hills Farm on Monday morning and now there is access from the Lewis Pass Rd for light vehicles and tankers.