Missed out on Lotto last night?
Don't be blue. Yellow might be more your colour.
Ten dollars backs one of a 1000 or more plastic ducks to be raced on the Whanganui River this Saturday.
It's the brainchild of Daniel Goldsworthy - also known as Plumber Dan, a city plumber. "We're hoping to raise $10,000 for Jigsaw Whanganui," Mr Goldsworthy said.
The plastic ducks will be dropped into the river from the Dublin St Bridge at 10.30am Saturday and "tides and winds willing" they will cross the finish line at the City Bridge about an hour later.
First across the line will be top duck, and its backer the winner of the $800 first prize. An assortment of also-ran prizes are also up for grabs.
It's the first race of its kind on the Whanganui River - perhaps anywhere. Who came up with racing plastic ducks? "I like to do different things," Mr Goldsworthy confesses. "We work among the community so it's a way to give something back."
Plumber Dan's big five metre duck is already on the river helping to promote the race to curious onlookers. The duck was used in a similar way to promote the last city raft race.
Mr Goldsworthy said he was also working on a birdman challenge for April, and has a workshop full of strange contraptions - a Mini with two fronts will be sure to draw attention when it hits the streets. "I guess I'm still a big kid at heart - I like to have fun and amuse people."
Mr Goldsworthy said Saturday's race would proceed "rain, hail or shine" and hoped it would go without a hitch, despite several ducks escaping during a test earlier in the week.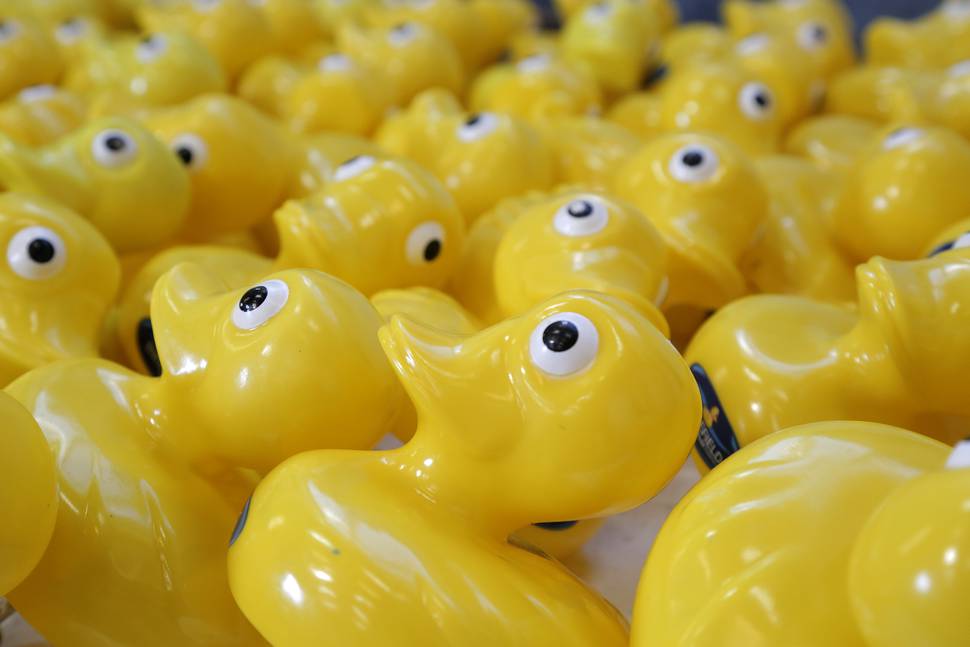 "As we dropped them from the bridge the wind caught a few and they - well - they flew off and didn't make it down to the water."
The ducks will also need to contend with the paddlesteamer Waimarie which is due to sail shortly after Saturday's race begins - "it could be duck Armageddon".
Tickets are selling like hot cakes with 800 ducks already under starter's orders. Further tickets can be purchased from Jigsaw Whanganui, Footloose and from Plumber Dan.