On the eve of the annual Labour party conference, Claire Trevett looks at the party's battle plan to to take back Auckland in 2017.
It might eventually take voters half-way down Dominion Rd, but there was nothing half measure about Labour's light rail announcement in the Mt Roskill by-election.
It was a promise to fund at least half of the $1.3 billion needed to bring trams along Dominion Road all the way to Mt Roskill from the CBD.
The by-election campaign is a handy dress rehearsal for Labour as it prepares for the 2017 election.
But it has a lot more to lose than National has to win in the fight for the central city seat.
Mt Roskill should be a safe Labour seat after three decades under Phil Goff's tender care. But on paper, National has the edge. So Labour leader Andrew Little has been throwing out the promises.
First came $180 million a year for 1000 more police, an announcement he targeted at Mt Roskill.
Then came the promise to put in at least half of the $1.3 billion cost for light rail. Little has also boosted the proportion of homes in Labour's "Kiwibuild" policy which would be built in Auckland, from 30,000 to 50,000.
The gap between National and Labour in Auckland is stark. In 2014, the centre-right parties combined won 54 per cent of the vote in Auckland. The centre left got 38 per cent (not including NZ First).
Labour can not afford to get Auckland wrong in 2017.
Phil Twyford is Labour's campaign chair for 2017. "You can't win the country if you don't win Auckland. It's a third of the population, and it is critical."
He admits 2014 was a shocker. "We took a bath. The voters basically decided we weren't ready to be handed the keys."
Labour has lost more than 14,000 votes in Auckland since 2008 and its share of the vote has dropped from 33 to 27.7 per cent.
By comparison, National has picked up 28,000 votes and its share of the vote has stayed steady at 48.6 per cent.
The Greens and NZ First have picked up Labour's slack - the Green vote in Auckland has lifted from 5.6 to 9.7 per cent and NZ First's from 3 to 6.8 per cent.
On the bright side, Labour's support in South Auckland has remained rock steady, helping bolster the party against an even more disastrous result.
Ask Little the big three issues Labour will be focusing on in Auckland in 2017 and he picks four: transport, housing, crime and immigration.
"Crime because we know some of the biggest rises in crime happen in Auckland and also to some extent immigration in the sense Auckland is feeling the pressure of more and more people coming into the city that is ill-equpped to cope with such a rapid increase in population. So we have talked about better managing immigration."
Labour has been quiet on the issue of immigration in the Mt Roskill by-election but Little wants to peg back the numbers coming to New Zealand on work visas, such as for unskilled jobs.
This is dangerous territory - half of Mt Roskill voters were born outside New Zealand and 40 per cent are Asian - the second-highest percentage of any general electorate.
To rub it in, National's candidate Parmjeet Parmar is Indian and the new Peoples' Party is campaigning for the migrant vote.
Labour has Maori and Pasifika representation aplenty in Auckland. Jenny Salesa, Carmel Sepuloni, Su'a William Sio and Louisa Wall hold the fort across South and West Auckland, as well as Tamaki Makaurau MP Peeni Henare.
Thanks to what one MP delicately describes as Labour's "compressed party vote" in 2014, Labour has no Chinese or Indian MPs.
It has no MPs of Asian ethnicity at all. It had expected to get Raymond Huo and Priyanca Radhakrishnan in, but fell well short of the 30 per cent needed.
So the less said the better about immigration on the streets of Mt Roskill. Instead, Wood's campaign material talks about everything except immmigration.
It talks about trams, "run-away house prices", work, wages, "the rising tide of burglaries", police officers, police stations, the environment, health, and schools.
The ethnic issue is not only a problem for Labour in Mt Roskill. It is a problem across Auckland.
By 2013, almost one quarter of all Aucklanders identified as Asian - about one third of whom were Indian and one third Chinese. Those numbers will have grown further since.
Yet since 2014 Labour has treated migrants to its attack on foreign property buyers by crude research based on Chinese surnames, which even Twyford admits damaged the party a bit despite a short-term boost in the pools.
More serious is the lack of Asian MPs, especially when National has a strong line up - Parmar and Kanwaljit Singh Bakshi are Indian, Jian Yang is Chinese and Melissa Lee is Korean.
One Labour Auckland insider said the National machine was also very effective.
"National has basically occupied the entire space because is has two Indian, one Korean and one Chinese MP. And Jian Yang has been working very hard in making John Key come across as 'a leader in your neighbourhood' - as approachable and friendly."
Xiaoying Fu, a business consultant and director who is on the Asian Leaders board, has lived in New Zealand for 20 years under both Labour and National Governments.
Fu said National was partly reaping the benefit of being in power, but Labour had not helped itself with the Chinese surnames or rhetoric about migrants taking New Zealanders' jobs.
"Based on talking to my friends, people just say 'oh, Labour doesn't like Chinese.' It tends to be a bit generalised. I keep telling them it was Labour who signed the [free trade agreement] with China. It was Labour that established the relationship with China in 1972. Labour did a lot of work.
"The newer migrants are wealthier and probably find National's policies are a little bit in favour of them. But people like me can see the big picture and in general Labour has been good to Chinese."
She said Labour needed to use its Chinese members more, such as Huo, an Auckland lawyer, who was in Parliament until 2014.
"They definitely haven't done enough in the Chinese community. To be fair, sometimes Chinese only want to talk to people in power right now. Probably that makes exposure [for Labour] harder, but they should try to communicate exactly what their policy is."
When Huo introduced Twyford to a meeting of the Chinese building industry representatives recently he made a joke of the Chinese surnames incident, encouraging them to come up with a Chinese surname for him of his own.
"There was a round of applause from the audience," Huo says. "From that moment, I could see the tension being eased and it gave Phil the opportunity to explain Labour's policy."
Neither Huo nor Labour will openly admit it, but there is another reason it is keen to get Huo back on board. Huo has been an asset for Goff in the mayoral campaign, helping with fundraising including a dinner at which Goff raised more than $200,000.
TAKING CARE OF BUSINESS
It has been a long time since Labour had a leader who was not an Aucklander. David Cunliffe, David Shearer, Phil Goff and former Prime Minister Helen Clark were all Aucklanders.
Little is from Wellington as are his deputy Annette King and third-ranked Finance Spokesman Grant Robertson.
Little says he is well aware of Auckland's importance. It is why he dispatched Matt McCarten to set up an Auckland office.
He has also started regular sessions to schmooze local businesspeople over drinks.
Labour's main weapons in Auckland are Twyford and Jacinda Ardern - the Auckland spokespeople.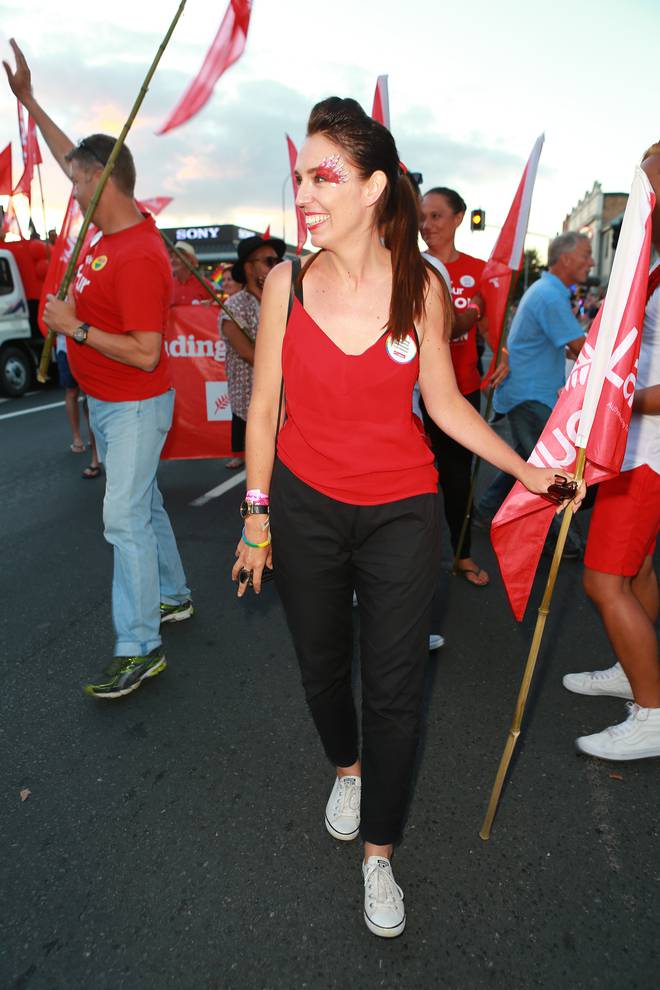 Ardern is Labour's "rock star" in the city, according to one MP. She is Labour's Justice and Childrens' spokeswoman and - critically for Auckland - Small Business spokeswoman.
A sign of the breadth of her effectiveness came in the Herald's Mood of the Boardroom survey of chief executives.
It was not Little or even Finance Spokesman Grant Robertson who topped that survey of Opposition MPs - it was Ardern.
Ardern was pleased she had cut through but also points to a recent MYOB survey of 1012 small business owners.
Labour had just 10 per cent support when asked what party was better to help business succeed. National had 57 per cent.
There was higher support for some Labour policies, such as research and development tax credits.
"Both surveys tell me there is work we need to do. When you break down the policies, Labour gets a positive response for some of the ideas we are putting up but we still have a disconnect that we need to work on."
A FALSE DAWN?
There is a sense of tentative satisfaction in Labour as it heads to its annual conference. It has just raised $200,000 at one of its semi-regular art auctions in Auckland, courtesy of donated artworks from the likes of Karl Maugham and Stanley Palmer.
After struggling to attract big donors, Labour's hierarchy is hopeful it is a sign of greater confidence in the party's chances of winning.
The local election results, which saw mayors with Labour affiliations elected or re-elected in Auckland, Wellington and Christchurch have also been a morale boost.
Twyford says he is feeling "chipper" this time round, a year out from the next election. "I think, on the defining issues in Auckland, housing, transport - and, increasingly, crime and community safety - the Government is on the back foot and we've got good positive solutions."
Which brings us to Labour's other problem in Auckland: National. National by far outguns Labour in terms of manpower and money in Auckland. Its coffers overflow and it has a strong grasp over vast tracts of central, northern and eastern Auckland in particular. It has snaffled up the growth areas as well on the city outskirts on all sides.
National itself is pondering offering a multibillion-dollar tax cut programme but Little's largesse for Auckland has not escaped campaign manager Steven Joyce's derision.
"They have got to be believable and I don't think they are. That's always Labour's achilles' heel. They start writing billion-dollar promises all over the shop and I get the impression so far that Andrew Little is going to do exactly that, and possibly more so than the last election. That starts to fail the believability test."
Joyce has a very different answer to Little when asked what the big three policy areas for Auckland are. He lists the economy, the economy, the economy, education, health and law and order.
The most notable omission from Little's list is the economy. The conference coincides with further good news for the Government on that front - it has a rosy surplus, the unemployment rate has dropped back below 5 per cent and New Zealand was ranked top in a list of countries considered a good place to do business.
At the Labour Party's annual conference today there is a workshop titled "How we win". It is a 50-minute session.
If it is indeed the economy that wins elections, it will take Labour a bit than a 50-minute brainstorm to blow National out of the water. Perhaps it is no coincidence that its annual conference coincides with Guy Fawkes Day.
Battle ground seats:
Of the 21 general seats in the Auckland region, National holds 12, Act one and Labour 8 - if it holds Mt Roskill. In 2008, Labour lost both Maungakiekie and Auckland Central to National as it swept into power. Labour still wants them back. David Cunliffe's announcement he would leave politics before the 2017 election has put the New Lynn seat into play as well for National to stage a reverse takeover.
• Auckland Central: the most marginal seat in the country - National's Nikki Kaye held it by 600 votes in 2014.
Ardern will have her third go at winning Auckland Central in 2017, having lost to the incumbent National's Nikki Kaye in 2011 and 2014.
That contest is in the air for the time being while Kaye takes time for treatment for breast cancer.
Ardern says news of the diagnosis came as a shock. "In lots of ways when you are a - I can't really use the term younger - but "youngish" person in politics there is a bit of an affinity with other younger politicians. So even though Nikki and I are in opposite sides of the House we've had a pretty good relationship. And her illness has really thrown me. Yeah. She's young."
She had called Kaye after her diagnosis and stayed in text contact since then.
At the time, Ardern had refused to comment about Kaye other than a brief tweet. "It was her diagnosis and it was not about politics. And it still isn't. The first and foremost focus is her health and wellbeing. Everything else is secondary to that. The politics are secondary when it is about someone's wellbeing."
• Maungakiekie: National's Sam Lotu-Iiga won the seat in 2008 after former Labour MP Mark Gosche retired from politics. His margin in 2014 was 2348 against Labour candidate Carol Beaumont, who had twice been defeated before. This time Labour is trying a fresh face. Selections will be on November 12 and those in contention are Priyanca Radhakrishna, Anahila Kanongata'a-Suisuiki, and Shanan Halbert.
Twyford is confident the seat will be "in play" and the combined party votes of Labour and the Greens outstrip National's by 1000. But incumbency is a powerful factor.
• New Lynn: New Lynn was the electorate in which National gained the most party votes compared to 2011. It's share of the party vote went from 36 to 39 per cent - up by 3.2 points. It got 1000 more party votes than Labour.
That was partly because of boundary changes. But National's candidate Tim Groser was about 4500 votes behind Labour's David Cunliffe - and Cunliffe was the leader of the Labour Party and the long-standing MP in the seat while Groser spent most the campaign out of the country at trade talks. That could see National in with a chance if they select a vigorous candidate. Even Twyford jokes that Groser had made it quite clear he had no interest in being elected. "With the boundary redraw and a very well-known incombent leaving, that will be an electorate we really have to work for. It's not a gimme for us."