It's been described as New Zealand's first "three-way kidney exchange" and hailed as an important step to increasing organ donation numbers.
The process involved three people in need of kidneys.
Each had a family member or friend willing to donate to them. The problem was, neither of the three were a match with their chosen donor.
So, instead of putting the three people back on a waiting list, medical professionals hatched a plan.
They created an exchange, where each of the willing family members or friends was matched with one of the people in need of a kidney, who they did not know.
The transplants, involving a total of six people, three recipients and three donors, were successfully completed last month.
The operations were performed by five surgeons in two of the nation's three kidney transplant centres.
Canterbury DHB clinical director at the National Renal Transplant Service Dr Nick Cross said it was an exciting new approach to kidney transplants that solved compatibility issues for those wanting to donate to a loved one.
"These kidney transplants are very valuable as often patients in the exchange are particularly difficult to find a donor for," he said.
Traditionally kidney donations are normally between one recipient and one donor that have been matched - but finding a match isn't always easy.
"These kidney transplants are very valuable as often patients in the exchange are particularly difficult to find a donor for," Cross said.
"It allows a possible donor and a recipient to be matched with another possible donor and a recipient, creating a transplant exchange."
Cross said becoming a live kidney donor was an "exceptionally selfless act".
The colours show who the donors wished to give a kidney to but the numbers represent who they were actually matched with: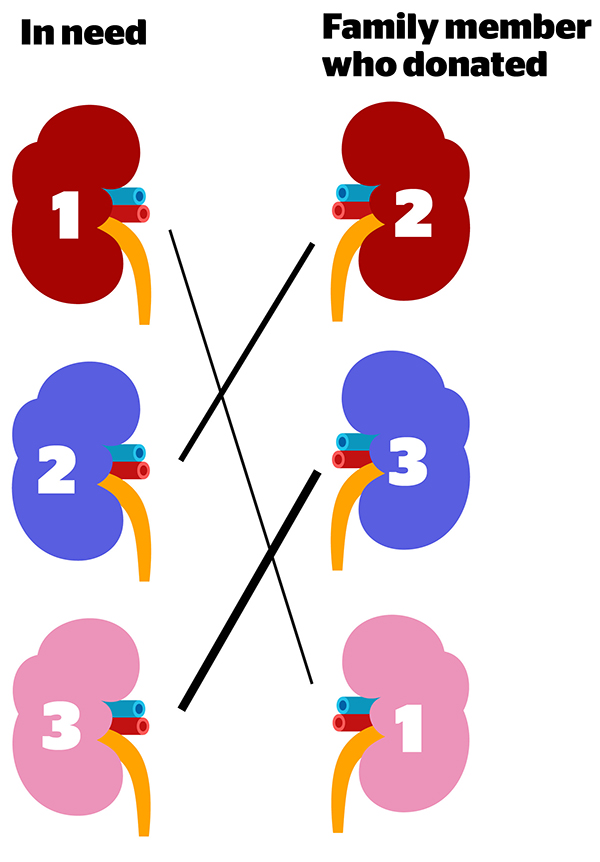 "It involves substantial sacrifice of time, a moderate sized operation with associated pain and recovery time, and a small but definite risk of a bad outcome for the donor.
"Live kidney donors are heroic individuals, and are deserving of our admiration."
Health minister Jonathon Coleman lauded the exchange as an "innovative approach" to kidney transplants that could help save lives.
"Individuals are often very keen to help a friend or loved one needing a kidney, but are unable to because of tissue compatibility issues."
He said last year a total of 147 kidney transplants were carried out in 2015 and while great progress is being made on organ donation rates more can still be done.
It's understood all involved in the transplant exchange are recovering well.
Number of deceased donors, and live by year
2015 73 74
2014 66 72
2013 57 59
2012 54 54
2011 61 57
2010 50 60