As stories of sinister clown encounters surface in New Zealand and around the world, sociologists talk to Russell Blackstock about what is driving this dark fad.
In the past seven years professor Thomas Petschener and his team of 32 clowns have put a smile on the faces of 150,000 Kiwi hospital patients and their families.
The Christchurch-based health scientist is chief executive of the Clown Doctors, a charitable organisation which believes laughter is the best medicine.
The red-nosed entertainers drop into hospitals across the country to cheer up sick kids and adults.
But Petschener insists the worldwide creepy clown phenomenon which has reached New Zealand in recent weeks is no laughing matter - it is giving mainstream clowns a bad name.
"A few idiots wearing masks and wigs bought from two-dollar shops are really freaking people out," he says. "We have visited tens of thousands of people in hospitals since we started and never had a single complaint.
"But now people are asking if we are freaky or scary, which is upsetting and frustrating. This whole creepy clown craze is not just annoying, it is a concern."
The creepy clown epidemic started sweeping the United States in August with reports of clowns trying to lure children into the woods prompting extra security at some schools.
Reports of suspicious clowns have also led to US schools being shut down, and police forces have warned people to be wary if they see anyone dressed as one.
The wave of hysteria about sightings has even forced McDonald's to limit the appearances of its mascot Ronald McDonald, as experts weigh in on how the phenomenon could have taken such a grip.
The spooky fad landed in New Zealand last week when reports of a clown scaring children at a Porirua school emerged.
Meanwhile, in Hamilton, police are currently hunting two clowns believed responsible for an alleged attack on a 22-year-old woman as she recently walked home from the pub.
The creepy clown craze has also hit the University of Auckland campus.
A clown with what appears to be a painted face, complete with a menacing smile and red nose, was caught peering out from behind a shelf at the university's library this week.
The terrifying scene was caught on camera by a student and posted to the "Overheard @ University of Auckland" Facebook group.
The video attracted hundreds of likes and comments, with commenters advising other students to stay away from the library and expressing their fear of the clown.
A "creepy clown" was also spotted lurking outside a Blenheim park in the early hours of Wednesday morning. Police received reports of the clown leaning against a fence outside A&P Park in the dark.
A police spokesman said a driver reported spotting the clown and got "quite a fright" but the clown had left by the time officers arrived.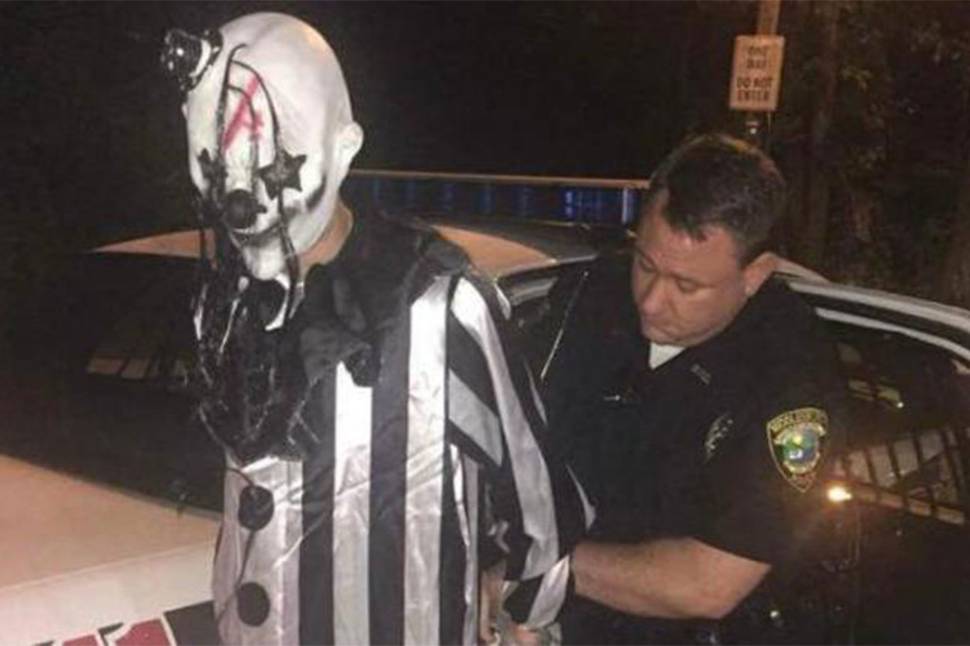 Although many of the sightings are put down to rumour or mischief making, the arrival of scary clowns in New Zealand could have some serious consequences, according to some academics.
Dr David Mayeda, a senior lecturer in sociology at the University of Auckland, believes some people are dressing as scary clowns to indulge in bullying and violence.
"The attack on the woman in Hamilton was very strategic, with a focus on inflicting violence on the victim," he says. "It was an attack by two people on a lone young woman in the early hours and the offenders disguised themselves as clowns.
"It would appear this is an avenue to terrify vulnerable women while at the same time pretending it is somehow socially acceptable behaviour because the perpetrators were in fancy dress.
"It is safe to say most offenders who carry out these sort of attacks are overwhelmingly men.
"It is a nasty way for these men to feel powerful and perhaps lessen their chances of getting caught because they have been anonymised by the costume.
"If they do get caught doing something wrong they could also then try to pass it off as simply being a prank.
"But this is a serious form of bullying and harassment and it should not be trivialised."
The first person to spot a clown, the patient zero in the current epidemic of threatening clowns sightings spreading across the US, was a little boy at a low-income apartment complex in Greenville, South Carolina, reports Britain's Guardian newspaper.
He ran to his mother, Donna Arnold, and told her what he had seen: two clowns in the woods, both brightly dressed and made up. One with a red fright wig and the other with a black star painted on his face. They whispered something to the boy.
"They were trying to lure him to the house," his mother told the reporter, pointing toward the woods.
From this patch of woods, the word of prowling clowns began to spread. On the other side of Greenville, first. Then down in South Carolina's low country. Then North Carolina. Florida. Kentucky. Beyond the south to Pennsylvania, Wisconsin, New York.
The fiendish clowns have reportedly tried to lure US women and children to secluded areas, chased people with knives and machetes, and yelled at people from cars. They have been spotted hanging out in cemeteries and they have been caught in the headlights of cars at night on lonely country roads.
The fear of clowns is ­spreading so quickly online it is almost ­behaving like a virus.
Top American horror author Stephen King has even stepped in to calm concerns about the clown sightings.
King wrote the 1986 bestseller It, which tells the story of a supernatural being that appears as a clown.
"Hey guys, time to cool the clown hysteria - most of 'em are good, cheer up the kiddies, make people laugh," King wrote on Twitter.
He went on to give an interview with his local newspaper the Bangor Daily News about the phenomenon.
"I suspect it's a kind of low-level hysteria, like Slender Man, or the so-called Bunny Man, who purportedly lurked in Fairfax County, Virginia, wearing a white hood with long ears and attacking people with a hatchet or an axe," King said. "The clown furore will pass, as these things do, but it will come back, because under the right circumstances, clowns really can be terrifying."
People around the UK have also reported a series of sightings of people dressed as clowns frightening children, with six separate reports of "clown incidents" reported by Northumbria police in the past week.
One of the most dramatic was when a masked man carrying a knife jumped out in front of a group of 11 and 12 year-olds and followed them to school in County Durham. The pupils were left distressed but unhurt by the clown, who was wearing grey tracksuit bottoms, red shoes and a multicoloured top.
A fear of clowns - known as coulrophobia - is not unusual among adults and especially kids.
Symptoms of coulrophobia can include sweating, nausea, feelings of dread, fast heartbeat, crying or screaming, and anger at being placed in a situation where a clown is present.
Danny Osborne, a lecturer in psychology at the University of Auckland, believes some of the hysteria around creepy clowns is down to Halloween approaching.
But the craze has led to what sociologists refer to as "social panic", he says.
Social panic involves an exaggerated fear among a large number of people about some evil which is supposedly threatening society.
"The popularity of social media has fuelled these irrational fears," Osborne explains. "The fear of clowns is spreading so quickly online it is almost behaving like a virus.
"It is not dissimilar to how people might react to news of a shark attack.
Studies have also shown that dressing up like this can make it easier for offenders to do harm to other people because they are hiding behind a mask, he says.
"Research in the 1970s showed that if you take a regular person and put them in a Ku Klux Klan hat, they can become more aggressive and behave out of character.
"There is a de-individualisation going on with the offender which makes it easier for them to carry out acts of violence.
"Some of these so called creepy clowns have been known to carry weapons, so it is no surprise the police have concerns."
"A few ­idiots wearing masks and wigs bought from $2 shops are really freaking people out."
Although the bizarre craze is not expected to last, it is having a palpable effect on Kiwis who make a living from dressing as clowns.
Rory Foley is a director of Fear NZ, a company that runs horror-based events for charity. He believes the fad could seriously harm the horror industry's reputation and lead to someone getting seriously hurt.
He says in recent weeks customers have been asking specifically for clowns not to be sent to parties and functions as part of the entertainment.
"Our actors are aware a lot of people have phobias about clowns and are very understanding about this," he says. "If anyone has any concerns or are upset, our people know to rip their masks off straight away."
Foley has also stopped hiring out or selling clown costumes for the time being after noticing a recent spike in enquiries.
"I know what these people are up to and I don't want to encourage them," he says.
"I am also worried because people are posting on social media that if a clown comes anywhere near them, they will react with violence.
"The last thing we need is to be dealing with vigilante clown beaters, so we are being extra careful until this whole thing blows over."
NO LAUGHING MATTER:
Kiwi actor David Fane was delighted to land a part as a clown in the new series of television crime show The Brokenwood Mysteries - but now he is not so sure.
Fane has previously starred in hit homegrown movies such as Sione's Wedding, Eagle vs Shark and The Tattooist.
He turns up as an affable clown in an upcoming episode of The Brokenwood Mysteries. It was filmed before the current creepy clown craze started but he thinks viewers might now see him as one of the potential killers on the hit murder-mystery police drama, rather than a jolly kids' entertainer.
"One of the characters in the show is scared of clowns but my character is one of the good guys," he says. "He certainly does not go about threatening people with a baseball bat or anything.
"I get to ride around on a tricycle with chopper handlebars and multiple horns and make people laugh, unlike these buggers who are running around at the moment.
"It is hard work getting the costume and all the makeup on so the people who are scaring people are putting a lot of effort into it, which is a worry."
But Fane has a confession - when he was at drama school he played a clown he christened "Basher".
"I got a mask like something from the Phantom of the Opera and used it for when we did the clown component at classes. It was all a bit of a laugh but now I'm thinking I might have got it right."