A young dog who was dumped and left paralysed after being run over has been given a second chance.
Raumee was found in July this year trying to survive alone in the Pohangina Valley. Her rescuer Donna Mercer began leaving food out, but after a couple of weeks, Ms Mercer discovered Raumee had not touched her food.
"We first saw her running near Raumai Reserve and we noticed a huge big meathole in her neck and, as we got closer, we could see she had scarring all around her entire neck.
"After two weeks we heard she'd been hit by a car ... we were heading to town and found her body in a ditch - I wrapped her up and took her home."
Raumee spent five days dragging herself around before being seen by Valley Vets. They confirmed she had two injuries to her spine, but surgery was not an option. Neither was putting Raumee down.
"People have said to me to why not just put her down ... but she wants to live," Ms Mercer said.
"She would have lived off her own s*** and p*** because she couldn't go far and she was covered in bite marks from rats. I've never met a para-dog who wanted to live as much as Raumee."
Haven Bull Breed Rescue and Education got in touch with Ms Mercer and offered support.
Founder Nat Draisey personally paid for Raumee's X-rays and other veterinary care.
"When I first saw Raumee I just fell in love and wanted to help," she said. "We want people to know whatever situation they are in, there are rescues like us who want to help."
Ms Draisey set up a fundraising page and received enough money to buy Raumee a wheelchair.
Top Dog Direct were more than happy to get involved, and raised more than $300 on their own accord to go towards the purchase. They also included doggy pads and a drag bag.
Owner Charlotte Rayner travelled from Lower Hutt to Ashhurst on Saturday morning to personally deliver Raumee's new wheels.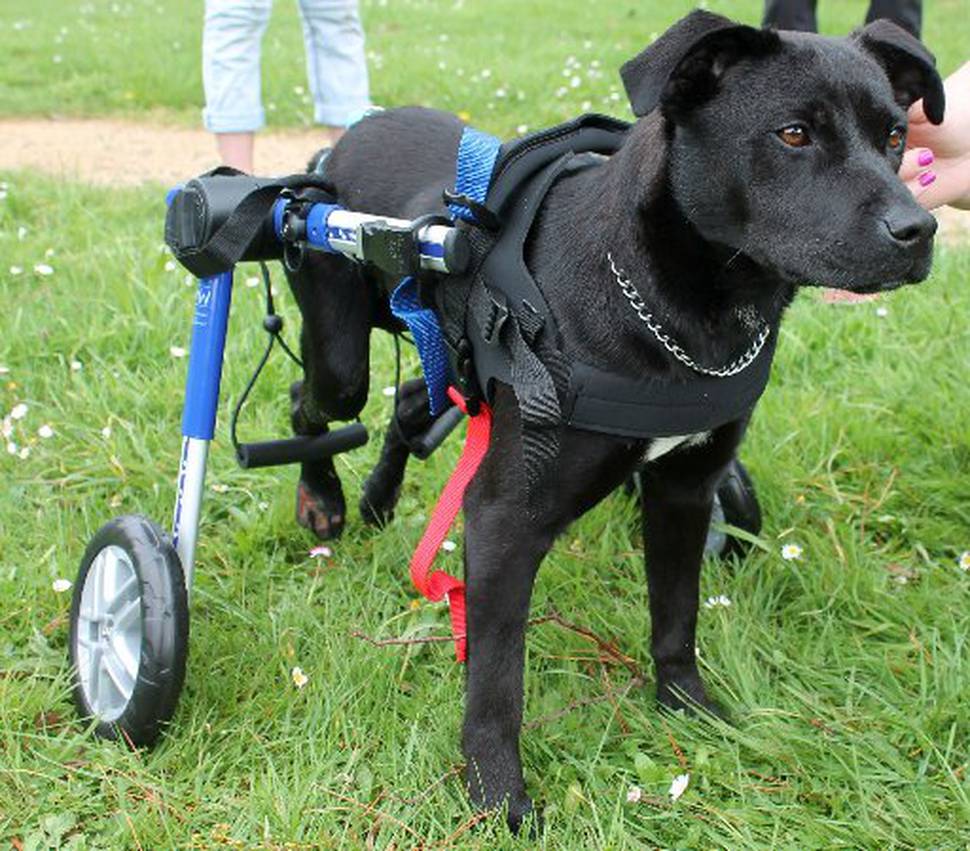 "It's so good to see her in the chair," she said. "She's the perfect candidate - she's an otherwise healthy dog. It's pretty amazing; she's gone from dragging herself to running."
Ms Mercer has had to provide significant care for Raumee, likening it to the requirements of a six-month-old baby.
"I had a s*** life, I had an abusive childhood but I always had a dog ... so I know how she feels. My dogs are everything to me and it's teaching them to trust another person."
She said Raumee was a firm part of their family now, and had already made herself part of the pack.
" ... even on two legs she was running with three pitbulls, taking the rope and doing 360 degree spins. On four legs, this girl's going to be lethal - I will have her walking by Christmas."
Ms Mercer said she would now continue training Raumee and had already noticed movement in one of her back legs.
"I've been treating her wounds with natural herbs and she's already a lot better than she was. I do everything for her - she gets massages, basically whatever she needs, I will do it."
- If you can help with donating nappies or other items, please contact havenrescue@yahoo.co.nz