Sequins, sky-high eyebrows and industrial strength stilettos are no longer exclusively reserved for drag queens.
Women have begun to creep into the drag queen realm, traditionally a place for men dressed with exaggerated femininity. When a woman reverses the norm they're called a faux queen or a bio queen.
Nick Nash, who co-owns the drag bar Caluzzi, has noticed a "10-strong army" of female drag performers taking it up over the past year and many others who dabble. This has coincided with the start of a monthly drag competition Drag Wars. The next one will be held on September 23 at Encore on Karangahape Rd.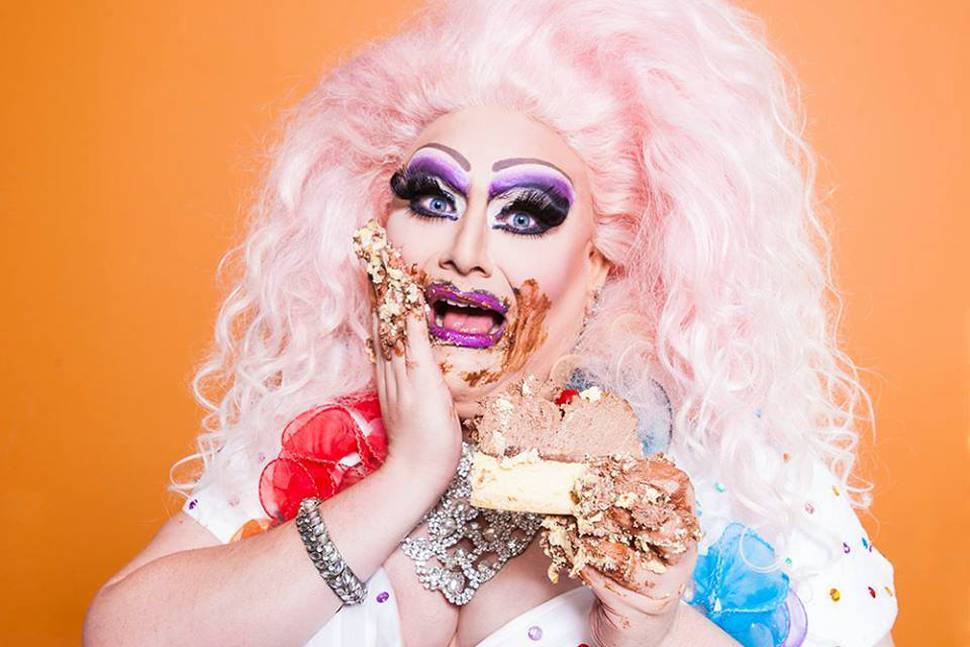 "It's definitely becoming bigger.
"It became less about gender specifically and more about expression. There's really no rules."
Nash thinks faux queening will have a snowball effect.
"Sometimes it just takes one person to spark a fire."
Whangarei woman Zia Burkhardt is keen to be that spark. She has fully embraced the "queendom" after being obsessed with drag culture for years. She became a queen three years ago inspired by her drag mother Vincent Nathan. She thinks drag isn't about being male or female, it's about blurring the gender line all together.
"Vince was doing my makeup, doing dragalicious eyebrows and we said 'ooh that's bit tranny'.
"It's just an artform. You don't have to be a girl dressing up as a guy dressing up as a girl, just be yourself, be wild."
Burkhardt, Nathan and Rachel Diamond formed a drag group called Queens of the Rei to grow the number of queer events in their rural town. Now their group has a few more unconventional members. Two 8-year-old girls and a 22-year-old man are considered their "glitter babies".
"There's not much of a queer community in Whangarei. We don't have any gay clubs so I thought why not bring it out and about and be colourful rainbow."
Burkhardt, 29, reveals it's not easy getting into full drag. The makeup takes at least four hours to put on. The key is to create an exaggerated expression. Burkhardt, whose stage name is Miss Safari because she's "wild", bases her look on animals.
"I try and create what would happen if you glitter bombed the jungle.
"Once you become totally unrecognisable that's when you become a queen."
Burkhardt's only negative experience came when she dressed up for International Drag Day on July 16. On her walk to work five guys started harassing her.
"They didn't realise I was a female in drag.
"I actually got chased home, I've never had that stigma before. It was quite scary."
But that just made Burkhardt more determined to embrace everything queer.
"It's all about loving, laughing, feeling good and rainbows. The whole point of being a queen is to make people happy."
Stella Moughan, 25, sometimes masquerades as a drag king, which is when a woman dresses up as a man, as well as her faux queen persona Stella Callisto.
She calls her male alter ego "Nipless Cage" as she has to tuck her breasts under her armpits. Moughan said dressing up as a man is a fun way to explore your relationship with gender. She has found the drag community to be super accepting.
"We're all born naked and the rest is drag."
Nash, 30, said some male drag performers have felt like the faux queens were encroaching on their territory.
"People always have differing opinions, but I'm very open to it."
Drag history
Cross-dressing has been around for centuries in theatre, but drag queens didn't appear until the mid-1900s in America. When queer rights were decriminalised from the 1970s to 1990s the culture flourished. The odd faux queen like the Russian-born Brazilian TV personality Elke Maravilha has been around since the 1970s but faux queens as a movement are only just starting to emerge.