Aftershocks have continued to shake the North Island after it was hit by one of its biggest earthquakes in decades, damaging homes and triggering a tsunami warning.
Five moderate aftershocks rumbled away overnight after the magnitude 7.1 quake, each between magnitude 4 and 4.6, with the last one occurring at 5am.
The quake rattled tens of thousands of people throughout the North Island, causing a rude awakening when it hit at 4.37am yesterday, about 125km northeast of Te Araroa on the East Cape, at a depth of 22km.
Civil Defence will be reviewing their processes after there was criticism of their warning and alert systems. The Ministry of Civil Defence and Emergency Management sent out its first quake advisory 40 minutes after it hit.
A potential tsunami threat notice was not issued until 5.33am, and a request for an emergency announcement to be broadcast was made at 5.58am.
There were no reports of injuries but house walls were cracked and there was damage to private water supplies in Gisborne.
Power was cut to about 1000 homes in Eastern Bay of Plenty and several schools in the region were closed.
GNS seismologist John Ristau said it was the biggest quake to hit the area in 20 years and lasted nearly a minute.
There were more than 140 aftershocks. Several have been moderate in size, including a 5.6 magnitude jolt at 5.01am and a 4.6 two minutes later. Aftershocks between magnitude 5 and 6 continued.
The Gisborne region continued to shake overnight with several quakes around Te Araroa ranging from magnitude 2.5 to 3.9.
Wellington residents were also jolted awake by a magnitude 4 quake around 2.45am.
Anton McKay, who lives in Patutahi, 15 minutes from Gisborne, was in cleanup mode following the quake.
"There's big cracks in the ceiling beams, about 40cm long. There's also cracks in the walls and the water tanks are hammered.
"The tanks have got cracks in the top and bottom, and they're both leaking water. They'll need to be replaced.
He said he felt everything cracking during the quake. "The kitchen's warped. The cupboards and drawers are buckled, and heaps of the glasses and plates are smashed.
"The swimming pool was sloshing water. It was going about 30cm high and landing in the carport, about 10 metres from the pool."
McKay's teenaged children stayed home from school but the family was going to clean up what it could and intended to stay at the house overnight.
An Insurance Council New Zealand spokeswoman said no significant damage had been reported.
Te Araroa Holiday Park owner Bill Martin said the quake was "very violent" for about five to 10 seconds.
"It knocked over a lot of stuff on the shelves in the shop and some ornaments in my lounge.
"The town siren went and some of the guests here went to higher ground and some chose to stay; I chose to stay."
East Coast MP and Cabinet minister Anne Tolley said she was "shaken and rather stirred".
"It was one of the longest ones I've experienced," she said.
"This was long and enough to get me out of bed and into the doorway and to actually get the dog up and barking."
Te Araroa resident Amohi Cook said she and several other residents had huddled in their vehicles on hills above the township.
"I woke up about 4.28am, looked at the clock and the house was rocking.
"It was one of the freakiest ones I've ever felt. The local [Department of Conservation] man called up my husband, who is the chief of the Te Araroa fire brigade, and he went and set the alarms off three times to get everyone up."
Tairawhiti Emergency Management Group is discouraging people from going out in boats. They also suggest staying off beaches, out of the water and away from rivers, streams and estuaries for at least 24 hours.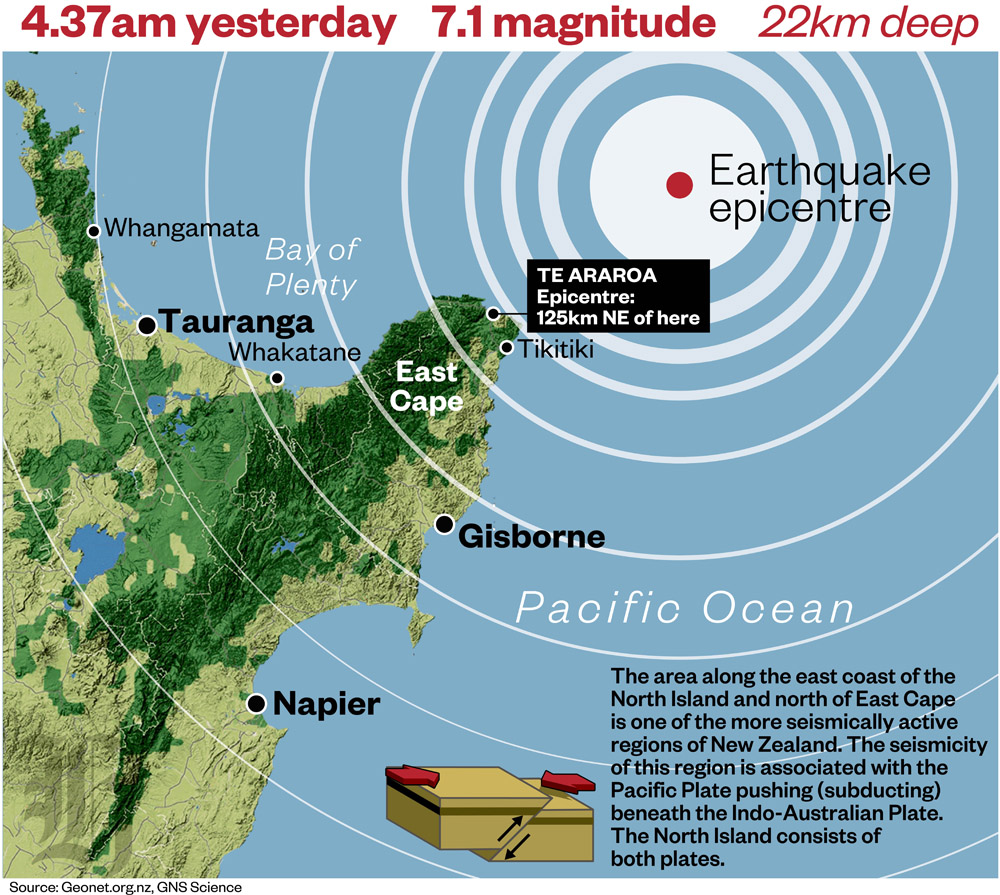 Key times
4.37am - earthquake strikes
4.41am - Ministry of Civil Defence and Emergency Management told by GNS Science of a magnitude 6.3 earthquake
4.53am - GNS upgrades quake to a 7.1 magnitude
Ministry says earthquake did not meet threshold for automatic issuing of a potential tsunami threat
5.10am - Ministry issues an earthquake notification
Pacific Tsunami Warning Centre finds no tsunami threat in initial assessment
5.33am - Ministry issues advisory for a potential tsunami threat. Says it is proactive while awaiting confirmation from scientists
5.58am - Tsunami warning issued
8.30am - Warning cancelled