Residents are being told to boil their water, motorists urged to watch for rockfalls and beachgoers advised to be wary in the aftermath of this morning's 7.1 magnitude quake.
The quake was felt by tens of thousands of people throughout many parts of the North Island. It hit at 4.37am, around 125km northeast of the East Cape settlement of Te Araroa, at a depth of 22km.
While there doesn't appear to have been any injuries, there are reports of cracks in walls of houses and damage to some private water supplies in the Gisborne region.
Power also remains out in pockets of Whakatane and Opotiki but is expected to be restored by 2pm.
Aftershocks have littered the coastline today, and although the tsunami risk has been canned there still remains plenty of other dangers for residents to be aware of.
The NZ Transport Agency says contractors are surveying eastern Bay of Plenty roads following the quake and more than 100 aftershocks.
Map of danger areas in the North Island following the quake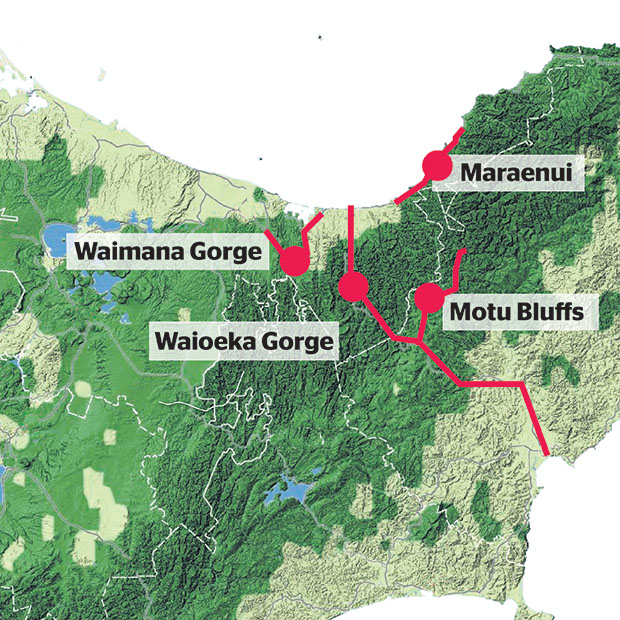 Although no damage has been reported, the aftershocks have prompted warnings of rockfalls and slips on State Highway 2 through the Waioeka and Waimana gorges and SH35 at Maraenui, Motu Bluffs and between Hawai and Te Kaha.
The Whakatane District Council is urging residents on the Rangitaiki Plains water scheme to continue to boil their water until further notice as a precautionary measure due to high amounts of sediment in the aquifers.
The council believed the risk of contamination was "low" but was operating on a "better safe than sorry" approach.
"Council staff will be testing water quality throughout the reticulation system over the next few hours and we hope to be able to confirm the outcome of that by early this afternoon."
Residents in Te Toko are being asked to conserve water due to falling reservoir levels, however Waimana's water supply and Edgecumbe's wastewater are back to normal after an earlier quake-related disruption.
Although the Ministry of Civil Defence & Emergency Management (MCDEM) earlier lifted its tsunami warning for the East Coast of the North Island (including Auckland, Waikato and Bay of Plenty) and Upper South Island, Bay of Plenty Civil Defence was advising people to watch for unusual water levels.
It stated on its Facebook page that coasts may still experience "unusual, strong currents and sea level fluctuations" that could last several hours.
MCDEM earlier confirmed a tsunami was generated at East Cape, with a 30cm wave recorded earlier this morning.
Horizon Energy's network general manager Derek Caudwell said power had been restored to high voltage areas affected by the quake but there were still a number of low voltage outages expected to be restored about 1pm.