Eleven eateries have closed their doors in the past year after council inspections found rat and cockroach infestations, poor food handling and storage and filthy conditions.
Photos provided to the Weekend Herald by Auckland Council under the Official Information Act show a rat in a rubbish bin, rodent droppings in a food storage area and dirty preparation areas at restaurants and fast-food outlets around the city.
Of the 8300 food premises in the Auckland Council boundary, 126 eateries had either D or E food grades as of August 1, according to council reports.
An establishment graded D is considered to be of "poor" standard and E is "unsatisfactory". There were 21 E-grade eateries and 105 D grades. Of the 126 premises graded a D or E, 10 remained closed beyond the temporary closure enforced by council. Seven still operate with an E grade.
"Any food premises that receives an E rating has to close for a few days until it has removed any risk to the public," said Neil Silver at Auckland Council.
There are four grades - A, B, D or E. There is no C because eateries should be clearly above or below standard. Establishments are graded on overall hygiene standards, conduct and maintenance, process control, cleaning and sanitising and staff training.
Dragon Chinese in Henderson closed in October last year when inspectors found rat droppings in food storage areas and a dead rat on top of rubbish in a full bin.
Silver said despite rodents posing a high risk to food safety and attracting an E grade, there were other kitchens that looked clean that posed an equally dangerous risk.
"Risks to the public might be because someone has failed to keep rodents off their premises or it might be because they cut chicken up on a board and then put a green salad on the same board. Sometimes it might look clean but they have unsafe practices."
Reev's Kitchen, in Blockhouse Bay closed in December last year. Photos show a blocked and filthy hand-wash basin and microwave splattered with built-up grime sitting on a dirty bench.
Yi Xin Li in Upper Queen St closed down this year. Photos show a blackened chopping board, oil dripping from ventilation ducts and a dirty dishwasher and stovetop.
Patricks at West City Mall Henderson closed because of poor food handling, unhygienic conditions and cockroach activity.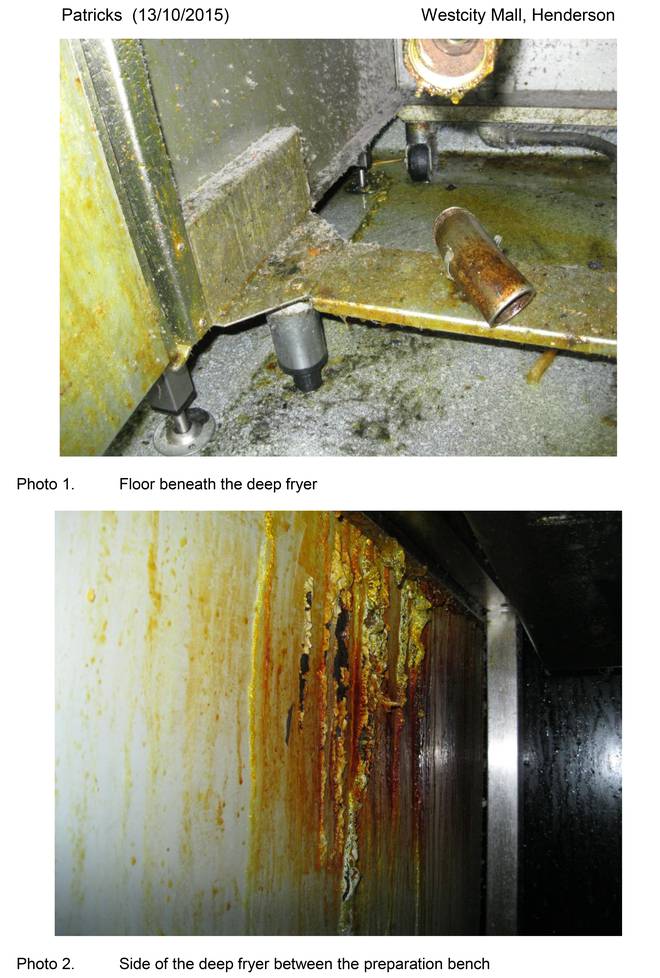 Chinese restaurant Wok in Queen St and Aroy Thai Express in Customs St closed after they both received D ratings because of poor food handling and storage. Cockroach activity was also noticed at Aroy Thai Express.
In April, Habitual Fix in Manurewa and Carl's Jr in Lincoln Rd, Henderson, were given D ratings.
Habitual Fix in Manurewa closed and Carl's Jr improved conditions and was reassessed with an A grade.
Mission Bay's Mehfil Indian, Silverbell Market in Henderson, Biwon Butchery in Rosedale, Just Samosas in Papatoetoe, Blue Star Takeaway in Favona and Bayview Superette currently operate with E grades.
Silver said premises can trade with an E grade but the risk that earned the low rating had to be removed.