The letters O and A went missing from signs of New Zealand's top companies and charities yesterday and around the world in a life-saving bid for blood.
Medical blood collection agencies in 21 countries latched on to a highly successful marketing campaign, called Missing Type, which had its first run in Britain last year.
Global megabrands such as McDonald's, Google, Coca-Cola and Microsoft were among businesses that removed the letters from their websites, Twitter handles and signs to help promote the UK National Health Service's appeal for new blood donors last year.
More than 30,000 people registered to donate.
This year, the NZ Blood Service received commitments from several brands to join the campaign in a bid to sign up 10,000 eligible donors. The Herald will this week speak to people whose lives have been saved by blood donors and people who have donated, as part of our campaign, Bloody Good Type.
Others, including Pak'nSave, New World, Tip Top, the Maori Party, the Auckland District Health Board, the Ministry of Health, nzherald.co.nz and five NZME regional newspaper websites, removed Os and As from their online logos yesterday, either on their websites or Facebook. Some are participating all week.
The Blood Service said the supermarket chains are this week removing Os and As from the subject lines of emails to loyalty card scheme members. TradeMe has created missing-type advertisements for its website.
Read more: Bloody Good Type
Toddler's rare tumour
The owners of several iconic advertising installations - including the hillside "Wellington" sign above the capital's airport, the L&P bottle in Paeroa and the Ohakune carrot - had agreed to remove the letters from digital images during the campaign. But as part of the top secret move, the brands provided no explanation until this morning, confusing many readers and consumers.
Your explanation of blood donation.
The Starship Foundation wrote: "W-uldn't y-u like t- kn-w!"
Blood Service chief executive Sam Cliffe said the real need was "As and Os".
In New Zealand, 85 per cent of people are A or O, meaning their kind of blood is in greatest demand.
Fewer than four per cent of eligible Kiwis donate blood. The Blood Service has around 110,000 blood donors on its database and about 42,000 people a year receive blood products. Every year around 28,000 drop off the donor registry.
"We also want to look at getting young donors," said Cliffe. "If we get them at high school or school-leaving age, often they stay life-long."
The number of active donors has decreased from 128,412 in 2011 to 109,158 last year.
Cliffe said fewer whole-blood donors were needed, but rapidly rising demand for products made from plasma - a component of blood comprising mainly water, plus proteins, hormones and clotting factors - meant more plasma-only donors were needed.
To become a plasma-only donor, which carries additional eligibility criteria, new donors must first give a unit of whole blood. Last year more than 59,000kg of plasma, up from 49,000kg in 2011, was sent to a lab in Melbourne for processing into blood products for use in New Zealand. The NZ Blood Service produced 112,000 units of red blood cells last year, down from 138,000 in 2011.
How to donate
Missing As and Os:
New Zealand Herald
Wellington Airport (cover pic on FB page)
Pak'n Save logo
New World logo
Auckland DHB
Child Cancer logo on FB
Leukaemia and Blood Cancer New Zealand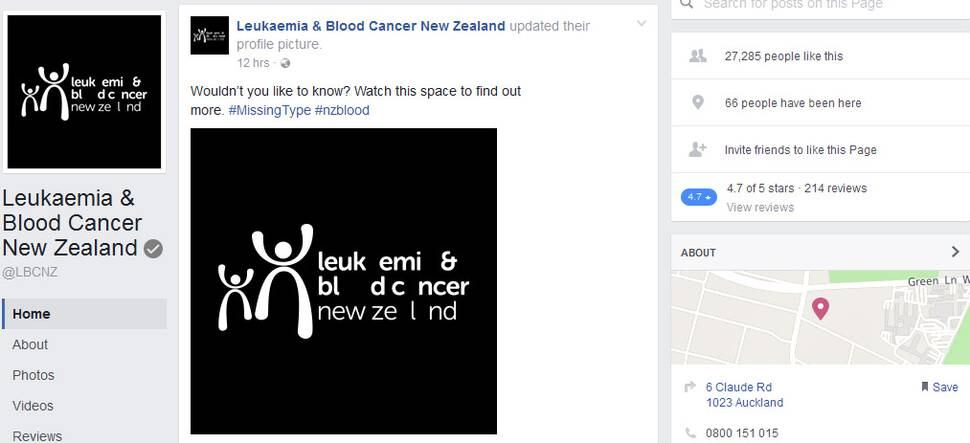 Sport Otago
Tip Top logo on FB
Maori Party on Twitter
Ministry of Health on Twitter
Orion Health logo on FB
Starship Foundation post on FB