Christy Meads was enjoying a night out with friends at a French nightclub when the music suddenly stopped - and she knew she had to run.
The 23-year-old granddaughter of All Black legend Sir Colin Meads was among several New Zealanders caught up in the world's latest big terror attack in Nice, France.
Speaking to the Weekend Herald tonight, Meads - a teacher at Leamington Primary School, in Cambridge - said she was at a club about five minutes away from the Promenade des Anglais when the attack happened.
She would find out later that more than 80 people, including children, had been killed after a truck ploughed through the Bastille Day crowd before a gunman opened fire.
"The music just suddenly stopped and within minutes, the roller doors were closed and we were trapped in the club," she said.
Someone mentioned hearing gunshots.
After about five minutes, a bouncer let her and several people in her Contiki group out via a back door.
"We checked we had everyone together and then we just sprinted through the streets. All we could do was run - we didn't know what from or why, but we knew something was bad."
Meads said word travelled quickly that there had been an incident involving a truck and that people were hurt.
"Everyone was terrified. A lot of crying and people trying to make phone calls to loved ones.
"The streets were confused. It was horrifying just running and not knowing what we were facing or what was around the next corner."
Back home, her parents Jo and Glynn Meads and two sisters, Abbe , 20, and Ruby, 16, received a frantic call from her just before 10am today.
Mum Jo said the family was hugely grateful they had received a phone call from their loved one - a call many other families who would not.
"I was able to talk to her...and she was in tears. She was wanting to come home then and she was beside herself."

Christy's famous granddad was keeping a positive attitude.
"I didn't know she had gone away," he laughed. "But nah, she's a good girl. She'll come right."
Nine students from Christchurch's Rangi Ruru School on a cultural trip in Nice were all safe. The girls had planned to stay until next week but are reviewing their plans.
Dunedin man Hamish Kay, 28, witnessed the carnage as the truck passed within metres of him.
Kay, who works at a restaurant in Nice with his French girlfriend, was among the crowds of people celebrating on Promenade des Anglais.
"[The truck] came to a stop very close to our apartment and workplace, the windshield riddled with bullets.
"There were bodies just all along the promenade for at least a 2km stretch, it smashed into the crowd and you could see people bouncing off.
"It was just horrific.
"People at first were stunned and then began to run as police eventually opened fire on the man inside the truck."
He said in the immediate aftermath of the attack everyone was frightened it was a suicide attack and the truck was going to explode.
Meanwhile, Wellington couple Phil Dunstan-Brown, 50, and his wife Vicki, 46, were just 300m away when the attack happened.
The couple, who had travelled to Nice to enjoy the festivities for France's national day, were walking towards the scene of the incident when they stopped to listen to a band.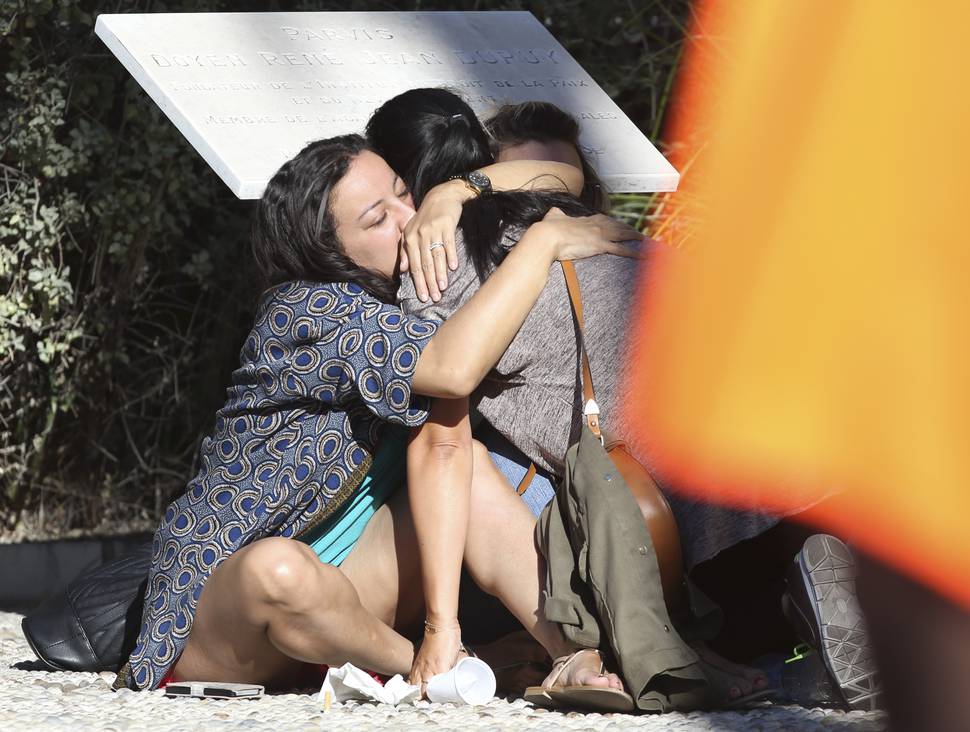 "[The] next minute we heard about 40 cracks. We thought, initially, it was fireworks. But the band stopped playing and a woman yelled: 'Bomb de bomb de bomb'.
"Hundreds of people were running towards us. People were picking up kids and just running. There was mass panic and mass screaming. There were babies being picked up and prams being turned over...lots of people were shouting: 'Terrorist, terrorist, terrorist'. I thought: 'What the hell is going on'?"
Auckland man David Boyd, 85, was in a hotel about 100m from where the truck stopped. He had been on the street earlier but returned to his hotel just before the attack began.
He was in the hotel's foyer when staff locked the front doors, fearing the attacker could come inside.
"It was close enough."
Cambridge woman Val Feisst spent an anxious few hours waiting to hear from her twin sister, Enid Limmer, who travelled to see the Tour de France with her husband earlier this week.
The family were relieved to get a call from her last night that she was okay.
Prime Minister John Key was among world leaders to express their condolences to France.
"The fact this attack was directed at innocent people celebrating their national day makes it particularly horrific. I know the thoughts of all New Zealanders will be with the victims and their families at this sad time."