Mum-of-three Maria Marama is fighting for her life. She has breast cancer. She has good days, and bad days. Thursday was a good day. "It helped just to know there are other people in the same situation, with the same struggles and worries, and to not feel so isolated and alone." What happened on Thursday? Read Cherie Howie's moving interview with Maria and other women fighting cancer.
Rhonda McMurtrie is not alone. She lives in a city of almost 1.5 million.
She has a husband, extended family and a network of friends. Her three young kids keep her busy with homework and Saturday sport and questions about life.
Every third Thursday she travels 55km from her home in Glen-brook to Auckland City Hospital to receive chemotherapy for breast cancer, a treatment bookended by a tedious commute alongside hundreds of other motorists and occurring in the company of staff in a bustling metropolitan hospital.
But to not be alone does not mean to never feel lonely. McMurtrie has supportive family and friends who do not understand what she is going through.
On Thursday, the 34-year-old went to a workshop - run by charity Look Good, Feel Better - to learn how to use makeup, scarves, hats and wigs to mask some of the effects of cancer treatment. She came out feeling less drab. And less lonely.
Around her were 14 other women going through the same thing.
She ended the workshop feeling good, and they were the reason, McMurtrie said.
"I was a little nervous when I saw how many people were here, but everyone is in the same boat. I got some tips for my eyebrows and I feel good, but the experience of knowing I'm not the only one going through chemo at the moment, it helped more than the makeup.
"I liked being able to see other people on the same journey as me. It makes me feel less lonely. I'm lucky because I have a great support network. My family and friends are great. But none of them have been through what I'm going through." Lisa Wenzlick has. She helped McMurtrie during Thursday's workshop, one of about a dozen volunteers hovering behind the participants as they learned how to look after their skin, pencil on fake eyebrows, turn a T-shirt into a hat and avoid unsightly wig melting.
A year ago this week, the 31-year-old mum was told she had stage four Hodgkin¹s lymphoma. In November, midway through five months of gruelling, intensive chemotherapy to save her life, the trainee nurse attended a Look Good, Feel Better workshop.
It was a day after Wenzlick was discharged from hospital. She felt rotten and afraid.
"I was very nervous. I was completely bald and I wondered if anybody else there would look like me. I hadn't really had the opportunity to meet other people in the same position as me, especially younger people. But it didn¹t take long to feel better because everybody's so welcoming." She left her workshop feeling something she had not felt since her cancer diagnosis. Normal. "I came out wanting to go somewhere so people could see me. I felt incredible and I want to be able to give that back to other women."
The Papakura mum of a 4-year-old son has been in remission since January and hopes her story will help those at the start of their treatment. "If they can see I¹ve got through it then it gives them a bit of hope as well for their own journey."
The women sitting around tables in a teaching-room-turned-makeup-studio at the Manukau SuperClinic, like the volunteers standing behind them, live in Auckland but come from all over the world.
They have children and grandchildren and husbands and jobs. Some laugh as they tell their stories, some cry. Hands slip gently on to shoulders from behind and rounds of "kia ora" and "kia kaha" are shared in support.
The older women ‹ the oldest is 75 ‹ are placed near the front, the younger ones, presumably with better hearing, sit at the back. Some have finished their treatment, others have a way to go. Some have yet to start.
One asks the woman sitting next to her what chemo is like. "I'm scared," she adds quietly.
In front of each is a neatly ordered collection of makeup - foundation and blush, moisturiser, mascara and eyeshadow, and lipstick, of course. A pile of scarves hang near a wall, bright greens and yellows, dazzling oranges and deep reds hard to miss in the grey-walled classroom.
Before them stands volunteer workshop coordinator Carole Bird, perfectly groomed and with a tale to tell about each makeup and scarf-tying hack she shares.
"This is all about you," she tells the participants as the volunteers pick up their first piece of makeup. "So relax." It doesn't take long. A person -gently rubbing moisturiser on to your face will do that. The chatter increases. It isn't long before the room is humming.
Bird has moved from makeup to scarves. She twists and twirls a partially cut T-shirt into a hat before looping a scarf through it.
"The gangs in Auckland do it this way, too," she tells her audience.
Eyebrows are shown to be astoundingly easy to fake, and did not need to look exactly the same, she warns. "Remember, eyebrows are sisters, not twins." Jane Kellett, who broke down as she told her story at the start of the workshop, is smiling now as she carefully practises her new skills.
"I've always wanted to learn about makeup properly and how to use it," the Otara mum-of-two says.
"This will help me prepare myself for when I go back to work. I¹ve got three more treatments and I can¹t wait to go back to work." The 46-year-old was diagnosed with lung cancer in February and had her right lung removed. She has a new appreciation for life since her diagnosis. Where she would once have happily slept in on a day off she now starts each day early.
I felt incredible and I want to be able to give that back to other women.

SHARE THIS QUOTE:
Her employer, Wendy's in Otara, where she has worked for 25 years, has kept her job open while she undergoes treatment and she is itching to get back behind the counter.
"Once my chemo's finished I'll be there." And it will definitely be behind the counter. She has learned today wigs don't do too well when blasted with hot air from the oven.
"I let the young ones go down the back, and I¹ll stay up the front," she says with a smile.
Mangere Bridge mum-of-three Maria Marama was chosen as Bird's model on Thursday.
The first thing she does is take off her wig - she has lost her hair, most of her eyebrows and eyelashes after chemo for breast cancer. Her five months of treatment end this month and will be followed by three weeks' radiation and a year of herceptin, but she won't know until the end of the treatment whether she is cancer-free.
Usually, she whips a hat on as soon as her wig is removed, but Thursday is different, Marama says.
"In that environment I felt comfortable to do it. I wanted to show the other women that you can sit in a room without your hair and it's okay." Learning to mask the effects of their illness is empowering -because it allows those with cancer to look well.
"It helps bring you back to what you were and because you look different you feel different, too." Manurewa mum Dianne Clifton admits she felt like staying in bed before the workshop. She is glad she didn't.
She was diagnosed with bowel cancer three years ago and was told just before Christmas it had spread to her liver, lungs and bones.
There are moments where she thinks "why me?" Every two weeks she has chemo and there are days when she feels like rubbish.
Thursday is not one.
"I feel like I can conquer anything right now." It's a common response, says Look Good, Feel Better general manager Clare O'Higgins.
The skills, which are also adapted for teens and men, gave some control back to those with cancer. Three hundred free workshops will take place across 36 locations this year.
So far, about 39,000 people have attended the workshops since the volunteer-run charity began in New Zealand 24 years ago.
It was adapted from a United States programme established five years earlier.
O'Higgins doesn't attend all the workshops, but she has seen her share of happy faces emerging from them.
The control participants feel having learned the skills, is matched by a feeling of strength from being around others facing the same challenges.
On top of that is something that can¹t be underestimated when life becomes focused on survival feeling normal again.
"It's not about making you look glamorous, it¹s about giving you these lovely tools to feel normal."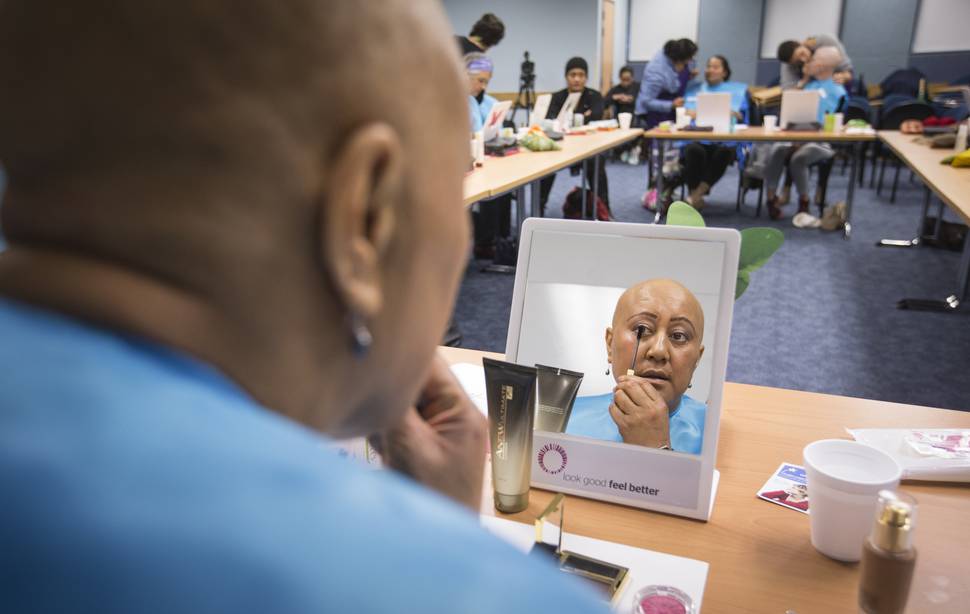 Appeal for Feel Better
Like many charities, Look Good, Feel Better receives no Government funding.
Makeup used in the workshops is donated by cosmetic companies and it otherwise survives on grants, the generosity of sponsors, countless hours of toil from volunteers and an annual appeal.
The appeal is called Feel Better Month and began on Friday. There are no collection buckets, but the sale of nail files and wrist bands in their name boosts coffers, as does an arrangement with Farmers and cosmetic suppliers to donate $2 from each sale of nail polish bottles.
Donations are also welcome through the charity's website.
Look Good, Feel Better general manager Clare O'Higgins encouraged supporters to hold Feel Better Fridays this month, where they did something nice with friends, family or colleagues and then donated money to the charity.
Another way to help is to volunteer, and information on how to do so is also on the charity's website, O'Higgins says.
• For more information see lookgoodfeelbetter.co.nz.