Halfway through National's third term, the party and its leader remain in a strong position. Political editor Audrey Young assesses key rivalries and what Labour needs to do in the next 18 months to be a real contender at the 2017 election.
LEADERSHIP
ANDREW LITTLE V JOHN KEY
Little has held his job for just 18 months; John Key is in his eighth year into the job.
Little inherited a divided party after three election losses and he can claim major credit in shaping the party into a reasonably unified and disciplined force.
He is authentic and has the respect of the party, which is no mean achievement in Labour.
In the next 18 months he has to shape himself into a credible alternative as Prime Minister, up against one of the most successful Prime Ministers anywhere in the world.
That means being more constructive, proposing alternatives instead of constantly opposing and picking the right issues.
The memorandum of understanding with the Greens and speaking at their conference was an exercise in constructive leadership.
But the gulf in experience between Key and Little shows: this week, quick as a flash, Key made Little squirm over his failure to apologise for besmirching the reputation of John Shewan, and Little drew attention to it by objecting.
Only an amateur would have done that, or besmirched Shewan in the first place.
Little has to step up his performance to have any chance.
THE ECONOMY
GRANT ROBERTSON V BILL ENGLISH
Grant Robertson, the most popular choice for leader by MPs and the Labour membership 18 months ago, got to choose whatever job he wanted when he lost to Little. Naturally, it was finance.
The first half of the term has effectively been an immersion course.
The next 18 months will be about what Labour would do and how they would pay for it.
Like its big policy this year - three years of free tertiary education or training - many new plans will be spread over the long term.
Labour will focus on regional development too - there is no risk they will leave the regions to potential coalition partners in NZ First.
National has already made income tax a defining issue for next year.
Bill English is a formidable opponent for the novice Robertson.
But of all the Labour finance spokesmen English has faced, Robertson is the best communicator, the one most interested in how to shape the party's message.
You can be guaranteed it will be less about balance sheets and more about building wealth from the bottom up, a recurring theme in Robertson's Future of Work project.
HOUSING
PHIL TWYFORD V NICK SMITH
Through a combination of Phil Twyford's skills and National's woeful management, Labour is very strong on this issue.
The Government is actually doing quite a bit in the private sector, relative to past governments, but people think it is doing nothing - because it is not enough and not fast enough.
Labour's Kiwi Build policy of assisting 100,000 houses to be built over 10 years sounded outlandish at the outset but now sounds unambitious.
National's response, by comparison, looks piecemeal and tinkering.
The social housing problems have compounded the sense of inadequacy in National's response.
Twyford's job is harder because he is up against not just Smith on the affordability-supply issue but two top ministers in Paula Bennett in social housing and Bill English overseeing the lot, including Housing NZ Corp.
It makes Twyford's achievements all the more impressive.
EDUCATION
CHRIS HIPKINS V HEKIA PARATA
Chris Hipkins is the whip you'll see on the TV sitting behind Andrew Little in the House.
He has the misfortune to look like a seventh former but at 37, he is one of Labour's better operators, especially in the debating chamber, where Hekia Parata rarely shines.
Hipkins has an ability to ask simple questions of her and get hopelessly complicated answers, as was the case this week over school funding reforms.
Labour is highlighting the advantages for private schools, which is a more sensible target in its depiction of National as governing for the wealthy than a handful of charter schools.
But Parata is not the target she was in her first term as Education Minister over national standards and class sizes.
She works closely with "the sector" now in order to minimise conflicts.
Labour attempts not to be seen as too cosy with the teacher unions.
Its aim over the next 18 months will be to promote issues to which parents relate.
It objects to the "bulk funding in drag" that the Government is proposing, not because it may mean fewer teachers per se, but because it could mean "your child" will be disadvantaged in a bigger class.
Ahead of this weekend's National Party conference, John Key runs the ruler over his own performance and, as he tells political editor Audrey Young, it is strong but not without some mistakes.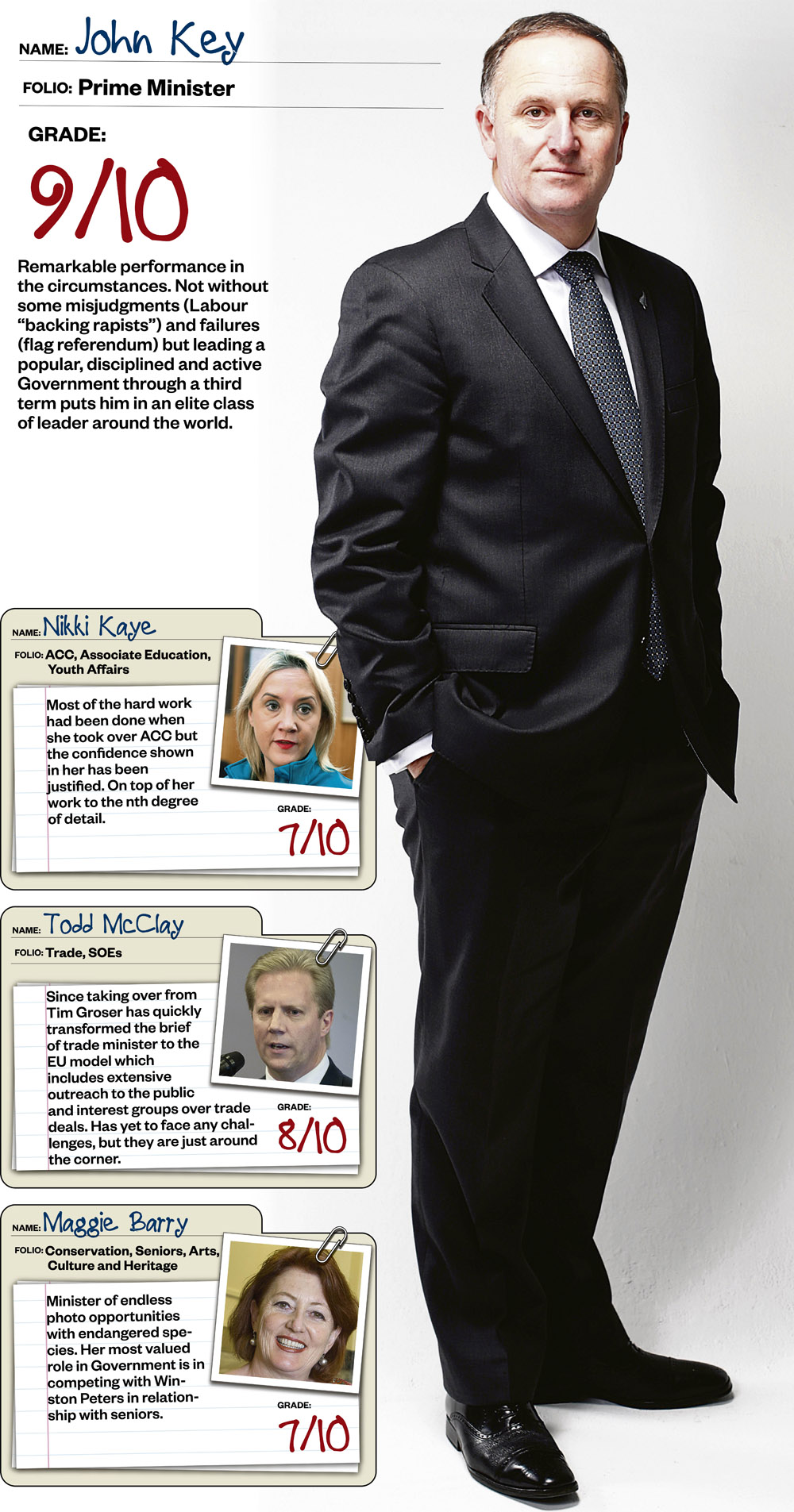 John Key rates his own performance halfway through his third term highly.
"I think I've had a pretty strong 18 months," he told the Weekend Herald. "There are always challenges but they are largely challenges of growth."
The housing issue was a product of growing strongly.
His party's own polling this week had National on 48 per cent to Labour's 29.
"We are basically polling at or above what we did on election night; there's stability in the Caucus and the Cabinet looks strong to me and our core base is very supportive of us."
He said the job was much easier than when he was elected in 2008.
"I became Prime Minister when I had never been a minister, which is highly unusual.
"You don't know what you don't know. I remember literally asking Tony Ryall to show me what a Cabinet paper looked like."
He defeated a three-term Prime Minister, Helen Clark, shortly before heading off to an Apec leaders' summit in Peru.
"I literally rang Helen Clark and said, 'which leaders are good and which aren't, what should I say, how should I act, in chief meetings'.
"She was helpful. For all the pain she was going through for the loss, it was amazingly professional and helpful."
Eight years on, he has a good idea of how things are going to play out.
Occasionally something catches him by surprise, such as the Twittersphere reaction to his saying the first port of call for the homeless should be Work and Income - which make assessments for social housing.
If he stuffs up, he gets feedback from the "kitchen Cabinet", (Bill English, Gerry Brownlee, Steven Joyce, Paula Bennett, Murray McCully) in which he says there is open dialogue.
His chief of staff, Wayne Eagleson, was also frank with him.
"If I am doing something where I think the tone is wrong, or I plain get something wrong or I make a mistake, we don't hold our punches. People will tell me.
"Sometimes we will just have a discussion: are we doing enough? What should the tone be? What are the potential risks we face in an area?
"There are clearly times when I get things wrong, I makes mistakes or the tone is wrong or the emotion of a particular event will be more pronounced. I'm probably harder on myself than other people are on me because I accept that there will always be a degree of deference to the role.
"But I set pretty high expectations of myself and if I don't make them I don't sugarcoat it."
Asked to give an example, he cites the time he accused Labour of backing murderers and rapists - in reference to Kiwis in detention in Australia.
It followed some verbal abuse by Labour MP Kelvin Davis on their way to the chamber.
"I shouldn't have said that thing about rapists in the House, even though I was actually lined up in a very unparliamentary way by Kelvin Davis and I thought they were presenting a very one-sided part of the story.
"I should have just kept my mouth shut."
He is still in defensive mode about the failed referendum to change the flag - which he initially thought Labour would support, but which became known as Key's "vanity" project.
"I think for all of the slightly unfair criticism I got over the flag from detractors, for me that was a much more serious debate about nationhood and I'm not in the slightest bit unhappy that I had it.
"I'm sorry I lost it. I did the best I could but I actually believed in what I was doing I don't have regrets."
So how does he stop his Government from stagnating?
"You have to set yourself new challenges and you have to take it in bite-size lots. I actually don't spend a lot of time thinking 'I'm in year eight and there is some natural life cycle.'
"I just say 'look the voters will every three years make quite a calculated decision on who is the best Prime Minister and the best Government to lead them over the next three years."
He said he was watching a Cabinet committee debate this week between three lawyers - Chris Finlayson, Judith Collins and Amy Adams - and Bill English and Steven Joyce and it reminded him of the talent in his team, which Labour could not match.
"Even if you could see Andrew Little as Prime Minister, which I personally don't, but even if you could, name the 19 other people in the Cabinet.
"Think about Clark's time in 1999, she had Cullen, she had Steve Maharey, she had Paul Swain, Pete Hodgson, Trevor Mallard, Annette King, Phil Goff - not my cup of tea but very talented individuals.
"Labour of 2016 don't have that."