As part of our comprehensive build-up to Rio 2016, the Herald, in association with ANZ, is counting down New Zealand's top Olympic towns. Today, number 10 - Whangarei. Find out how we compiled the list below.
It's not something Neil McLeod dwells on too much - the fact he went to the Olympics, his hockey team won gold but he didn't get a medal.
As the New Zealand men celebrated their 1-0 victory over Australia in the final at the 1976 Games in Montreal, McLeod and back-up keeper Les Wilson knew they were not going to join their team-mates on the podium because they were reserves.
"We were bitterly disappointed to not get up there at the end, but that's life," McLeod said.
McLeod is a controversial inclusion on Whangarei's list of Olympic medal winners, a roll of honour that puts the town in 10th place on the list of New Zealand's 10 Top Olympic Towns.
According to our methodology (see sidebar), Whangarei is at number 10 with or without McLeod, however we reckon it's right to honour his contribution to an Olympian effort.
"This is massive for Whangarei," said McLeod. "To have the number of Olympic medallists we do, it's big for a small town.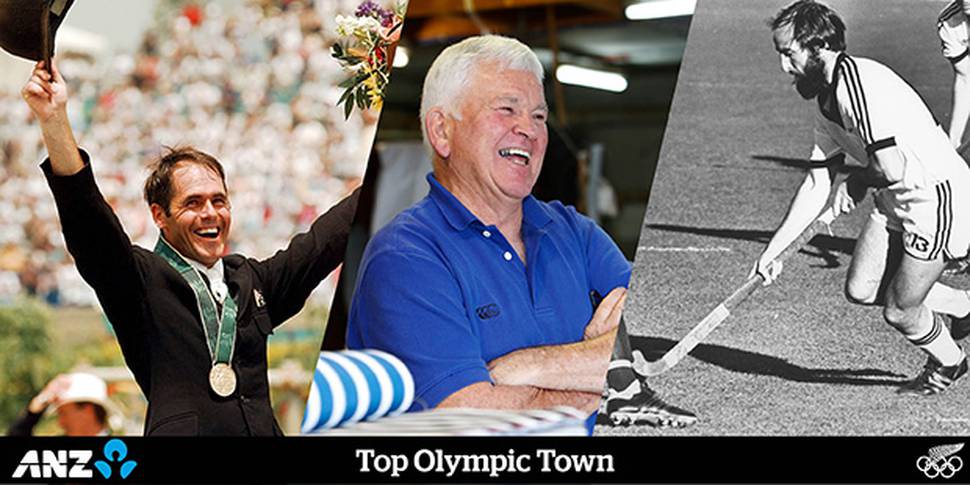 "And going forward this year, we'll have a few hockey players going to Rio. Shay Neal will be in the men's side, while the women's team will have good representation from up here (Stacey Michelsen, Ella Gunson, Brooke Neal and Charlotte Harrison)."
Equestrian Blyth Tait is far and away Whangarei's Olympic gem, gaining four medals, including gold at the 1996 Atlanta Games in the idividual eventing.
But it's McLeod's experience that provides the plotline for one of the more intriguing Olympic stories in New Zealand's history.
He doesn't dwell on it, thinking about it "only every four years when people like you remind me about it", he says after being told about this article.
His to-the-point stance matches his playing style. McLeod was a no-nonsense player from a well-known sporting family.
Father Colin represented Northland in golf and cricket, the sports his elder brothers, John and Bruce, excelled at. Younger brothers, Ross and Grant, followed him into club and representative hockey.
"Coming from a strong sporting family, you knew what you wanted to do and you strove for it."
McLeod was part of a golden era of Whangarei hockey.
"They always talk about Canterbury and Auckland in the 70s, but it was really Northland and Canterbury, especially earlier. We had a nucleus of talented, determined players."
After missing out on selection for the 1972 Munich Olympics, McLeod put in the hard yards to earn selection for Montreal, realising a massive ambition.
"I was playing pretty good at this point, scoring quite a few goals at centre forward, and then I was selected," he said.
"Going to the opening ceremony was amazing, it was a boyhood dream of mine."
McLeod stayed with the side in the athletes' village, a group of flats that were going to be on-sold.
According to those who had already been to the Munich Games, the facilities in Montreal were not quite up to standard.
"There were money problems, but the food was unbelievable. There were restaurants open 24 hours a day," McLeod said.
"Being with all the other athletes was awesome. From the 20th floor, we could see onto the training track where we witnessed some pretty amazing things."
Out on the AstroTurf - Montreal was the first Olympics to use the surface - New Zealand was getting the job done.
"We started drawing, then we were winning. I didn't get out there, but I was definitely part of the team," McLeod said.
"They can't take that away."
The final was a rugged affair. New Zealand created few chances but scraped through on the back of their tremendous defence.
"Winning an Olympic gold medal is something you dream of," Mc Leod said.
The euphoria of winning was soon replaced by the disappointment of not joining the team for the national anthem.
Then bizarrely, given he hadn't played, McLeod was forced to complete a doping test.
Following unrestrained celebrations, he joined his side in witnessing another moment in New Zealand Olympic history.
"The day after we won we all went to the track to watch John Walker take the gold in the 1500 metres. Not many people would have witnessed the double."
McLeod has an observation for any present or aspiring Olympian: "When going to the Olympics, as a young person you really want to go but you won't appreciate how massive it is until later."
And as momentum builds around a national media campaign to get a fellow player from 76 awarded a medal, he is relaxed about the outcome and whether he too might end up with Olympic gold.
If the campaign fails, odds on his response will be a succinct "that's life".
Blyth Tait: The typical Kiwi kid who topped the world
The late Bob Tait set a Whangarei sporting legend in motion when he purchased 'Ted' at a local pony club event and shipped him to his England-based eventer son Blyth.
"The owner's daughter was going overseas so Dad took a punt and sent him to me by boat," Blyth says.
"He renamed the horse 'Ready Teddy', hoping that I would say 'Ready, Teddy, Go' before he was due to compete.
Tait and his mount were called up for individual competition at the Atlanta Olympics when Sir Mark Todd's horse pulled a shoulder muscle.
"He was a young horse [by eventing standards at 8-years-old]. He didn't have the experience of some others in contention. I was only named travelling reserve with Ready Teddy and was riding Chesterfield in the team competition.
"I got the opportunity and decided you can't let such a chance go begging."
Tait had pedigree. He was the 1990 world champion and an individual bronze medallist and team silver medallist from the Barcelona Games. A clear showjumping round saw him take gold and, in a New Zealand first, Sally Clark backed up with silver.
Whangarei could claim some responsibility. Tait's Olympic successes form a major part of the town's rise into New Zealand's 10 Top Olympic Towns
"My childhood was typical of a rural Kiwi kid in the Whau Valley. I started riding at 10 when I joined the local pony club.
"Dad had the passion for horses but Mum also had involvement; her brothers were jockeys.
"We moved to a bit of land that had ponies. I went to school on the bus. It was an easy life - it's unspoiled up there - but with quite a bit of travel. You always tend to be heading south for sport."
- Andrew Alderson
'Fitter, faster' Northlanders drive Whangarei's success
So why has Whangarei enjoyed such success on the Olympic stage?
Of the town's six medals, Blyth Tait has four.
Sport Northland chief executive Brent Eastwood reckons Tait is a "once in a generation" sportsman.
"Four medals including the coveted gold at Atlanta, ranks Tait as one of NZ's most successful Olympian ever," says Eastwood.
But the sport that continues to produce more Olympians than any other is hockey.
"Two of the medals have come from two different people from the sport of hockey, which is not co-incidental, given Whangarei/Northland has always punched well above its weight in hockey," says Eastwood.
The town possesses international standard cricket, hockey and rugby facilities.
But it is hockey that is locally recognised as maximising the region's talent.
Hockey Northland life member Sue Shepherd lives, breathes, photographs and writes about the sport.
"Hockey Northland has provided New Zealand with 23 players attending Olympic Games between 1964 Tokyo and London 2012.
"I think one of the reasons Northlanders do so well is their attitude - they have to prove in most cases that they are fitter, faster and more determined than anyone else in the country.
"I think also the hockey community has been well served with administrators that see the bigger picture. We were the first province to join our men's and women's associations together, we were the first provincial association to get an artificial turf, and just last year we were the first provincial association to hold the National Hockey League.
"The three-turf hockey centre we have at Kensington Park is world-class and provides our recent Olympians with some of the best training facilities in the world.
"Hockey is all about people and looking after each other - it is a great game that the family can enjoy. You can play at any level regardless of gender and if you dare to dream big you can go to an Olympic Games."
- Andrew Johnsen
How the list was calculated
The final position is the result of combining two rankings.
The gold rank is based on the number of gold medals won by people born in each town and city, divided by current population.
The Olympic rank is based on the number of medal-winning Olympians born in each town and city, divided by current population.
We averaged the two rankings to come up with the final position. That reflects the fact that smaller centres can punch above their weight if you take their population into account.
Today's town, Whangarei, is in number 10 spot on the ladder. It has three Olympians who won six medals, including three golds, and a population of 83,700 according to 2015 figures from Statistics NZ. Its gold rank is 6 and Olympic rank 13 giving an average of 9.5.
The method isn't scientific and we expect it to prompt debate. We know some athletes might identify with the towns they were brought up in rather than where they were born.
But our ranking gives a strong indication of the places that have given us greatest cause to celebrate Olympic success since Harry Kerr won New Zealand's first medal - a bronze in the 3500 metre walk at the 1908 Games in London.
Our countdown continues every Wednesday and Saturday in July.