As Tania Shailer and David Haerewa, the killers of toddler Moko Rangitoheriri, were sentenced today at Rotorua High Court, crowds rallied for an end to child abuse in New Zealand. The Herald's live coverage has now finished. To read the full story click here.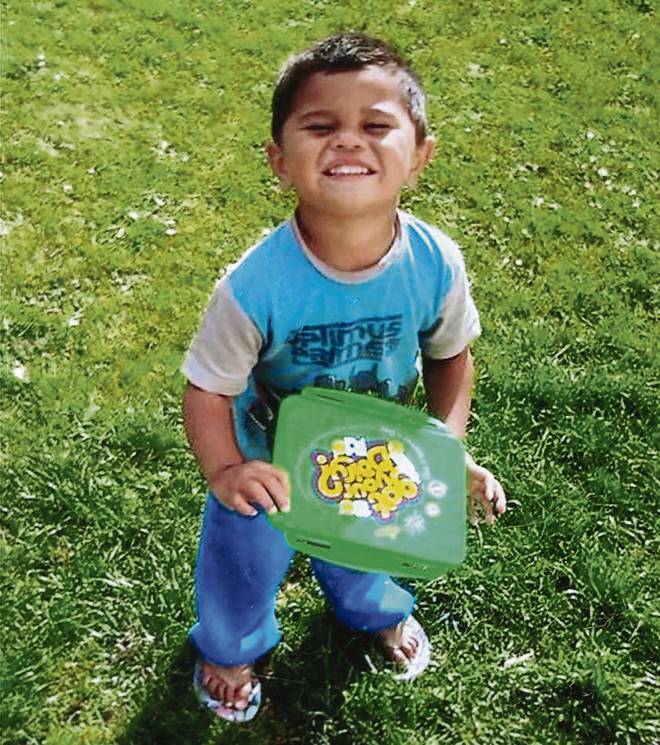 KEY POINTS:
• Tania Shailer and David Haerewa jailed for 17 years each
• They tortured and abused Moko Rangitoheriri while he was in their care
• They inflicted fatal injuries on him and failed to call 111 for four days
• Communities outraged they were sentenced for manslaughter, not murder
• Labour leader Andrew Little calls for an end to closed door plea bargains
• Mother in tears as she reads out victim impact statement
• Attorney-General Christopher Finlayson defends manslaughter charges

READ MORE
• Little boy lost: Moko's story, and his violent and tragic last days
• How could this sickening abuse happen again?
• Retired judge on why it was manslaughter and not murder
------------------------
2.30pm:
New Zealand Bar Association President Clive Elliott QC also defended the decision to press manslaughter charges.
"The tragic cases involving the death of a baby or an infant often present evidential challenges for the prosecution," he said.
"If the admissible evidence does not meet the threshold to secure a conviction on a particular charge it will be necessary to down-grade the charge to one where the threshold is satisfied."
2.25pm: Attorney-General Christopher Finlayson said that accepting the manslaughter pleas and admitted facts meant prosecutors could push for a sentence that reflected what had happened to Moko.
"Without the guilty pleas, the full details ... may not have otherwise come to light.
"Based on the evidence available for trial, there was a substantial risk that one or both of the defendants would not be convicted of the legal charge of murder or manslaughter."
To prove murder, it would need to be proven beyond a reasonable doubt that Moko's fatal facial injuries were inflicted with murderous intent.
"The injuries Moko suffered were not inevitably fatal. With reasonably prompt medical treatment, he could have been saved.
"If the jury was not satisfied beyond a reasonable doubt that Ms Shailer had murderous intent at the time she inflicted the fatal injuries, then neither she nor Mr Haerewa could have been convicted of murder."
2.20pm: Sensible Sentencing Trust founder Garth McVicar said the sentence showed Justice Sarah Katz had "gone as far as possible under the current legislation".
"The police originally charged [Moko's killers] with murder ... those charges should have stuck and the sentence would've been life without parole."
Justice Minister Amy Adams had called for the public to stand up for vulnerable children in the community and today, in protests around the country, they had, Mr McVicar said.
It was now time for lawmakers to step up.
"For New Zealand to get on top of this horrific level of child abuse we need to redefine the boundaries and redefine the consequences for anybody who hurts or abuses a child ... we were surprised [Justice Katz] went the whole way in sentencing. It shows her frustration."
2.05pm: New Zealand First leader Winston Peters said the downgraded manslaughter conviction reflected a trend of "political systems disguising the real nature of crime".
"This was a murder of the very worst sort and the charges should never have been downgraded. Not being honest about crime in New Zealand leads to tragedy. Contrary to National's spin, crime is not down, it's up. All sorts of offenders are now being warned rather than charged."
1.56pm Moko's uncle gave a short statement outside court, saying it had been a "very, very sad" time for the family since the ordeal started 10 months ago.
"We just want to thank everybody, each and every one of you that were here today that were doing the marches for us. All for my nephew, for our family, Moko," he said.
1.50pm: Family First NZ national director Bob McCoskrie has welcomed the sentences but has repeated his call for a review of child abuse laws and changes to the legal system to avoid plea bargains.
"The message has to be clear - if you violently abuse a child in such a way that it results in their death, then it will be treated as murder. Violent child abusers should not get manslaughter when the child victim gets a life sentence."
Communities were often told to "do more and speak up", but politicians and the legal system must also "reflect the revulsion that New Zealand families have towards the violent murders of defenceless and vulnerable children", he said.
"The wrong message is currently being sent to society as to how much value is placed on the life of a child. Moko's case is just another example. This is not the first time. But it has to be the last."
1.38pm: Police said they extended their condolences and sympathy to the family of Moko Rangitoheriri. A police spokesman said the force wanted to acknowledge the officers who worked on the investigation into Moko's death. "Any case involving a young and vulnerable victim like Moko is extremely difficult for all involved, and I would like to commend the officers involved for their diligence and professionalism," Detective Inspector Lewis Warner said.
1.34pm: Moko's father, Jordon Tawa Rangitoheriri, yelled to the crowd outside the courthouse as he was leaving. "At the end of the day justice will prevail," he said.
1.18pm: SENTENCE HANDED DOWN
Tania Shailer and David Haerewa have been sentenced to 17 years' jail each. Justice Sarah Katz said this was the highest sentence imposed in New Zealand for manslaughter against a child. She set a minimum term of imprisonment of nine years for both.
1.05pm: Justice Sarah Katz has just deemed the offending the most serious of all manslaughter cases. She said that while the court accepted there was a range of reasons Tania Shailer and David Haerewa struggled to cope with their circumstances, other families in similar situations did not brutalise and kill the children in their care.
While the Crown identified Shailer as having a higher level of culpability, the judge said the differences in culpability were minor as both assaulted Moko continuously and encouraged each other as the offending escalated. The pair embarked on a "joint campaign" of violence against a defenceless and extremely vulnerable child.
12.55pm: Justice Sarah Katz is now going through a summary of facts, describing a "culture of violence" in the co-defendants' home.
Moko's family cried as the judge went over the gruelling details of the toddler's death. Moko's mother sobbed as the Judge described Haerewa rubbing faeces into Moko's face. She then left the courtroom.
12.41pm: Family violence charity Shine have commented upon the the case:
"There are no excuses for the abhorrent violence inflicted on Moko. But it is important to realise and remember that the people who inflicted this violence - David Haerewa and Tania Shailer - must be terribly broken and damaged people themselves to have inflicted such pain and suffering on a little boy. This kind of behaviour comes from growing up, living in, and being surrounded by a world where violence is normal. Big ups to everyone standing up today to say that violence is NOT normal, it's WRONG, and that if you are using violence, there is help available to change. If you don't know who to talk to, you can ring Shine's Helpline 0508-744-633, 7 days/week 9am to 11pm. Please help spread this message."
12.30pm: Photos of the protests in Auckland.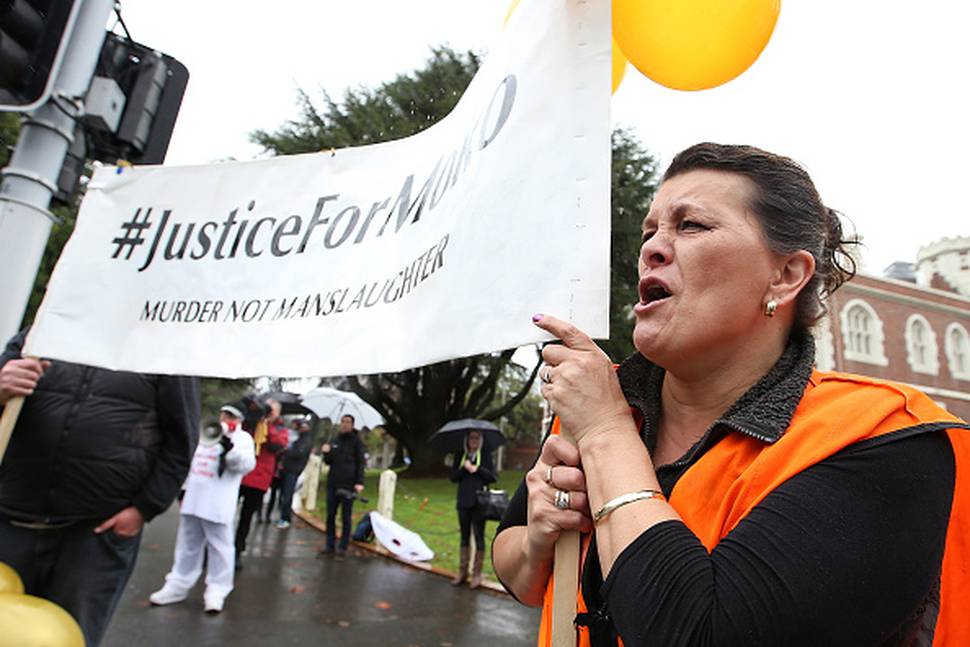 12.17pm:
Outside Rotorua High Court, Shony Tanoa, who is related to Moko on his father's side, said she had taken the day off her early childhood education course to attend. No amount of rain was going to keep her away from the event.
"Our point of view is what is rain compared to what he went through. I think there could have been more [protesters]. Probably a lot stayed away because of weather but that shouldn't have been a factor."
She said she didn't go into court because she wasn't sure she could trust herself not to yell out. "It's really emotional here but it would be 10 times that in there [the courtroom]."
John Paul College student Jade Davies, 14, was outside with her nan Barbara Watson.
Jade wanted to head along to the march and her nan had travelled from Mount Maunganui to support her. "I really like children and it hurts me to see them getting hurt."
11.58am: The adjournment is over at Rotorua High Court. Crown solicitor Amanda Gordon has asked the judge to give life sentences for the pair but if that was not possible she asked for a starting point of 14 to 16 years for David William Haerewa and 16 to 18 years for Tania Shailer.
Shailer's lawyer, Ron Mansfield, said his client had herself suffered abuse and from depression. When she was given Moko to look after, he was difficult to manage. He said while this was not an excuse, Moko's behaviour impacted on Shailer's mental health.
He described her as a battered woman who had mental health disorders, including depression and instances of PTSD.
11.42am:
Labour leader Andrew Little has said he wants to see the end of closed door plea bargains. Addressing a one-hundred-strong crowd in Wellington, he said the underfunding of Crown Prosecutors was leading to a reluctance to go to trial. He said that when it came to serious crimes, like murder, it needed to be dealt with by a jury, not by lawyers talking behind closed doors.
11.32am: The court has been adjourned for 15 minutes. Justice Sarah Katz will hand down her sentence after the adjournment but it is unclear how soon after and if there will be further delays.
11.20am: The judge at Rotorua High Court has signalled that he is about to hand down his sentence to Tania Shailer and David Haerewa.
Crown Prosecutor Amanda Gordon has asked for the maximum penalty of life imprisonment for Shailer. She said the totality of the offending made it one of the worst cases of manslaughter imaginable.
11.10am: Listen to the victim impact statement from Moko's mother, Nicola Daly Paki:

11.04am: This from Newstalk ZB reporter Matiu Workman on the protest in Dunedin:
10.56am: MOTHER'S IMPACT STATEMENT
Moko's mother, Nicola Daly Paki, has just delivered a tearful victim impact statement in court. She says she's angry, and upset that she didn't know of the torture her child was suffering, and that she couldn't see him through to his fourth birthday.
10.52am: Outside the High Court in Auckland speeches were followed by a roll call of children whose killers had murder charges plea-bargained down to manslaughter. Tears in Heaven played as 47 doves were released to cheers from the hardy crowd. Family First spokeswoman Bev Adair-Beets told a crowd of about 40 people that every child counts.
10.47am:
The Wanganui Chronicle has a live video stream of the prostest in Whanganui.
One of those at the rally in Whanganui was Josh Te Tua, whose daughter Jhia was fatally shot in 2007 in a drive-by shooting in Whanganui. His daughter was one of the names on a long list of children who had died non-accidental deaths.
"Love your babies, because once they're gone you can't bring them back."
Rally organisers urged the crowd of between two and three thousand people to always be aware of what was going on around them and to report any suspicions promptly.
One, Tracey Livingstone, urged parents entering a new relationship to be careful with who they allowed into their homes and their children's lives. "You owe it to your kids to know who you are moving in to your homes before you do."
The march gathered in the town centre and walked several hundred metres along Heuheu St in pouring rain before gathering at the Great Lake Centre where there were prayers, waiata and a lengthy reading of New Zealand's list of child abuse victims. The crowd included babies in pushchairs, school children, parents and kaumatua and grandparents.
Those spoken to said they had come to the March to support the children who had lost their lives and to show their horror and revulsion at the idea that children could be deliberately injured and killed.
10.38am: CHARGES AGAINST MOKO'S FATHER DROPPED
The father of slain Taupo toddler Moko Rangitoheriri was also set to appear in court today - on firearms charges. Those have now been dropped. This from Rob Kidd at Manukau District Court in Auckland:
Jordon Tawa Rangitoheriri, 29, was scheduled to appear in Manukau District Court for a judge-alone trial this morning. Rangitoheriri's attendance was excused at court today and Sergeant Eardley Dijkstra confirmed three charges against the senior Black Power member were being dropped.
"There were issues with the preparation and presentation of evidence," he told the court.
It was alleged on September 24 last year Rangitoheriri was in allegedly in possession of a shotgun without a lawful, proper or sufficient purpose.
He was also jointly charged with receiving two shotguns that had earlier been stolen. The charge sheet stated the accused received the guns from "persons unknown".
But on reviewing the case at the end of last week, police found it did not stack up and therefore offered no evidence.
Judge Mina Wharepouri dismissed the charges. However, Rangitoheriri had admitted two counts of driving while disqualified. He has been convicted "at least twice previously" for similar driving offences, according to court documents.
Rangitoheriri will be sentenced in August.
10.30am: Herald reporter Olivia Carville has examined in the detail the similarities between the deaths of Moko Rangitoheriri and Nia Glassie. It speaks to many of the concerns New Zealanders have about child protection. Here's an extract from her article:
Nia and Moko were both beaten to death at the age of 3. Nia died in August 2007; Moko in August last year. They are two of the worst cases of child abuse in New Zealand history and sent shockwaves around the nation.
When details of Moko's death emerged, authorities and the public likely felt the horror of deep recognition. Even though the toddlers died eight years apart, there are haunting similarities between the tragedies that stretch beyond their age, ethnicity and month of death.
Nia and Moko were both from single-parent Maori families and living in poverty. They both died at the hands of caregivers who were not biologically related to them, both were denied potentially life-saving medical treatment and in both cases their older sisters tried to save them.
In 2009, Coroner Wallace Bain investigated the death of Nia Glassie. Back then, he wrote: "In my 19 years of conducting inquests as a judge of the Coroners Court, I have never had to endure such horrendous evidence. My earnest wish is that no one ever has to experience that again."
Dr Bain made a string of recommendations after his inquest into Nia's death in the hopes of improving the system and preventing future deaths. Since then, the Government has made sweeping changes to legislation to further protect vulnerable children, including bringing into force the Vulnerable Children Act 2014.
It also recently announced a major overhaul of care and protection, with one agency now responsible for the long-term welfare of at-risk children.
"There were a number of very clear and strong recommendations made in the Nia Glassie inquest with a view to ensuring tragic deaths such as hers, and now Moko's, did not occur in the future," Dr Bain said.
"The inquest into the death of Moko will specifically look at what steps, if any, have been taken by those identified as having some responsibility in keeping children safe and if those steps are adequate."
Read the full article here.
10.15am: The Herald has copies of the speeches read out at the protests. Here is an abridged version of the speech delivered by Family First director Bob McCoskrie to crowds in Rotorua:

We are here for Moko. Justice for Moko. This is not the first time. But it has to be the last. So this is not the first time. But it has to be the last... There was Nia Glassie and then there was Moko. Have you had enough of these examples? So have I. We've had enough. Nia Glassie and Moko died eight years apart. Nia was shoved into a clothes dryer and hung from a clothesline. Moko was bitten by his abusers. Nia was kicked in the head, jumped on, spat on. Moko was choked, punched, kicked, stomped on. Both Nia and Moko were unconscious, unresponsive and suffering from brain damage before they arrived at a hospital. Both died at hands of what were called 'caregivers'. This is not the first time. But it has to be the last.
At each protest a regional coordinator for the Sensible Sentencing Trust gave a speech but the message the same at each venue. This is an abridged version of the speech:
New Zealand, the land of the long white cloud. Our Aotearoa. Our beautiful country.... A country that brings us so many things to be proud of, but when it comes to child abuse we can only be utterly ashamed. In New Zealand, we have a problem and we need to acknowledge it. Our children are dying.
In the last 25 years abuse, neglect and maltreatment has claimed over 200 children, last year being one of the worst years on record. The stories are heart-breaking, the pictures are disturbing, the figures are confronting. Sadly, they are New Zealand's shameful reality. Today, we are here to stand up. To stand up and show our country we are better than this. Our children deserve better. Today, we are here to stand up and say we won't be ignoring it or accepting excuses.

The principle purpose of this nationwide rally is to set in motion a journey to stop New Zealand's horrific and shameful level of child abuse and to demand that anyone- anyone - who abuses a child is punished, and punished severely... that does not mean allowing plea bargains to be part of the punishment. The 'Justice for Moko' WE demand today will not be carried out inside a courthouse but on the grounds outside courthouses all around New Zealand.
Moko, your death has united a nation in grief and horror at what happened to you and will be a catalyst for change. We want a country where kids are brought in to, and raised by family that wants them and loves them. Moko deserved and surely had a right to expect that? Instead, Moko was brutally beaten and tortured over a two-month period. He was bitten. He was stomped on. He was kicked. He was starved. He was dropped face first to the floor. He screamed in pain, so they covered his mouth to silence him. Even when he was so weak, he could barely walk, the swelling to his face was so significant he could hardly open his eyes, his little body completely battered, his (killers) continued to inflict pain and suffering.
Moko died from multiple lethal injuries, any one of which could have killed him. He was three years old. With the country united we will be doing everything in our power to ensure this never happens again. We are here today to demand change.
ENOUGH IS ENOUGH.

Our children are the next generation of parents. We need you to continue to stand up and say "enough is enough." We need to stay committed and we need to be loud and clear that we will not be tolerating child abuse in our country. We DEMAND Justice for Moko.

Children cannot stop the abuse- but adults can. We can. You can. You stood up today for precious Moko, for all children - and for our country.
10.03am: In Wellington, Andrew Little is preparing to address the rally there as it makes its way to Parliament. The announcement that the Labour leader is to speak was greeted with applause.
9.57am: Rotorua protester Michelle Hunia marched with her son, Gavin, 4, and said having a son a similar age to Moko moved her. "I think we need to represent all children that have been abused."
She said she had discussed some of the reasons behind going to the march with Gavin.
Photographer Bradley Ambrose has tweeted pictures of the protest in the city:
9.50am:
In Christchurch, over a hundred people have gathered in the city's centre while in Tauranga, about 100 people were at Edgewater Fan Zone, many holding signs with slogans including "stop child abuse". About 50 people rallied outside Whangarei District Court. The crowd gathered at 9am outside the courthouse on Bank St. One of protesters held up pictures of other New Zealand children who have died form abuse.
In Auckland, bikers, not patched gang members as we previously reported, have joined the crowd at the High Court.
9.45am:
Sentencing for Tania Shailer, 26, and David William Haerewa, 43, is due to get underway at 10am. Much of the anger from protesters is over why the court accepted pleas for manslaughter and did not pursue charges of murder. Retired judge Roy Wade commented on this point for Herald earlier this month:
So was it murder or manslaughter? Often the distinction is whether the offender intended that the victim should die or suffer really serious harm. But that is not the sole criterion. Our Crimes Act provides that it is murder and not manslaughter if it is proved that, "the offender means to cause to the person killed any bodily injury that is known to the offender to be likely to cause death, and is reckless whether death ensues or not".
Surely anyone knows that stomping hard on the body of an infant is likely to cause their death and that denying them medical attention is recklessness at its worst? So why was the charge downgraded to manslaughter? Why did the Crown not press on with the murder trial, content in the knowledge that if it failed to prove murder, a manslaughter verdict was inevitable?
A few years ago I defended Phillip Layton Edwards who killed interior designer and TV personality David McNee in his own home and the Crown was offered a plea to manslaughter well before the trial. The offer was rejected and the murder trial proceeded. That was plainly the correct decision as the public interest in the trial made it imperative that the full facts be aired. The result, however, was a verdict of manslaughter.
Although it is possible the jury may have reduced the charge against Edwards because of provocation (a provision in the Crimes Act now repealed), I feel a likelier explanation for the verdict is that the expert medical evidence showed the injuries inflicted were certainly survivable (there were no broken bones) had the unconscious Mr McNee simply been put into the recovery position and not left lying face-up before Edwards left the house. He was sentenced to nine years' imprisonment.
The Crown Solicitor and/or the Attorney-General who made the decision in the Moko case has not given any reasons.
Read the full article here.
9.37am: In Auckland:
9.31am:
In Rotorua, protesters have arrived at the High Court. They have been chanting "save our babies" and "enough is enough". Reporters at the scene are describing the protesters as "impassioned".
9.26am: In Hamilton about 50 people have gathered in the rain ahead of the march, which is due to start there at 10am. Protest organiser Leah Trass, of Te Awamutu, will kick off proceedings first then Labour MP Sue Moroney is expected to address the crowd followed by Waikato Sensible SentencingTrust representative Tracy Anderson-Bennett. Protesters are also gathering in Taupo:
9.25am:
About 30 people have braved torrential rain for the Justice for Moko event outside the Auckland High Court. One of the protesters, caregiver Tracey Williams, came to protest his killers' manslaughter convictions:
"I can remember back to the Kahui twins, Lillybing, Nia Glassie. There's too many ... all these little children being abused and killed by people that are meant to care for them."
The 45-year-old mother of one said she "thought the bubbas would open up the skies for us. But now I think it's all their tears."
9.20am: The speeches are over and the crowd of about 200 people have started to leave Rotorua Lakefront and head to the High Court, many huddled under umbrellas. The crowd includes young children and babies in prams.
Lawyer and fomer list MP David Garrett has spoken to the crowd about plea bargaining and how it shouldn't happen. He said given the facts of the Moko case, he believed any jury would have convicted them of murder.
The is a strong police presence at the Lakefront. One lane of Arawa St from Fenton St to the courthouse on the corner of Arawa and Tutanekai Sts is closed.
Family First director Bob McCroskie has addressed the crowd saying: "This is not the first time but we are here because this has got to be the last."
9.15am: More on the security at Rotorua High Court. One police officer has told a member of the public waiting to enter the High Court's public gallery that priority for entry will be given to families of those involved in the case. Despite heavy rain there's already a handful of protesters holding placards outside the building - but the main protest is gathering in the centre of town.
9.09am: The Rotorua Daily Post is live streaming the protest in the city. You can watch it here.
9.05am: Herald photographer Alan Gibson is with the protesters in Rotorua:
9.00am:
There's heavy security outside Rotorua's High Court as preparations get underway for the sentencing of Moko's killers this morning.
About 50 people are outside the court and there are a number of police officers and security guards in evidence.
About 3000 people have registered their interest into take part in the march, and there is expected to be a strong gang presence.
Sensible Sentencing Trust Rotorua area co-ordinator and march organiser Maggie Bentley has said: "To see the online interest numbers reach 3000 has been absolutely astounding. When we first decided to do the march we were expecting a few of us to make the walk and stand outside the courthouse for the sentencing, now there are 12,000 people nationwide who have expressed their interest in marching for Moko."
Those taking part in the march will meet at the Village Green at 9am. There will be a few speakers before the march travels down Fenton St and on to Arawa St, assembling outside the Rotorua court.
8.55am: Herald photographer Nick Reed is at the Moko march outside Auckland High Court:
8.50am:
Herald reporter Ann Leask has written about
. It is gut-wrenching reading and shows why the case has both shocked and angered New Zealanders:
Moko had lacerations and hemorrhaging deep within his abdomen, historic bruising and damage to his bowel. Combined, that resulted in his bowel rupturing. Fecal matter leaked into Moko's abdomen, causing septic shock.
His brain was swollen, he had blood clots under his scalp representing numerous injuries inflicted at different times in the lead up to his death.
There was evidence the toddler had been smothered.
His body was a veritable map of torture - Moko had human bite marks, contusions, abrasions, deep bruising, lacerations, patterned injuries on his face, chin, neck, ears, lower lip, gums, eyes, ribs, testes, skin, chest, tummy, shoulder, arms.
8.45am: The Facebook page Stand UP NZ - Justice for Moko has rally details:

8.30am: Thousands of people are set to join a nationwide series of courthouse rallies today to protest the death of Moko Rangitoheriri.
The gatherings at 9am are timed to coincide with the sentencing of the abused child's killers in the Rotorua High Court.
People supporting the Stand Up NZ campaign will gather outside 34 courtrooms from Whangarei to Dunedin.
National rally organiser Jayne Crothall has said supporters would be asked to sign a petition to change the law that allowed the pair's charges to be downgraded:
"An amazing number of people from all over New Zealand have stepped forward to back this rally. The tragic death of Moko has opened a lot of people's minds to the issue of plea bargaining. People are disgusted by this practice and are sick of it. We won't stop tomorrow, we will keep going until the law gets changed."
Ms Crothall's 3-year-old daughter Brittany was murdered in February 1997. Luke Fredrick Sibley was sentenced to life imprisonment after he suffocated and strangled the toddler while she slept at her home in Christchurch. "If we do nothing, nothing changes so we stand up and start," she said.