Somehow Alex Manning was able to walk away from the annual 'cheese roll' run in England with just a sore knee and hip.
Meanwhile, splayed out beside him on the finish line are people nursing broken bones while others were being stretchered away by ambulance staff.
The self-confessed adrenalin junkie admits his daredevil activities - which have caused him about eight broken bones over the years - tend to stress his New Zealand-based mother out.
Mr Manning, of Auckland, and his penchant for the extreme also saw him take part in the annual Running of the Bulls in Spain last year. But this time he thought he'd try something different.
Despite the possibility of breaking at least another one of his limbs, Mr Manning joined the crowd to run, roll, trip and fall down the infamously steep Cooper's Hill in Gloucestershire at the weekend.
Former TV personalities Matthew Ridge and Marc Ellis also gave it a go for their TV show a few years ago.
The keen - or mad - participants chase a 3.6kg block of Double Gloucester cheese down a 200m long bank with a 1:2 gradient every year.
The hill is so dangerous that the event was canned in 2010 due to safety fears.
However, Mr Manning - who has been living in London since 2014 - went along with five friends, also from Auckland.
After walking the approximate 20 minutes to get up the top of the hill, he made a last minute decision to take part.
He started running and eventually fell but then managed to get himself back up again before falling and getting up before eventually rolling across the finish line.
He says the hill is deceptively steep and no amount of photos or video do it justice.
"It really is almost vertical ... I ran down but you kind of fall and run and fall and run and get up again."
Amazingly, he managed to walk away with just "a bit of a sore knee and hip".
"At the bottom there was about five people with cuts and bruises and some being stretchered away."
However, he says the scariest bit was the local rugby team waiting at the bottom of the hill.
"The worst part is at the bottom. There's a whole rugby team at the bottom waiting for everyone to come down, so that's pretty scary. There was some pretty big hits going down."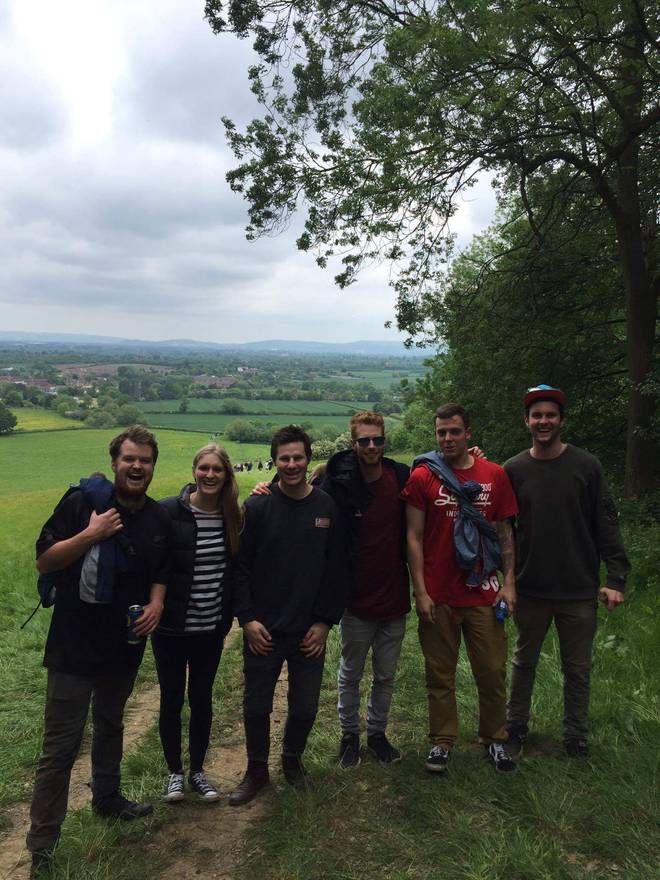 The winner - was given some cheese - but the rest of the participants were just given a rousing applause by the crowd.
"There was about 5,000 people or more there and the whole town was closed down for the day."
The town itself was littered with signs warning potential participants of how dangerous the cheese roll run was, he says.
His family will now be pleased to know he intends to be back home by October - but not before spending two months travelling the world on his way home.