Welcome to winter.
That's the message being bluntly delivered to Kiwis by a huge, multi-centred low pressure system which has swept in from the Tasman Sea, kicking out the warmth that made for a dream autumn and ushering in the cold season.
The slow-moving system, which has dragged up cold air from the south of New Zealand, has already brought heavy rain to Southland and eastern Otago and is now moving north-eastwards.
Although the heavy rain that fell on those southern areas had now ceased, a severe weather watch for heavy rain for North Otago, issued by MetService, is in force tonight.
READ MORE:
• Otago snow rescue: Helicopter rescue attempts unsuccessful
• Watch NZ Herald Focus: Dozens trapped overnight in snow
• Time to wrap up as cold snap settles in
Along with the possibility of 40mm or more of rainfall in that area, a warning for significant snow for Otago was also in place until tonight.
In the north of the region, a further 20cm of snow was expected to fall in areas 800m above sea level and lesser amounts to 600m.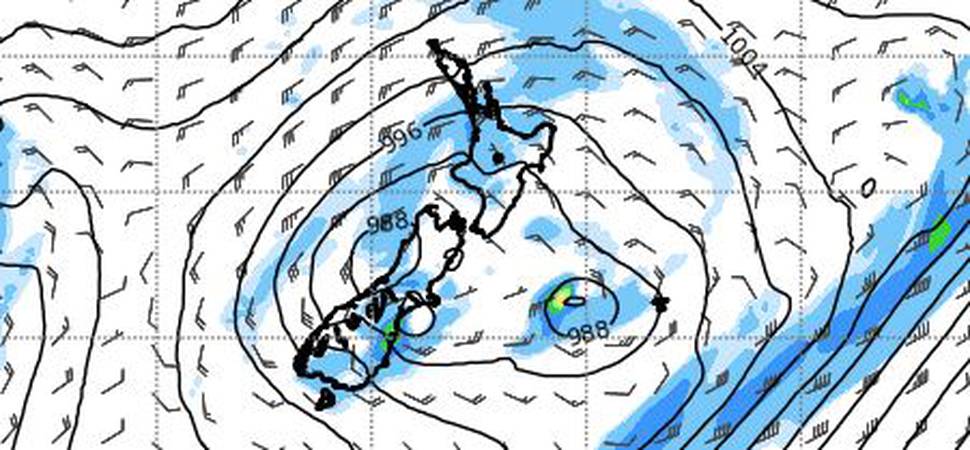 Elsewhere in Otago, less than 10cm of snow is expected.
Meanwhile, large swells on the west coast of the South Island, particularly around Punakaiki, were causing some debris to wash up onto State Highway 6.
Motorists have been urged to take extra care on some stretches of South Island highways - including State Highway 97 between Mossburn and Five Rivers, State Highway 90 at Pomahaka Bridge and State Highway 6 between Nokomai and Fairlight - due of flooding.
Further warnings were in place for between State Highway 8 between Omarama and Cromwell (snow and ice) State Highway 6 north of Haast (debris on the road due to high tides) and State Highway 6 between Haast and Makarora, where the road was this morning down to one lane as storm damage was repaired and cleaned up.
The northernmost low pressure system over the country was expected to fall apart today, meaning the system to our southeast would begin to influence our weather, WeatherWatch.co.nz reported.
"This means patches and periods of rainfall start to scatter themselves around the country, and temperatures drop in some parts of New Zealand," the website reported.
This wet, cold air flow also meant more snow for the South Island ranges and ski fields, along with some for the North Island.
For Auckland, it meant frequent showers throughout the day and temperatures dropping into the mid-teens, while Wellington could expect a few showers later in the evening or overnight, and temperatures in the early to mid teens.
In Christchurch, temperatures would remain in the single digits for the most part of the day, before rain cleared later in the evening.
MetService meteorologist Georgina Griffiths said the multi-centred, dartboard-like low pressure system that had hit the country would have proven a shock for people who had grown used to the warmth of an unusually balmy autumn.
"I guess this is really us paying for that autumn -- and we always do pay for warmth and dryness in New Zealand," she said.
"The reason for that is if you are going to stick with northerlies for a long time, like we have with the first five months of the year, at some point we are going to get on to the other side of the trough."
The country was now on the cold, southerly side of that trough, with low pressure systems "pummelling" the country, she said.
"It looks very unsettled this week, with cold and southerlies expected to prevail. So really, we've had just one week of autumn, and bang, we're straight into winter. From a temperature point of view, there hasn't been much of a buffer in there."