A US backpacker who had all her belongings stolen when joyriders stole her car has had a happy ending after Kiwis came to her aid.
Danica Klas, 21, from Oregon, is back on her New Zealand adventure after kind Kiwis helped her back on her feet - and even replaced her beloved ukulele.
The bubbly backpacker lost almost everything she owned last month when her dark blue Subaru Legacy was stolen from Marsden Ave in the Auckland suburb of Mt Eden while she stayed at a friend's house. She had been travelling and living in the vehicle, and all her belongings were inside - including her backpack full of clothes, sleeping bag, her ukulele, camera with all her travel snaps, and iPad. She had only the dress she was wearing, her phone, wallet, a journal, and her passport.
READ MORE:
• American tourist left high and dry after car stolen in Auckland
• Tourist's stolen car found (but with just one shoe inside)
It was later found trashed outside a hotel in Greenlane and towed to Otahuhu, with a bloodstained driver's seat and little more than an empty beer bottle and one of her shoes inside.
After her story was published in the Herald, Danica was flooded with offers of help from New Zealanders across the country. And she has since been able to continue her travels in New Zealand with their help.
Tour company Stray gifted her a bus tour pass so she could travel back through the places she had visited to try to re-capture some of the photographs and memories she lost, and to help her get back to Queenstown where she had intended to work out the rest of her visa.
Before boarding the bus she said she was "so giddy like a schoolkid".
"It is almost like I'm restarting my trip."
The New Zealand Ukulele Trust donated her a new instrument, and invited her along to a concert and to perform for some children who are learning how to play the ukulele. Her "cute" new yellow ukulele - while not the same as the concert instrument she lost - "plays beautifully" and has now been signed by many of the people who helped her.
"It ... will forever be my instrument of new beginnings," she said.
In an email to the Herald, entitled 'happy endings', Danica said it had been a "bitter sweet" experience for her.
"Within a 24 hour span of time my life turned in so many directions. I woke up and realised I lost everything that I owned. From pictures, trinkets, journals, even the essentials in life as simple as soap."
But once her story was shared on the Herald she received hundreds of emails and Facebook messages, and was "overwhelmed with the kindness".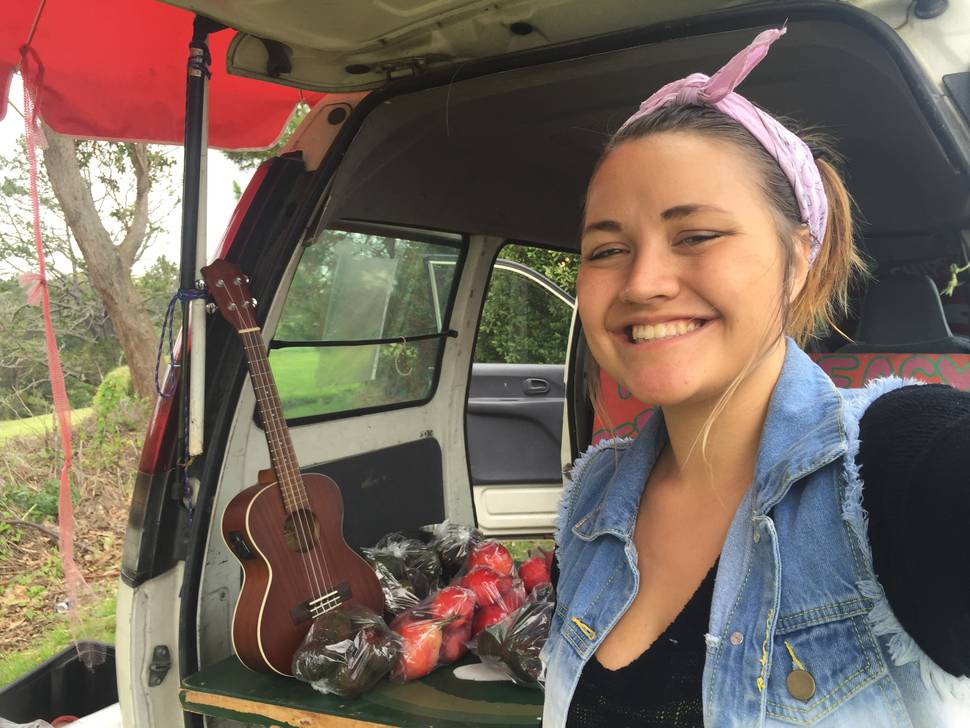 "I didn't know how to accept such generosity until my car came back empty and I understood that it is okay to ask for help sometimes, especially when it has been offered," she said.
"I was able to get my first pair of shoes from Carl Webb, owner of Eurobrands on Queen Street. He was very kind and even gave me fashion advice.
"Robyn Gray from the board of the Ukulele Trust Foundation ... gifted me the CUTEST ukulele."
To "top it all off" she was getting ready to hop on a Stray tour bus "to travel the rest of New Zealand in style".
Jo 'Beanz' Crickett from Stray said the company wanted to help Danica.
"It pops up all too often that you see people having these sorts of experiences with the country and it's great to be in a position where you can actually help out. It's what the company felt compelled to do really, step in and lend a hand."
Thefts from backpackers happen on a regular basis, he said, and "Auckland seems to be the hot-spot for it".
But Danica is now back on the road enjoying the sights.
"She looks pretty stoked," Mr Crickett said, adding she appeared to be "having a great time".
Danica posted a photograph to Facebook of herself outside the hobbit houses from Hobbiton film set, with the caption: "Just in case you thought dreams didn't come true, well they do."