It had survived 110 years of choppy waters, but all that could be seen of the Kestrel this morning was its roof floating amid the debris.
The beloved Auckland ferry sank overnight at its berth in Wynyard Quarter.
General manager of Panuku Development Auckland Marinas Tom Warren said the sinking had come as a surprise to the council and "definitely a loss for Auckland" and for the Preservation Society.
Mr Warren said it was unclear what caused the Kestrel to sink. "We are still looking into that at the moment. We were told at about 5.50 this morning and we are now just working through how to deal with the challenge that we have here.
"We have bonded the area so we will contain any hydro-carbons. The Kestrel was supposedly meant to be completely clear of any oil so there should be none of that," he said.
"The [cordon] will hold the debris that are there and once the Kestrel Preservation Society has contacted their insurance assessors they will start to clean up the debris that is there."
Mr Warren said the plan now was to contain the debris and then work on dealing with the wreck and how it is removed. "We are not sure on that yet, it is up to the Preservation Society's insurance company to advise on that. We will make sure that whatever debris is there will be removed."
The area where the Kestrel sank was 6 to 7 metres deep and the boat was sitting on the bottom of the marina floor.
Source: Vimeo / Vanessa Clarke
Chairman of the Kestrel Preservation Committee Mike Alston said he was "not really" shocked at the vessel's sinking. He was unable to comment further.
CEO of Auckland Seaplanes Chris Sattler said he was alerted to the incident at about 6am.
"At that stage there was no debris in the water and there was no danger to navigational safety in the harbour," he said.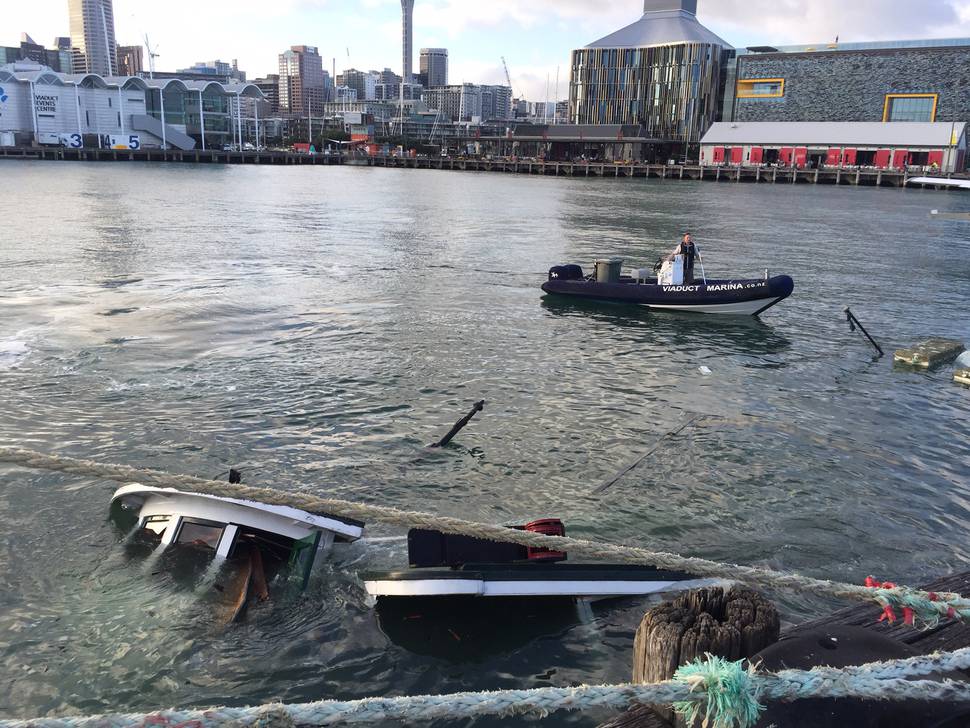 "They have now cordoned off the area where the Kestrel has sunk and they are retaining all the parts you see floating there."
Mr Sattler said it was a huge loss to the trust who were looking to restore it the vessel.
"It is a bit of a sad story because they were looking to restore the Kestrel but it was just a bit too expensive for the trust so they were waiting for something positive to happen and unfortunately I didn't happen."
He said his business would continue to operate today.
A worker at Wynyard Quarter said he was completely shocked and saddened when he saw the boat.
"We got told at work that it looked like it had sunk so we came to look and there was nothing there, just rope. Now bits and pieces are bobbing on top of the water. There is so much history here."
The Waitemata harbourmaster is investigating the incident.