While Prime Minister John Key was busy dodging protests on Waitangi Day, Labour leader Andrew Little was having his foot gently bathed up at Waitangi.
Shirleyanne Brown, of Ngati Hau health and social services, was doing the honours, joking it was "just like the biblical times".
Had Key been up in Waitangi it may well have been like biblical times as well, but it would be more of the fire and brimstone Old Testament.
Such are the delights and carefree life as the Opposition leader. Even the security detail usually assigned to the Leader of the Opposition for Waitangi left him after the Dawn Service, free to roam at will. Little was on safe ground - his party was opposing the Trans-Pacific Partnership and he had not yet had the time or power to do anything to peeve Maori.
So Little spent his day mooching around Te Tii Marae before strolling round the fair and markets under way on the Treaty grounds, hosted by MP Peeni Henare who ran into an aunty every 2 metres.
Read more:
A brief history of Waitangi Day
Little joked about eating one aunty's icecream and ate a venison and egg Maori bread sarnie. Egg yolk slopped everywhere: "it's not the first time I've had egg on my face."
Then came Shirleyanne Brown who persuaded him to add his footprint to a banner to show support for the agency's goals. She carefully rollered the paint on, and he hopped out to the banner coming perilously close to falling over altogether. Afterward, his foot was gently bathed and he was dispatched with great cooing.
So when he visited a tent which had a test to assess suitable career options, Little didn't bother taking it. "I'm not looking for a new career."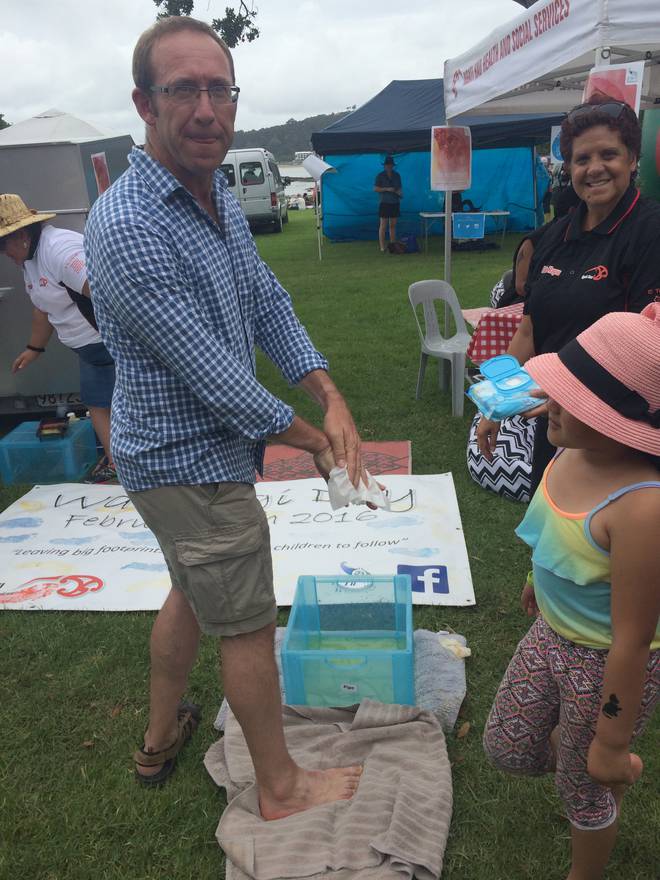 History will show it may not last.
Key too was footloose and fancy free at Waitangi in his first year as National leader in 2008 and, apart from a handful of protesters, again in 2009 after National included the Maori Party in Government.
New Zealanders tell the Herald what Waitangi Day means to them.
The schmooze-fest prompted then PM Helen Clark to take aim at the relationship between Key and Maori saying it would amount to "useless rhetoric" and adding at least Don Brash was honest enough to announce his true feelings.
At that point Clark had given up Te Tii Marae and the Dawn Service -- the first because of protests after the Foreshore and Seabed legislation. Now Key himself has acquired some baggage -- the distrust over the Trans-Pacific Partnership and ongoing distaste among many Maori over the Maori Party's agreement to be in Government with National.