• Explosive new book says bodies were taken off boat
• Scott Watson denies killing pair, despite conviction
• Police "contorted evidence" to fit the prosecution case
• Claim that second person was on board the Blade
The bodies of Olivia Hope and Ben Smart were taken off the boat of convicted murderer Scott Watson in Picton the day they were killed, a new book on the Marlborough Sounds murders claims.
In contrast to the police case that they were dumped at sea, author and investigative journalist Ian Wishart said it was his opinion the bodies of Hope, 17, and Smart, 21, were unloaded and taken by an accomplice of Watson to be buried on land.
Wishart's book, Elementary, is based on original police investigative material and maintains that Watson is guilty of the 1998 New Year's Day murders for which he was convicted.
Watson has always protested his innocence and has been the focus of a concerted campaign to have his convictions overturned.
Elementary is the fifth book to be written on the case and claims police got the right person.
READ MORE
• The book that paints a new view of Scott Watson
• Sounds murders: The questions that need answering
Using a copy of the police file provided to Watson's defence, the book's boldest claims are based around statements from witnesses that were not heard at trial.
Among those are statements from three men who watched a yacht pull into Shakespeare Bay near Picton about 11.30am on New Year's Day. Standing on a balcony on a hill above the bay, they watched two men unload from the boat into a dinghy what one witness said was "a big bag or sack ... of similar size to him".
One man disappeared into a cabin and reappeared with a second bundle the same size.
The police statement recorded one witness saying to the others: "Look at that guy. It looks like he is trying to get rid of some bodies."
Another witness, whose statement matched that of the other two men watching, said he saw heavy bundles "similar in size to the person on the yacht" being manoeuvred with difficulty into the dinghy.
"I commented to Jimmy that he was right and it did look like they were trying to get rid of some bodies."
The man who made the original comment - Jimmy - then said: "We had a laugh about it because we thought we were a bit silly thinking about that."
When it became known that Hope and Smart were missing, the men called police. Shown pictures of Watson's sloop, the witnesses described it as "very similar".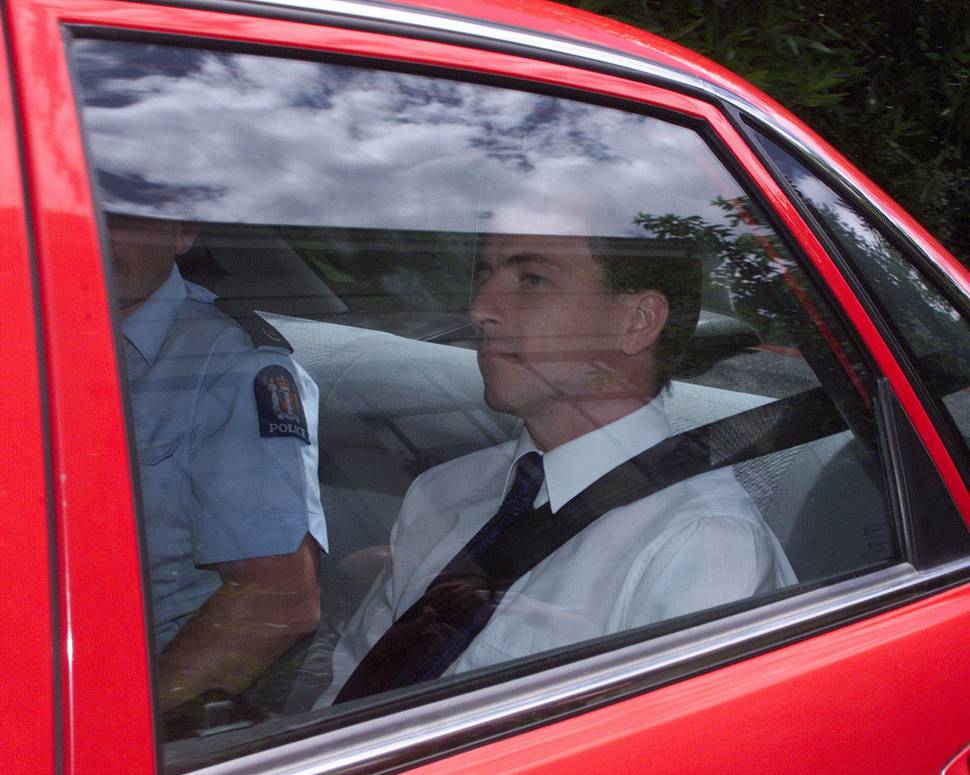 Wishart writes in Elementary: "And there the trail ends. The last known probable sightings of Ben Smart and Olivia Hope. What happened next? Scott Watson knows, and one or two accomplices still out there who helped dispose of the bodies."
The statements depart from the case advanced by the Crown at trial, which has Watson motoring north to the Cook Strait rather than south to Picton on New Year's Day.
Elementary draws on other statements that support his alternative history of Watson's movements. They include three statements that place a second person - an accomplice, he claims - on board Blade, Watson's yacht, on New Year's Day.
The statements include claims from witnesses that Blade was being repainted by one of the two men while at sea. It also claims to have identified the "mystery ketch" as Alliance, a vessel known to be in the area and being sailed by a family on holiday.
Elementary records statements to police by its skipper which place the ketch at Furneaux Lodge on New Year's Eve, leaving on New Year's Day, and then again on January 2 at a location where the "mystery ketch" was seen.
A statement from former All Black Greg Feek, who saw the ketch on January 2, spoke of a "girl at the back of the boat" with "long blonde hair". Elementary says the family on the Alliance included a teenager with blonde hair.
While Wishart supports the end result, he still takes aim at police over the divergent theories. Elementary claims they contorted evidence to fit the prosecution case, in which the bodies were dumped in the Cook Strait - a scenario explaining why they were missing.
But he said the decision to focus on a theory that led north, instead of evidence leading south, created questions over the case and led to 17 years of speculation about the murders.
In the book, Wishart accuses a key witness with name suppression, whom he dubbed "Keating", of manufacturing a New Year's Day alibi to protect Watson from scrutiny. He claims evidence produced in the book destroys the alibi from Keating, who has since died.
Wishart's 1999 book on the case cast doubt on the prosecution - a stance he has changed. "Having now seen the evidence they didn't use but should have used, I'm absolutely confident Scott Watson is the killer of Ben and Olivia," he said last night.
Olivia's father, Gerald Hope, has welcomed the book as "the most in-depth review of statements I've ever read" on the case, with new material of which he was previously unaware.
"It brings balance back to the trend of 'he's wrongfully convicted and is therefore an innocent man in jail'."
Mr Hope said he wanted to meet Watson, and had applied through Department of Corrections to do so. "There are questions which have not been asked, let alone answered, and he alone can provide that information."
He said there had been criticism - which he had also voiced - about flaws in the police case. "If only they had been a little bit more thorough and methodical in the process, it would have removed doubt. But it comes back down to Watson, whether he was guilty as proven, whether he wants to show remorse and accept what he has done."
The book adds in a 50-word post-script claim of a confession which was detailed to the Herald by Detective Senior Sergeant Wayne Stringer, who worked on the case but is now retired. He said the witness dubbed Keating told him of a conversation he claimed to have had with Watson the day after the murders.
Mr Stringer said he had become close friends with Keating, having met him when appointed as his bail officer by Detective Inspector Rob Pope, the head of the investigation into the murders. He said the relationship developed until they were like "family".
After Watson was convicted, Mr Stringer said, he and his wife were at a dinner with Keating, who laid out what he claimed was a confession made by Watson on New Year's Day 1998.
"[Keating] told me that Scott Watson had told him what he did."
Mr Stringer said he was told how Watson attacked Smart and "stabbed him to death", then "stabbed her [Olivia] to death".
"He wrapped them in sails and spare chain and took them out to where they would never be found and dropped them off," he claimed.
Mr Stringer said he knew Keating well and trusted him. "He didn't have any reason to tell me lies. I believe him absolutely. I have no doubts about [Keating]. He was a bad guy but he was a good man."
Corrections Department deputy chief executive Vincent Arbuckle confirmed that a request by Mr Hope had been made to visit Watson and was being assessed.
A spokesman for the police said only "extracts" of Wishart's book had been seen.
"We will consider the book in its entirety and compare it to the original investigation. We will then be in a position to comment further."