Herald science reporter Jamie Morton was hosted at Scott Base by Antarctica New Zealand this week. Here, he takes a tour of a $6.2 million refurbishment at the base's Hillary Field Centre
Inside the rear cargo bay at Scott Base's Hillary Field Centre, it sounds - and feels - like an anti-aircraft gun is letting loose just a few metres away.
There's a near-deafening burst of rattling and shaking every few seconds.
Peer through the garage door window and you'll see the source of the cacophony - a hydraulic drill attempting to dig down into the permafrost that lies beneath the ice and scoria at Pram Point.
It's some of the toughest ground a construction crew could ever be confronted with.
"If you've been on the end of a jack-hammer, it's harder than concrete," the base's projects manager, Simon Shelton, tells me.
"You need the right tools - things like a hydraulic drill rig to drill the anchor holes, along with breakers, explosives and heavy earthworks gear."
Fortunately, the men doing the work know what they're up against.
Leighs Construction had the contract for building the Hillary Field Centre itself in 2004-2005, establishing the huge windfarm that overlooks the base, between 2008 and 2011, and the first phase of the current $6.2 million make-over of the centre.
Now they're back for phase two of the job, which began last winter and is scheduled to be complete by next year, ultimately providing one of the best research facilities New Zealand has established.
Before the first phase got underway, the area at the back of the base consisted of a warehouse storage facility that largely housed food supplies and other gear.
What you see now is a fully-connected, two-storey section of the base with two large cargo bays, three laboratories, offices, training rooms, supply areas and a computer suite.
There's plenty of room for spreading out large tents, rolling up sleeping bags, stacking cases of gear and running practical demonstrations.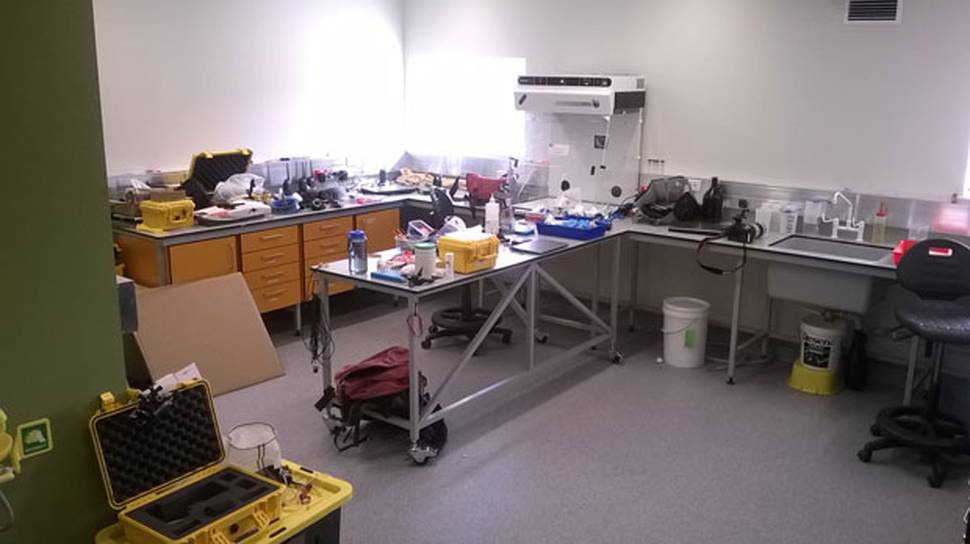 Each of the labs are different: one is fitted with an emergency shower, eye-wash station and two sinks designed to handle hazardous chemicals.
Another is much larger and can accommodate multiple groups of scientists, while the third is a "dry lab", mainly used for electronics-based research.
It's all to support a growing New Zealand scientific effort in Antarctica.
Of the 95 projects Antarctica New Zealand is supporting on the ice this season, most are research expeditions.
There have been studies investigating how "supercool" water is driving sea ice growth, seismic imaging of the seafloor below the Ross Ice Shelf, analysis of trace gases in the Antarctic atmosphere, 3D aerial surveys using drones and geological sampling at nearby Mt Discovery.
"The scientists have been doing some really interesting work at Scott Base this season and it's been nice to see them so excited about having a new facility they can use," Mr Shelton said.
"It would be sort of like moving into a new house and getting a spa pool and a games room."
The second phase would expand the base's research capacity further, with a docking bay to accommodate four "plug and play" kitted-out containers serving as removable mobile labs.
"We can build them in Christchurch, send them down on a ship, put them on a sled and then they're here on base."
On the northern side of the base, there would be a new two-bay garage to prepare gear and store equipment such as search and rescue tents.
While the capacity of the US-operated McMurdo Station and that of many other Antarctic outposts were still far larger than New Zealand's comparatively small base, Mr Shelton believed the specialised work Kiwis were doing on the ice still set us apart.
"For me, it comes back to the culture of a small country," he said.
"We might be reasonably small, but we seem to be quite good at picking up niche, complex bits of science and working really well with what we've got."