Mountaineer Pat Deavoll is gearing up to go back to the high peaks of Asia - on a titanium knee and an ankle fused by metal pins. Andrew Stone talks to the outstanding Kiwi climber you've probably never heard of.
Over summer Pat Deavoll is climbing in the South Island and dreaming of the fabled Hindu Kush.
The distant mountain chain at the intersection of Afghanistan and Pakistan is once more exerting a pull on the 56-year-old. She intends to be there by the middle of the year, ignoring travel warnings about Taleban militants and doing what she loves - climbing to formidable heights on unconquered routes among some of the highest peaks outside the Himalayas.
Over three decades Deavoll has forged a reputation as one of the world's leading women mountaineers.
Largely unknown in her own land beyond the climbing community, Deavoll has beaten the mountains by beating the odds - she is heading high on a titanium knee, an ankle held together by metal pins and screws, the uncertainty of debilitating high-altitude sickness and a history of depression, which during her career plunged her into a deep blackness when her expectations went unmet.
With medication and self-awareness, she has learned to manage times of despair. It has freed her to indulge an unquenchable hunger for heights. Her project for 2016 involves returning to the Wakhan Corridor in northeast Afghanistan, where she has climbed three times before. She is drawn she says by its isolation, rawness and physical challenges.
With new climbing partner Ted Callahan, an American based in Faizabad, the region's provincial capital, Deavoll is attempting the first traverse of 7017m Koh-e-Langua-e-Barfi and the 7072m Koh-e-Langar, two striking remote peaks which have been climbed just once. The ridge which connects them has never been crossed.
Years of conflict in Afghanistan have scared off climbers from its demanding peaks. Having safely sampled its attractions, Deavoll is confident she can return without incident. The New Zealander intends to spend three weeks acclimatising at altitude before striking out on the traverse in early August. The pair are timing their climb towards the late northern summer, when the high snows should have a firm crust making progress a little easier.
"We don't want to be struggling through deep snow. If it's got a firm top then we should get along a bit faster."
She expects wind but they might escape the bitter storms which lash the mighty summits further east.
"Fingers crossed," says the optimistic Deavoll, wary of fierce blasts which could impede their progress.
The couple will be climbing alpine style, an approach to mountaineering summed up by the phrase "a rope, a rack and a pack on their back".
Women are very tenacious because they know it's going to take them longer to get to the top.
On this trip the climb starts, after a long trudge up the endless glaciated Langar Valley, from the base of Langua-e-Barfi, a peak which Deavoll got to within 200m of the summit in 2014. They must then ascend exceedingly steep and technical slopes until the top, before tackling the ridge to nearby Koh-e-Langar. Then it's back down, abseiling on ropes attached to slabs of ice by screws and threads to base camp and a welcome cup of tea.
Previously Deavoll has made the long journey to the Hindu Kush through western China and Tajikistan. But militants have forced authorities to close Afghanistan's northern border, so she plans a detour through the nation's dangerous capital.
As a Westerner she accepts she could be a kidnap target for Islamic insurgents but says she's been here before.
"I think I'll skip through Kabul pretty quickly," Deavoll explained from Timaru, where she works as a rural journalist. "I'll be a little nervous but I think I can do it."
Deavoll was bitten by the climbing bug as a Christchurch schoolgirl. With hostel classmates, the North Canterbury farmgirl went tramping in the ranges west of the city, learning the ropes from Norman Hardie, a terrific mountaineer who in 1955 was on the first ascent of towering Kanchenjunga, at 8586m the third highest peak in the world.
Hardie must have recognised talent in the teenager. Taking a school party up scree-covered Mt Binser (1859m) beside a bend in the Waimakariri River, Hardie suggested that Deavoll go ahead while he waited for the other girls to catch up. She briefly hesitated before Hardie insisted: "Go on."
Leaving school, Deavoll headed for Mt Cook village. She washed dishes at the Hermitage and completed an introductory mountaineering course.
In the late 1970s she worked for the Mt Cook National Park Board, knocking off peaks at weekends.
She has scaled icefalls in Canada, hard routes in Alaska, remote peaks in China, seldom-visited ranges in India, soaring summits in Pakistan and now, once more, Afghanistan.
For the past decade or so she has embarked on at least one alpine-style project a year to the high peaks of Asia, high-risk expeditions where the line between success and failure - and life and death - is thin.
"It can turn on a dime whether you're successful or not," she said.
Deavoll has written about her climbing career in Wind from a Distant Summit, an unflinching account of success and failure in the mountains, her decision to put climbing ahead of having a family, the tragic loss of mountaineering colleagues and her struggles with depression.
She is clear what she wants to climb, and how she wants to do it. She would never, she says, join the streams of paying clients being pushed to the summit of Everest.
Deavoll's book is dedicated to Karen McNeill, a remarkable New Zealand mountaineer who went missing with climbing partner Sue Nott on the Infinite Spur. This tough, unending spine runs up to the summit of Mt Foraker, a brutal 5300m Alaskan mountain that draws only the very best because it is one of the hardest routes in North America.
The two women disappeared in dreadful weather in May 2006. Nott's pack was found, but of the climbers - nothing.
Deavoll had climbed with McNeill just a few months earlier. Together they made the first successful ascent of Xiashe in western China, beating a team of three British climbers up rock, snow and icefalls to the 5833m summit.
"We're the bomb," an elated McNeill shouted as she hugged Deavoll on the top. Six months later McNeill was gone.
Deavoll believes McNeill never got the respect she deserved. "She was our most successful climbing export but she never received kudos for her achievements.
"No one else left New Zealand and climbed as successfully as she did."
In her book, Deavoll explores what she considers a double standard applied to male and female mountaineers. Women climbers, she argues, get a harder time because the best climbing years coincide with child rearing.
She cites the case of British climber Alison Hargreaves, who took on Everest without oxygen and was feted by the English press. When she died on K2 a few months later, her fitness as a mother came under assault from the same newspapers.
Deavoll argues that mountaineering literature written by men barely mentions fatherhood. She cannot recall an occasion when the death of male climbers had been followed by criticism for leaving their children without a father.
"Just because Alison wanted to climb didn't make her a worse mother," says Deavoll, who candidly admits that she had "maternal reticence." Her decision not to have children was straightforward - she did not want to give up the mountains, the expeditions, the travel and the climbs.
In a similar vein, Deavoll is happy to admit being immensely chuffed bagging summits - the achievement of reaching the top. But she sensed during her long and accomplished career that the drive, motivation and single-minded determination to succeed were qualities that male climbers did not easily acknowledge in the best female mountaineers.
On her trips Deavoll has climbed with male and female partners. She found all-female parties quite hard because they lacked the physicality of climbing with men.
"You don't tend to move as fast so it might take longer to climb the thing.
"What do you have is tenacity. Women are very tenacious because they know it's going to take them longer to get to the top."
For many years, Deavoll says, she suffered in silence with bouts of depression. It once got so bad that she checked into Dunedin Hospital for a short time. But she is confident now that with medication and care she has reached a point where she is comfortable talking about how the illness had affected her life.
Up high, it can get scary, she says. She was once stuck in a tiny tent at 6100m for seven days on a giant Pakistan peak and ran out of food. On the 13th day, at 1am, she and climbing partner Malcolm Bass made one final moonlit push up a steep fragile ridge.
At one point her boot broke through the snow, opening a hole which revealed a moraine-strewn glacier hundreds of metres below. A little further on and Deavoll heard her Scottish companion cry out: "Bollocks. I can't climb this. It's too dangerous."
They turned back, and took two and half days to get down. But instead of succumbing to misery, Deavoll says she felt strengthened by the struggle, knowing just what she was capable of.
"If you know you spend seven days in a storm and still go up, or climb for 50 hours without a break, then once you've done it you realise it's probably not as bad as you thought it was going to be. Then you know what you're capable of. "
To be in top physical condition for the traverse, Deavoll mixes gym work with tramps and climbs. She is recovering from having her ankle fused, an operation triggered by osteoarthritis.
If you know you spend seven days in a storm and still go up, or climb for 50 hours without a break, then once you've done it you realise it's probably not as bad as you thought it was going to be. Then you know what you're capable of.
Her metal knee, she says, never lets her down and so long as she acclimatises, she should avoid the acute mountain sickness which in 2004 forced her down off a 6500m ridge after two despairing days trapped in a tiny tent by a blizzard.
"My head was imploding," she wrote of the experience on Jankuth, an imposing 6805m, unclimbed, northern Indian peak. "I was unable to keep food down and I was unable to think straight or sleep."
Even the dexamethasone - a powerful steroid - which climbing partner Marty Beare fed her failed to shake the ghastly symptoms, which only loosened their grip as she gingerly lost altitude.
As she's got older, Deavoll says her climbing goals have shifted. " I relish the experience more than the summit. I'm not so summit driven.
"Last year in Pakistan we missed out and when I got down I was disappointed but I wasn't that worried because we'd done the best we could."
In the mountains she finds an "overwhelming comfort", where daily anxieties are replaced by a need to be physically sharp and in tune, where an exhausting haul on the front points of crampons can give way to exhilarating pleasure at the top.
"I guess I was very performance-based. I was very good, or I am very good. I wanted to be a very good rock climber, a very good ice climber and a very good mountaineer. I targeted hard things. And I am very good."
Deavoll realises it won't last forever. Over the years her body has taken a pounding - she broke her back six years ago - and imagines at some point she'll need a new passion. A few years ago she quit a job in outdoor education to train in journalism. She loves writing, and paints.
"I'm drawn to the expeditions. I want to go to the out-of-the-way places. Even if they are a little bit dodgy security-wise it doesn't really worry me. It's just that I can head to places where nobody else is going and find mountains that nobody else has climbed. It's that desire to get away from it that is keeping me going."
The desire to climb stronger than guilt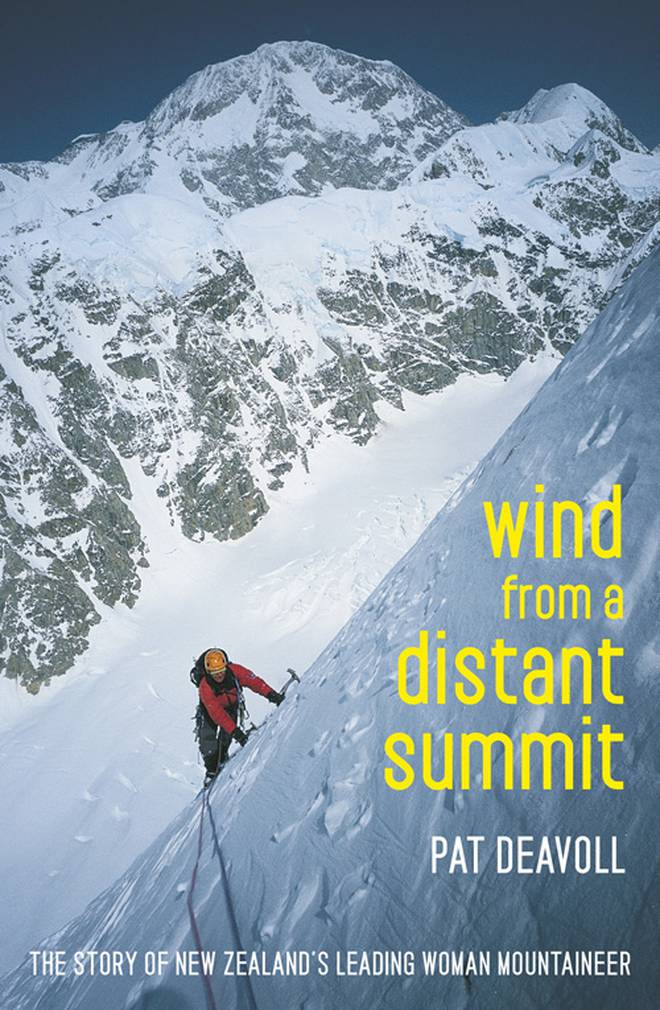 Pat Deavoll wonders if sometimes Asia's majestic mountains revolt against against the constant assault from climbers heavily invested in knocking them off. She is mindful that the relationship involves first world visitors against a third world backdrop. Climbers fly in from Europe, North American or New Zealand with a short window to complete their mission.
Over the years, Deavoll says she has struggled to bridge the gap between her own ambitions and the often meagre existence of local people who support her expeditions.
The subject of "mountain tourism" is vigorously debated by climbers, many of whom try and help out by paying porters directly rather than going through agents. Deavoll says there's no escaping economic iniquities, but climbers can't be expected to close income gaps.
"I think we are providing something they otherwise wouldn't have.
" I do feel guilt but the desire to go climbing is stronger."
But she draws the line at the intensity placed on Everest, where she likens the summit business to a supermarket queue.
"The idea of virtually pushing wealthy but unskilled people to the top doesn't appeal at all."
Deavoll said she couldn't help but sense the mountain had had enough when avalanches and earthquakes stopped the conga line of paying clients for a second time in two climbing seasons.
"I almost imagine this madness has reached such a state that something has to give."