Four people have been arrested after they allegedly fled police in a stolen car and crashed into a lamp post in Raglan last night.
Senior Sergeant Juliet Burgess said the incident began shortly after 6pm when members of the public advised police of a car being broken into.
"Officers arrived and were told one of the occupants of a silver Mazda Demio car had been seen breaking into a parked car but had fled when he realised he had been seen," she said.
"Because the callers were able to provide us an accurate description, and crucially the vehicle's registration number we were able to determine this car had been stolen in Hamilton on Wednesday. A short time later, one of our patrols encountered the Mazda heading east on Riria Kereopa Memorial Dr but the driver refused to stop and instead fled off at speed."
Mrs Burgess said the offenders were pursued towards central Raglan and out on to SH23, eastwards towards Hamilton.
"Due to the nature of the offender's driving police lost sight of the car on a number of occasions but other members of the public pointed out the Mazda's direction of travel and its turning off the highway, heading towards Waingaro.
"The pursuit continued on through Waingaro and then towards Ngaruawahia. On the western outskirts of the town road spikes were deployed and in his efforts to avoid these, the offender lost control of his car and it crashed into a lamp post. All four occupants were arrested at the scene and one was treated for minor injuries."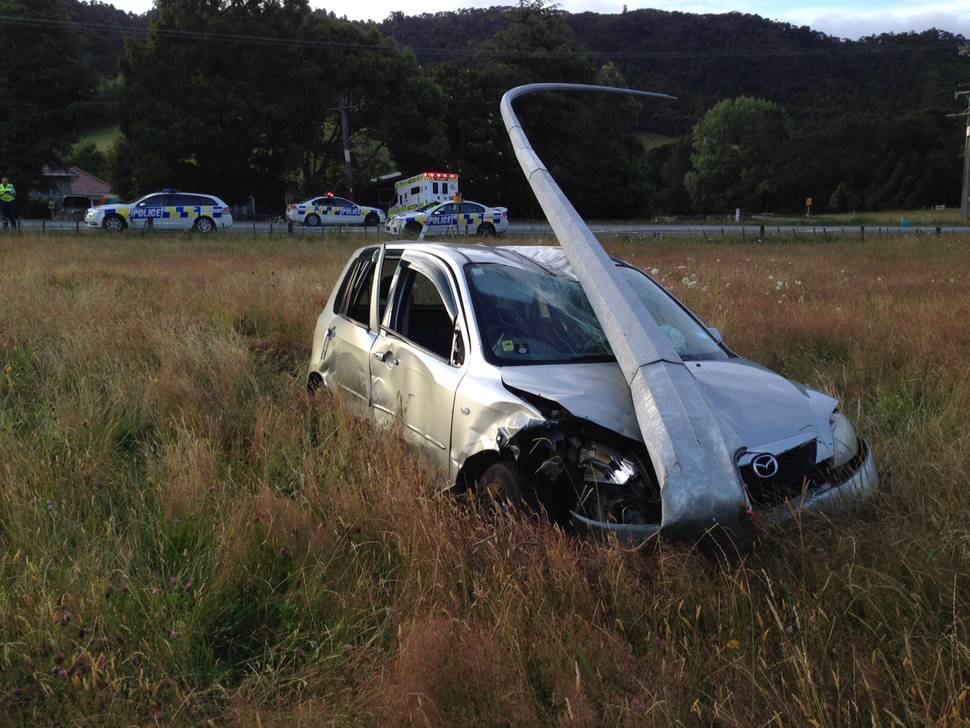 Two youths age 14 and 15, a 30-year-old man and 20-year-old woman were arrested.
"In addition to the issue of the stolen Mazda and the breaking into of the car in Raglan, the 30-year-old male driver will also face a variety of driving charges," said Mrs Burgess.
She said the incident also highlighted the "value of relaying accurate information to police".
"(It) allows us to respond in a timely manner and ultimately hold offenders to account. Modern technology such as cell-phones and radios really empowers members of the public and allows them to contribute to keeping our communities safe," she said.