Enjoy sunshine when it's here — it won't last long.
The sun should reappear over the North Island in a day or so - but not for long as our damp summer is due to resume next Friday.
Two days of heavy rain and strong winds have washed out thousands of camping trips, and led to havoc on the roads and power outages.
"Unfortunately it's not really over. The threat of heavy rain remains for Sunday, although it will be different to what we've had - heavy spells rather than consistent rain," said MetService meteorologist Karl Loots.
"The next system will come towards Friday, but we don't have all the specifics for that yet."
The mass exodus from summer hotspots yesterday caused traffic gridlock. Some motorists were trapped in jams for hours.
Rhonda Matthews, who left the Coromandel two days early to avoid the foul weather, said it took three hours to get from Hot Water Beach to Thames, a journey of 62km.

At 3.30pm she was stuck in gridlock on the rainy road.
"We're stopped. We're dead stopped," she said.
Another holidaymaker said she was stuck on State Highway 25 between Whitianga and Tairua.
"I'm unsure why the traffic is queued, but we are crawling along when we are not at a standstill. It's taken us about 15 minutes to travel less than a kilometre," she said. The journey from Matarangi to Auckland took 6 hours.
A flurry of crashes didn't help the situation. Some roads were closed for a short time.
Crashes included a four-vehicle collision on State Highway 1 in Puhoi, and an incident on SH1 at Brynderwyn, near Whangarei.
About 9am one person was seriously injured and three others moderately injured after a crash at Tolaga Bay. Three ambulances and a helicopter were sent to the scene and SH35 was closed.
In the Bay of Plenty, a crash on SH2 near Kutarere east of Opotiki brought down power lines. And a driver is in Waikato Hospital in intensive care after a head-on collision at Waiotahe that injured two other adults and three children.
The bad weather, which included spells of up to 20mm an hour in the worst-hit places in Northland, also caused some power outages.
More than 1600 houses were without electricity from Kaukapakapa to Titirangi in Auckland.
The greatest number affected was in Waimauku where 1335 households lost power at 3am. In that case, large trees were to blame.
But for a select few, the rough weekend weather was enjoyable.
Brutal conditions at the Whangamata Surf Boat Spectacular yesterday were described as a "great challenge with Mother Nature" " the surf was strong enough to tip boats over and break oars.
Christchurch's North Beach Surf Life Saving Club won the open men's race yesterday. Team sweep Dean Isherwood said the water was so rough the event was almost moved.
"The weather was horrendous " bitterly cold. There were a lot boats rolling over, boats going sideways and a couple of broken oars.
"It was still a real challenge with Mother Nature " and that's what we all come here for. People are safety conscious but it was perfectly fine for us out there, we're all lifeguards at the end of the day."
The outlook
Tomorrow
North Island, rain or showers easing in the north and east, but clearing elsewhere and becoming fine. South Island, showers clearing and becoming mainly fine.
Tuesday
North Island, fine and cloudy periods with a few showers in the north and east. South Island, fine spells with a few showers in the south and east.
Wednesday
North Island, fine and cloudy periods with a few showers in the north and clearing in the east. South Island, fine and cloudy periods with a few showers about the south coast.
Blow it, they're staying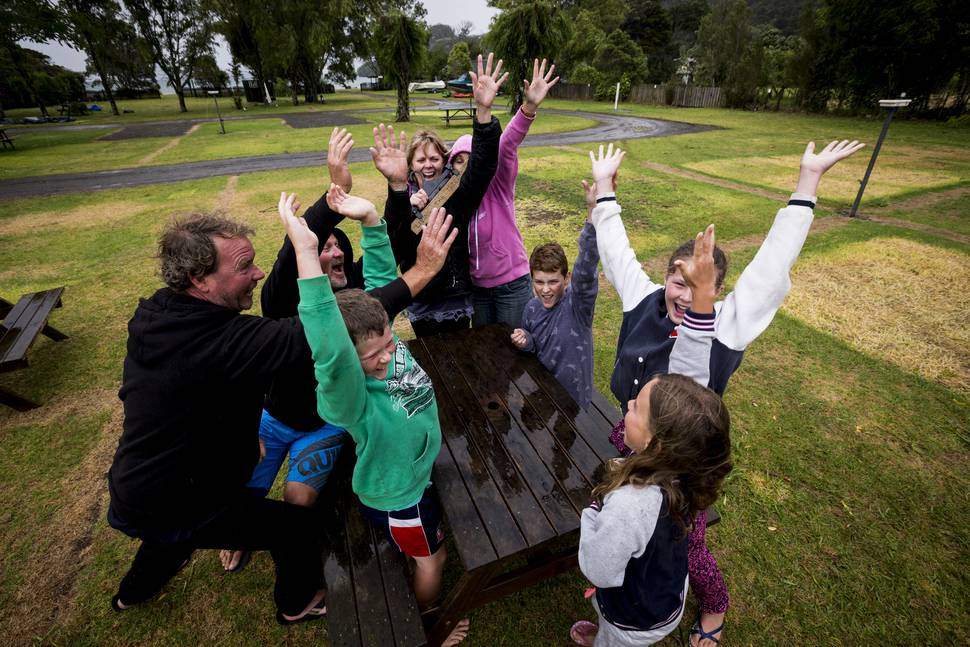 When everything turned to custard, and campers fled from a Coromandel park, two North Shore families toughed it out.
Within the space of a few hours, the Woodhams and the Johnstones had Shelly Beach Holiday Park to themselves.
James Woodham said more than 500 campers had arrived for their summer holidays. Then the rain hit.
"New Year's morning everyone gapped it," he said. "People's tents were flying everywhere."
But the families vowed to stay until next Saturday, as planned. Woodham's wife, Linda Hilt, said after Friday night's winds they could get through anything.
The wind was so strong, she said, their tents were practically horizontal and the families spent the night terrified something would snap and collapse.
"One of [the other] tents flew away," Hilt said. "It flew off and they didn't get it back."
Dave Johnstone said some campers arrived only to immediately head home.
"One family from Palmy got their last peg in the ground and the tent just went 'woosh' and a pole broke. They had to pack up and go home. That was probably the saddest story."
- Tess Nichol