This week the Government decided to stop funding Nauru's justice system while it behaves like a rogue state. Caught in the middle of a political nightmare is a Wellington family who just want their father back.
How do you explain to the children that Daddy can't find his way home?
"Initially, I told them that he had some important work that Nauru needed him to do and we weren't sure how long it was going to take," said Katy Le Roy.
But the children said, "Oh, we need him more!"
Eventually, Le Roy's husband, Roland Kun, told his children on the phone from Nauru that his passport had been cancelled and he had to try to get another one.
That shouldn't take long? It is 81 days and counting since Kun was removed from a plane as he was about to depart Nauru for New Zealand.
The children, Rosa, Yoshi and Hana, are 20 months, 5 and 7 years. The older two understand that their father is trapped.
Le Roy: "They are very upset and they miss him a lot. They know he desperately wants to be back home but that he can't travel until he gets a passport."
Kun is a native of Nauru, an MP who appears to be being punished for criticising a government that marches to nothing other than its own tune.
There is not a local free media and international reporting of events from the island is discouraged by an $8000 visa fee for journalists. Access to Facebook has been shut down.
And in January 2014 its judiciary was dispatched in a coup because, it is claimed, Nauru's leaders didn't like its decisions.
When Kun and several other opposition MPs complained about what had happened to the judiciary, they were suspended without pay in May last year. Kun became trapped in June this year. There was no warning and no charge has been laid against him. He is in limbo, living with Nauruan relatives and free to drive around the 21sq km island but not to leave.
Circumstance and work led the family to make their home in Wellington, where Le Roy, a constitutional lawyer, works at the Beehive as parliamentary counsel. She previously filled that role for the Nauru Government until her resident visa was suddenly cancelled while she returned home to Melbourne to have their third child. She is certain it was punishment for her husband's criticism of the Government. "That's actually his job as an opposition member - to hold the Government to account and freedom of speech is a constitutionally protected right."
No court date has yet been set to test the decision to cancel his passport and refusal to grant a new one.
Kun filed appeals with the replacement judiciary but got the run-around. A barrister flew from Australia to take his case but was refused admission to the bar and left without being able to address the court.
Then it was claimed Kun named the wrong Nauru government representative in his claim. Another month gone while the judge decided that Kun must file an amended claim naming Justice Minister David Adeang, who is also in charge of border control and is minister assisting the president.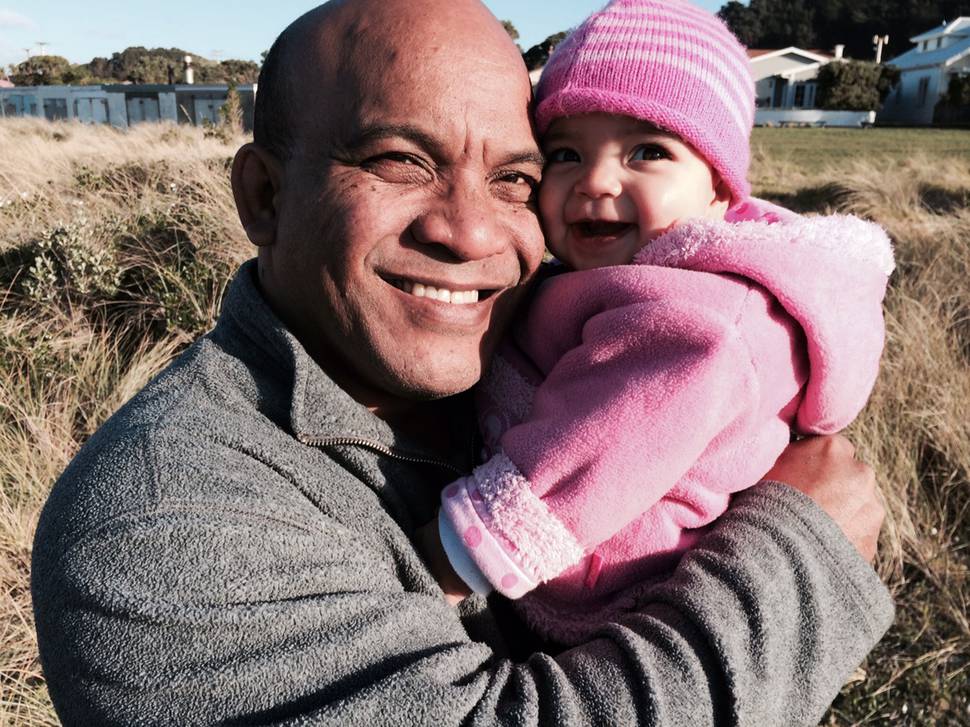 Even if it gets heard and is upheld there is no guarantee Kun will get home to his children. The issue would be remitted back to the minister to make a new decision in accordance with the law - the same minister who got rid of the previous judiciary allegedly because he didn't like their work.
"It's intolerable but what can you do?" asks Le Roy. "Obviously we'd like him back for Christmas but it is hard to see how that is going to be achieved."
There is more to the family's Kafkaesque ordeal, but try explaining to kids such grown-up concerns as the rule of law, autocracy, political pragmatism, and that children like them, asylum seekers, are part of the story too.
Nauru's former chief justice, Geoffrey Eames, QC, wonders whether his decision to tell the president of his alarm about conditions in the detention centre was a factor in his fall from favour.
At the time, Eames and fellow Australian Peter Law, who was Nauru's only magistrate, suspected their ousting was politically motivated to change the outcome of a case due to come before the court. The case involved two Australian businessmen declared "prohibited immigrants" by Adeang and given a week to leave. The men appealed and the magistrate granted an injunction halting deportation pending a hearing.
Before the case could be heard Law was sacked and put on a plane. Nauru then cancelled Eames' visa, stopping him returning to deal with the situation. "I don't think the Nauruan Government liked the idea of an independent judge," Eames said.
Eames told an Australia senate inquiry, which this week called for a range of reforms including the removal of all children from the asylum processing centre, what he saw when he visited the centre two months before the unlawful acts against him and Law.
"The detainees (of whom more than 100 were children) were housed in tents, closely confined and with little privacy. The oppressive mid-afternoon heat was unbearable outside the tent and even worse inside. The ground was barren and rocky, with blinding glare; the facilities for children to play were all but non-existent."
The demeanour of the uniformed guards "suggested the camp was a prison, albeit without visible weapons". By contrast the administration block was cooled by fans and had many air-conditioned units housing workers.
He told president Baron Waqa he was shocked by the grim conditions and said the president told him he would propose to Australian Prime Minister Tony Abbott that the children be put in the airconditioned buildings. Eames is unaware whether that happened.
He said Australia's response to Nauru's contempt for the rule of law had been "totally inadequate".
"The Australian Government seems content to let the situation go," he told the Herald, "presumably because any criticism of the Government of Nauru is not helpful in terms of the arrangements for the detention centre."
Australia had expressed concern when similar abuses arose in Fiji. "The big difference is we didn't have a detention centre in Fiji."
Kun's situation was appalling, the delay in delivering him justice ridiculous, Eames said.
The impact of the decision announced on Thursday to withhold $1.2 million annual funding for Nauru's justice department remains to be seen. Eames commended New Zealand for taking a strong stand.
"By doing so it will support the independence of the present members of the judiciary."
But when the move was threatened, Adeang reportedly told his parliament that New Zealand shouldn't trample on Nauru's sovereignty and if the money was stopped he would find the funds elsewhere.
Kun's voice on the phone from Nauru is soft and hesitant. He would like to think about whether to make a comment, he said.
Le Roy says "Roland's morale is waning".
Special moments are being lost. Rosa in particular is adding new words daily.
"By the time he gets home she will have changed. He will have missed out on all that joy of watching your kids grow."

At a glance
• The father of a Wellington family is a virtual political prisoner in Nauru.
• New Zealand is withholding funding for Nauru's judiciary because of abuses of the rule of law.
• Australia — which has a detention centre for asylum seekers on the island — has refused to take a hard line.