A celebrated World War II hero who saved lives by shooting down flying bombs has died in Auckland aged 93.
Squadron Leader and Commanding Officer Harvey Nelson Sweetman was surrounded by family when he died on Thursday.
Sweetman served with the New Zealand 234 and 485 Squadrons before joining the 486 Squadron as "B" Flight commander, alongside the grandfather of All Black captain Richie McCaw, Lieutenant James Hugh McCaw.
His wartime heroics earned the young man from Matamata a meeting with King George VI at Buckingham Palace and the Distinguished Flying Cross.
He was a Commanding Officer of the No 3 RAF Squadron which started in hot air balloons and is still in service today. On July 24, 1942, Sweetman scored the 486 squadron's first victory of the war, shooting down a Dornier 217/E4 plane sent from Holland to attack an aircraft factory in Bristol.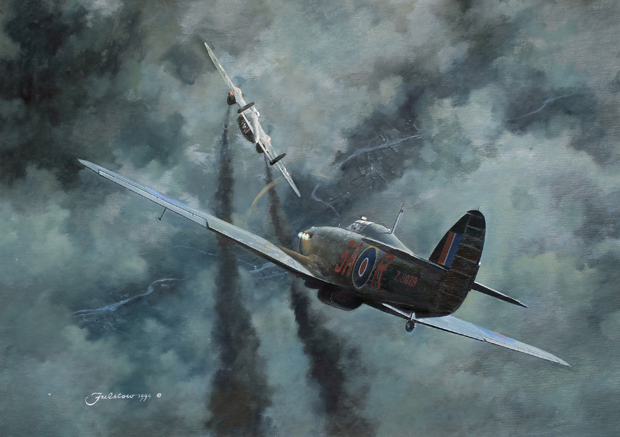 The painting Dangerous Moonlight. Photo / Doug Sherring
That success led to London newspapers dubbing him "Lone Wolf". New Zealand artist Ron Fulstow later depicted the downing of the plane in his painting Dangerous Moonlight.
Sweetman's grandson, Michael Sweetman, said King George also handed his grandfather a cigar.
"He didn't know quite what to do with it. It was a Pall Mall unfiltered, so he popped it in his pocket and kept it."
Michael Sweetman's proudest moment came when he attended a recent air force event and was pulled aside by one of his grandfather's fellow servicemen.
"He said to me, 'Michael, do you realise how many lives your Grandad saved?' I was so proud. He was so modest and always spoke of being a survivor, not a hero."
Sweetman also earned the nickname "Buzz Bomb King" because he shot down 11 flying bombs. He is survived by his wife of 66 years, Gwen Sweetman, his five sons, grandchildren and great-grandchildren.