Police are saying little about their progress in the homicide inquiry, but witnesses have told Jared Savage and Sam Boyer of the horror of Connor Morris' final moments for Millie Elder-Holmes
Millie Elder-Holmes tried to save the man who made her feel safe. She cradled Connor Morris, holding towels to the back of his head while screaming for help. The ambulance took 15 minutes to arrive but it was too late - the 26-year-old had no pulse, and died in her arms on the side of the road, according to witnesses.
Read more:
Progress in Connor Morris death inquiry
Millie delivers emotional eulogy for boyfriend Connor Morris
The early days of the relationship between the daughter of a household name and the motorcycle-riding bad boy - and their subsequent brushes with the law - hit the headlines.
Over one hundred bikes lined the street outside the Head Hunters headquarters in Auckland as mourners turned out to pay their respects to Connor Morris, who was killed in a brawl over the weekend.
But the turnaround in their lives from the lows of P addiction to healthy living had largely stayed out of the limelight over the next six years.
"He came into my life at a time when no one mattered to me, not even myself, and changed everything," Ms Elder-Holmes wrote in a eulogy posted after her partner's funeral on Thursday.
"He was my best friend and protector and, for a while there, my Clyde ... you took my heart with you when you were taken from us. But there's no one else I'd rather have it."
Photos: Farewell for Connor Morris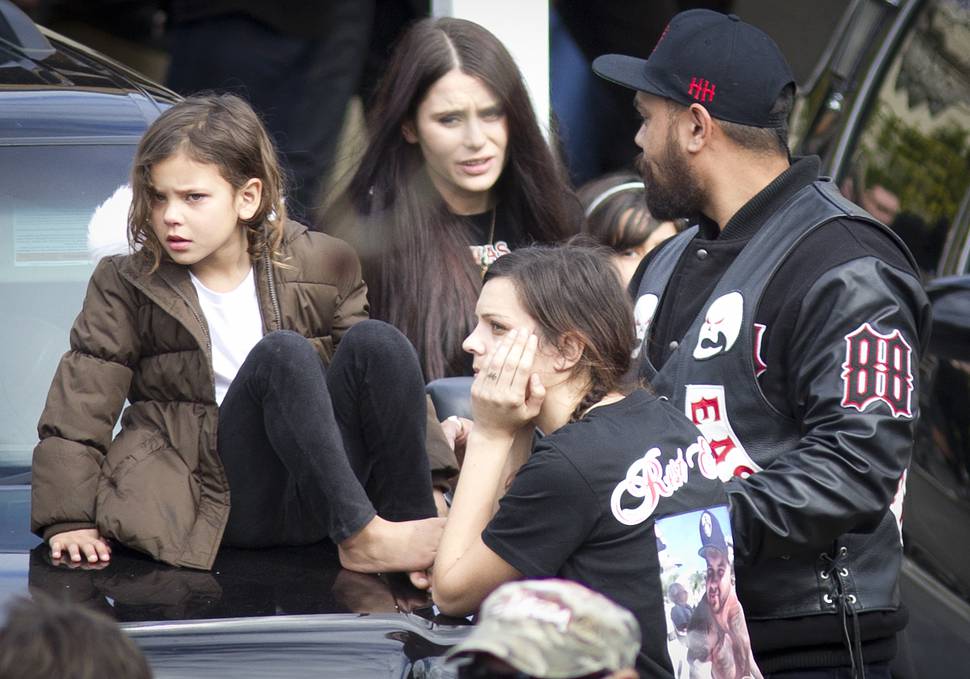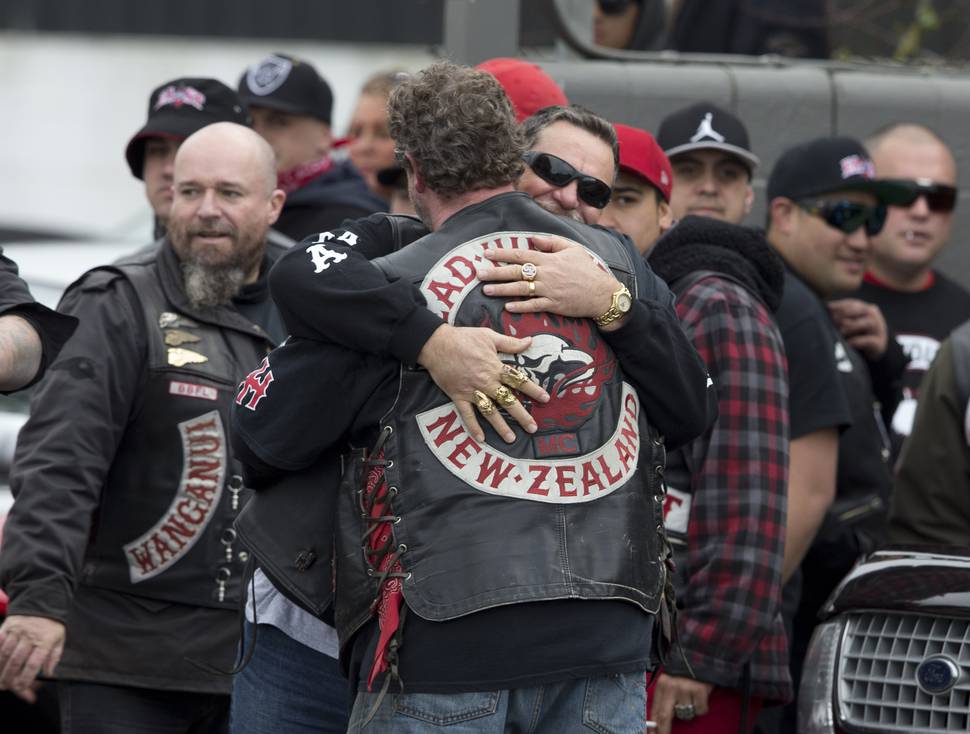 Last night Ms Elder-Holmes posted her account of what happened last Saturday night. Apart from her claims that police and ambulance responded too slowly, it matches what the Weekend Herald has learned this week.
Connor and Millie were at a housewarming party for his sister, who had recently moved to Massey with her young family.
Connor was close to his family. Photographs of the muscled, tattooed biker show a softer side - weekend tramps with his father Chris in the Waitakere Ranges, overseas trips with sister Cymmion, and being the "favourite uncle" to her daughters.
They were all together on Saturday night at the Don Buck Rd address, where the music started around 8. There were no signs of any trouble at the gathering; it was just a bit boisterous for some of the neighbours.
"It was really loud ... they had a bit of a DJ set-up ... it was still pumping after 11pm," said Jan Tuua, who lives next door.
Just a few houses up the road towards the Triangle Rd intersection, less than 100m away, there was another party.
Many at the gathering were in their late teens and early 20s and had hassled someone walking their dog past the address around 9pm, according to one source.
"Sounds like they were hanging around outside, just waiting for something to kick off."
Around midnight, a handful of people from the Morris party strolled up to the petrol station for ciggies and soft drinks.
On the way back, they were confronted and possibly attacked as they walked past the other party, according to several sources.
"One of the girls ran back [to Cymmion Morris' house] and told them what was happening," said one. "Connor sprinted straight back up there ahead of everyone else."
What happened in the melee is unclear but one thing is certain: he was struck in the back of his head with a weapon, believed to be a machete, and suffered fatal injuries.
The loud music and "whooping and yahooing" were quickly punctuated by the commotion.
"It all went quiet and I couldn't see anything, but then there was one woman screaming her head off," a neighbour said.
The police received the first 111 call at 12.16am on Sunday and the first officers arrived four minutes later, according to a spokeswoman.
Chris Morris, known as "One Eye", had left the party earlier in the evening but a frantic call summoned him back and, by this time, other Head Hunters who were on their way to the housewarming had arrived.
One was overheard telling police officers that "they better find whoever did this before we do".
Another witness said Elder-Holmes lay with her boyfriend, cradling him and holding towels to the wound in the back of his head while screaming for the ambulance.
A St John spokeswoman said the ambulance was dispatched at 12.17am and arrived at 12.32am, but several sources said it felt longer than 15 minutes for the ambulance to turn up. Elder-Holmes said it took 30 minutes.
One source said 111 was called three times to find out where the ambulance was and what was taking it so long.
The St John spokeswoman would not confirm suggestions that ambulance staff were threatened at the scene, other than to say "emergency services were faced with a lot of understandably emotional people".
Just four minutes after arriving, the ambulance left with Connor, his father and Millie inside. Other family followed in a car. But it was too late.
A homicide investigation dubbed Operation Venice was launched and police were quick to quell any suggestion that Connor's connections to the Head Hunters was a factor in his death, describing the attack as a random act of violence rather than targeted.
He was also not wearing anything that would mark him as a gang member, instead wearing a casual black hoodie.
That said, "family is everything" and the fact Connor Morris was back in the fold escalates the likelihood of retribution.
"The guilty will be punished and held accountable for their gutless, weak actions and feel our flames," a senior Head Hunter posted on social media.
A number of people suffered minor injuries from the altercation and two people were arrested in the aftermath - one of whom received medical treatment for breathing difficulties - and appeared in court to face charges over outstanding fines and breaching community work terms.
But no charges have been laid in connection to Morris' death and police remain tight-lipped about progress.
Specialist search teams have scoured Don Buck Rd, looking through two large bush areas as well as a stream running behind a block of houses, and police have door-knocked the surrounding streets.
A white Honda car parked outside - with all windows and windscreens smashed - was also towed away.
"Police are uncertain as to the weapon that was used in the incident, however a number of items of interest have been located and these are being forensically examined," Detective Inspector Greg Cramer said.
"We appreciate there is a huge amount of public interest in the investigation, however this is an inquiry that requires attention to detail to piece together the circumstances from a large number of witness accounts and evidence taken from the scene."
Connor Morris lay in state this week at the East Chapter of the Head Hunters in Ellerslie, a premises which doubles as a community boxing gym, of which he and his father were members.
Hundreds of gang members of different patches mingled with high society to say goodbye, culminating with a haka, before a noisy motorcade escorted the hearse carrying his body to Waikumete Crematorium in West Auckland.
"We went through so much together, grew so much together, during the years we shared and now he's gone I feel like I have lost a part of me," wrote Ms Elder-Holmes after the wake.
"Rest easy baby."