Mother planted oak as memorial after two of her five boys who served died in action.
10 Sons sacrificed
Widow Harriet Sutton had five sons go to war. Francis and Benjamin never came home.
Buried in foreign fields, the grieving mother worried their short lives would be lost, forgotten.
She decided to plant a tree.
In a corner of Ashburton Domain and Gardens, by the rose gardens, green moss is rubbed on the chunk of grey stone laid at the trunk's foot.
A carved inscription says, "This tree was planted by Mrs H. Sutton, mother of five soldiers, on July 21st 1919, in memory of the men who fell in The Great War 1914-18. Greater love hath no man".
Ninety-five years on, the sturdy pin oak, Quercus palustris, still stands. Plugged into the mud by the stone, is a simple wooden cross put there by great-great-nephew Donald Sutton.
He takes his family to the tree every Anzac Day.
"It was a huge thing sending five kids away to war back then ... It wouldn't be allowed to happen now. Our kids know all about it," Mr Sutton said.
Benjamin Sutton had been living a quiet, hard-working life as a farm labourer on the family's land at Staveley outside Ashburton when war broke out in Europe.
Like many other young men across New Zealand, he didn't hesitate to enlist and left Wellington in December 1914 with the Canterbury Infantry Battalion.
After a short stopover in Suez, he landed at Gallipoli on April 25, 1915. Three days later he was killed in action aged 31.
Ominous news reached home months later. The Ashburton Guardian printed on July 26 that he was "reported missing".
His younger brother Francis Sutton signed up and set sail the following month.
He fought in the trenches of the Western Front with Canterbury Infantry Regiment, 2nd Battalion.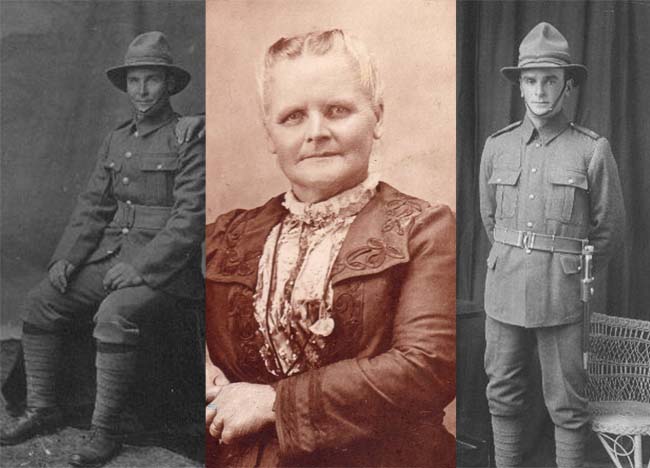 Benjamin Sutton, Harriet Sutton and Francis Sutton.
But in Belgium, on July 23, 1917, his luck ran out, dying of wounds suffered in battle - probably at the bloody Battle of Messines - aged 27.
He was buried at Wimereux Communal Cemetery, Pas-de-Calais, France, the same resting place as Lieutenant Colonel John McCrae, who penned one of the most poignant poems of WWI: In Flanders Fields.
Donald Sutton, 48, visited with his family last year.
"It was real neat to pay tribute to my great uncle," he said.
Mrs Sutton's three other sons survived. Charles Henry Sutton became a sergeant and died in 1972. William, a private, was wounded in the foot but made it through the war, as did brother Arthur who survived a grenade exploding in his hand.
Around 1800 men from Ashburton and the surrounding district served overseas during World War I. More than 400 did not return. Their legacy lives on through the obelisk memorial in the town centre and at the Hampstead memorial baths which bear their names on white wrought-iron gates.
And the Sutton boys are remembered by that tree at Ashburton Domain.
Domain curator David Askin has his own professional link to The Great War. John Readhead, curator when war broke out in 1914, joined the Ambulance Corps in late 1915 and died in service.
A towering West Himalaya Cedrus deodara tree at his old domain remembers the 41-year old.
A plaque says: "To the memory of Private John Readhead, Curator of Ashburton Domain, killed in France, 22nd September 1916".
Read more stories from this series here.