Any blooper on the campaign trail will immediately be broadcast to thousands through social media. With just 49 days to go, politicians are already shooting themselves in the foot.
Less than two months out from the general election, some of our big-gun politicians are already beginning to shoot themselves in the foot.
First bullet out of the chamber has seriously wounded under-pressure Labour Party leader David Cunliffe.
Cunliffe's recent comments to a Women's Refuge forum that he is "sorry for being a man" because men commit most family violence has blown a huge hole in his party's chances of ousting Prime Minister John Key from office, according to political commentators.
Labour's support — already low — slumped further in recent polls in the wake of Cunliffe's gaffe. It is seen as being a defining moment for undecided voters, says right-leaning pundit Matthew Hooton.
"Cunliffe apologising for being a man was an unmitigated disaster for Labour's campaign. His expectation appeared to be he would inspire the nation like Barack Obama did in the United States. He would ride into the ninth floor of the Beehive on the back of soaring Labour popularity."
Cunliffe's moment came at the beginning of last month when he told the Women's Refuge forum that Labour would put an extra $15 million a year into refuges and other groups supporting the victims of family violence.
"Can I begin by saying I'm sorry," he said. "I don't often say it. I'm sorry for being a man right now, because family and sexual violence is perpetrated overwhelmingly by men against women and children."
His message went down well with the overwhelmingly female audience. Refuge chief executive Heather Henare described Cunliffe's speech as "inspiring".
But the backlash was swift and brutal and Cunliffe was still talking about it two weeks later before conceding it was a misjudgment.
If that misjudgment proves to be Cunliffe's undoing, he will join a long list of leading New Zealand politicians to blow it on the countdown to polling day.
Some of the country's most famous political names, such as Helen Clark, Robert Muldoon and Don Brash, are among those who boast moments that history shows blew an election.
Today is even tougher. In the digital age, every move of public figures is increasingly under scrutiny. A slip-up will be broadcast to millions via social media and internet news sites within minutes, straight to myriad mobile devices.
There is also a sense in which the public and media are more focused on politicians' gaffes these days because the parties themselves are less oriented towards policy and issues, says commentator Bryce Edwards.
"In the absence of strong policy differences and differentiation, the campaign becomes more about the personalities of the politicians, and about their competence as leaders and representatives," he notes.
"It is natural, therefore, for the public to scrutinise their statements and actions, looking for signs of incompetence.
"Also, because the modern election campaign is so heavily stage-managed and scripted — to the point of blandness and meaninglessness — there is a strong tendency for the public and media to go beyond the soundbites and platitudes.
"There's a public interest in discovering what is below the surface and what politicians 'really think'. It is inadvertent statements that provide voters with an insight into what a politician really stands for."
Labour's support has slumped to its worst rating in 15 years, according to the latest Herald-DigiPoll survey. Other polls have shown similar drops.
Cunliffe was preferred prime minister with just 10.5 per cent of people, against John Key on 73.3 per cent.
A crumb of comfort for Cunliffe and other power brokers, however, is there is evidence of a growing backlash against the focus on gaffes in politics.
"Some voters see the focus by political opponents and media on 'gaffes' as being a form of 'gotcha' politics," Edwards adds.
"Related to this, politicians can also produce gaffes in their attempts to campaign negatively against their opponents. This is especially the case when they attempt to dig dirt on opponents but produce nothing of significance.
"The most important example of such a gaffe was in the 2008 general election campaign when the Labour Party president, Mike Williams, launched a major dirt-digging exercise against John Key — the 'H-Fee' scandal — but produced nothing except ridicule of himself and Labour."
However, back on the vote-gathering frontline, left-leaning commentator Chris Trotter even believes Cunliffe is now struggling to drum up support among some senior Labour MPs.
"It is clear that Labour's hoardings in the electorates of the ABCs — the Anything But Cunliffe group — are not featuring pictures of the party leader on them, including Phil Goff's Mt Roskill electorate, which is most pointed.
"They seem to be more focused on winning their seats, rather than backing their leader."
Cunliffe regrets apology for being a man, but gaffe risks joining infamous moments that cost an election
1972
The National Party launched its 1972 campaign with the slogan "Man-for-man, the strongest team!", a catchphrase that would be instant political suicide today.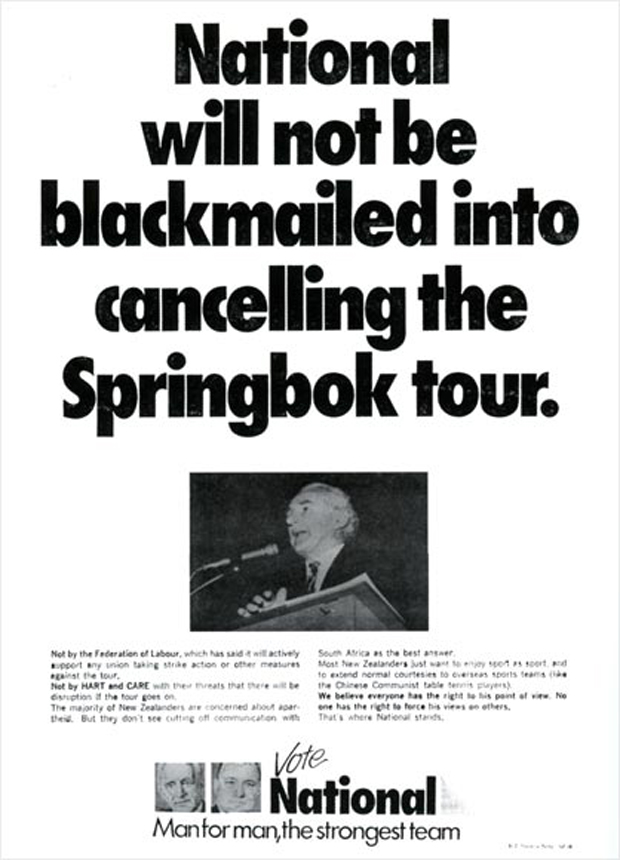 National campaign poster from 1972.
There were no apologies for being a man in the election 44 years ago but that didn't stop the campaign bombing spectacularly and leading to the old-guard National team, led by Prime Minister Jack Marshall and future PM Robert Muldoon, being ousted. Labour won by a landslide led by "Big Norm" Kirk.
"It was not the greatest of slogans, and simply did not work with the public," political commentator Chris Trotter says. "Jack Marshall was no spring chicken and had been around on the scene since the 50s."
The "Man-for-man, the strongest team" idea was just one of a number of unfortunate choices made by National in later years, says Trotter.
1984
Robert Muldoon announces a snap election. Photo / Paul Estcourt
In one of New Zealand politics' most notorious episodes, and days from a snap election, Prime Minister Robert Muldoon and Leader of the Opposition David Lange faced off in a TVNZ debate.
A tired Muldoon was nursing a slim majority and fared badly during the exchanges. In what was viewed as a startling admission of defeat, he concluded with the eccentric parting shot: "I love you, Mr Lange."
Then-National Party president Sue Wood remembers being stunned at his remark. She was even more shocked when the PM announced the snap election, allegedly while drunk.
"The TV debate with Lange was one of the more bizarre elements of a somewhat unusual campaign," Wood recalls. "The snap election was the pivotal moment for losing the election but the televised face-off was certainly an important and contributing factor."
Muldoon suddenly called the election because he did not have the numbers to govern, Wood says.
"I was watching Muldoon announce the election and at the time I wondered, 'Where did this come from?' I told him he wouldn't win it but by then the die was cast. It proved to be a bad decision."
Labour took advantage and went on to seize power.
Another 84 turkey for National, says Trotter, was using the theme from the movie Chariots of Fire as a rallying call. They had to withdraw it after neglecting to get permission from the copyright holders, Warner Bros, who threatened to sue them.
At the same time Labour had secured the rights to the popular song Up Where We Belong from the hit Hollywood film An Officer and a Gentleman.
2005
Don Brash's ill-fated 2005 plank walk. Photo / NZPA
Don Brash's controversial dealings with the Exclusive Brethren is still seen by many as the catalyst for effectively derailing National at a crucial stage of its 2005 campaign.
Brash maintains there was nothing wrong with his dealings with the sect's elders while he was National's leader, saying it is the duty of MPs to be available to any group in society.
"A lot was made of this and it was all grossly exaggerated," Brash says now. "The Brethren came to me and said they were concerned the Government was underspending on defence and they wanted us to increase this budget to 5 per cent if we won.
"I told them this was nuts and there was no way we could support something like that, unless NZ was involved in a war. The Brethren went on to produce a pamphlet that attacked the Green Party's ideas for defence expenditure and this was wrongly associated with me."
National went on to produce its best result at the polls since 1990. But Brash says Helen Clark-led Labour narrowly remained in power because the economy was "going gangbusters and unemployment was low".
"Labour grossly overspent on their campaign budget. We were dumbfounded."
Labour promised to repay $824,000 after an Auditor-General report into election spending.
As his leadership of National was increasingly questioned, a year after the election defeat Brash appeared in TV footage and photographs literally walking a plank.
2008
Helen Clark resigns on election night after her "nanny-state" policies were believed to have caused Labour's downfall. Photo / Janna Dixon
Helen Clark's "nanny-state" policies are believed to have caused Labour's downfall in 2008 and she resigned as party leader after the election defeat.
National, led by John Key, powered into the Beehive.
Clark's strange plans included the country switching to eco lightbulbs, restricting hot showers and promoting the introduction of an anti-smacking law for parents.
Political pundit Matthew Hooton says Clark's nanny-state image was a big factor in turning off voters and ending the party's third consecutive term in charge.
"The eco lightbulbs might have been more environmentally friendly and cheaper but people didn't like Clark telling them what to buy," Hooton says. "They did not appreciate being told they can't smack their kids or ordering what kind of shower heads they could use. This sort of thing brings out perverse reactions in people. Even if what Clark had said made sense, voters didn't like being told what to do."
Hooton said a number of other factors were important in Clark's defeat, including attempting to regulate free speech and her abusing a journalist.
"These things made her suddenly come across as being paranoid and unpleasant."
2011
Labour leader Phil Goff feels the heat in 2011. Photo / NZPA
Labour's bid for power in 2011 hit the rocks after a number of damaging gaffes in the run-up to polling day.
David Cunliffe was the party's finance spokesman when leader Phil Goff stepped on stage during an election campaign debate with Prime Minister John Key.
Goff held his ground until Key asked where the cash to pay for Labour's spending promises were coming from, with a repeated refrain of "show me the money".
Goff floundered badly and it became clear he had not been properly briefed on the financials.
Some of Goff's supporters blamed Cunliffe for failing to produce the figures on time, which Cunliffe later rejected, saying he had worked around the clock on this.
Goff refused to point the finger at anyone else for the embarrassing gaffe, insisting: "I take responsibility for myself, I don't blame other people."
Not even the Tea Tape scandal involving Key and John Banks, the then-candidate for Epsom in Auckland, could rescue Labour's chances.
Key secured another term in office for National and Labour had a poor showing.