It's been labelled a bogan town, a cow town, even the "chlamydia capital of New Zealand".
Hamilton has long been the butt of jokes, and famous Hamiltonians have shared some of the jibes they hear most, as well as their first memories of the city as it marks its first 150 years.
From today, the city will start celebrating with events including a function at Civic Square to acknowledge the date - August 24 - when European settlers arrived.
Mayor Julie Hardaker said Hamilton had transformed from a rural town to a significant city but it still had an agricultural focus.
"In the past, we were a large town servicing the agricultural community, today we still service them but in a much more developed and economic way with manufacturing and things like that.
"When people come here, they are amazingly surprised. I think visitors - particularly New Zealanders - have a view or a perception about Hamilton, but when they come here that perception is not the reality. They are amazed at the roads and how we get around the city. They are amazed at how much growth there is and that you can see it all."
She said the most common jokes she heard about the city were: "We're a bogan town, we're a cow town, we're still a town. The Tron city of the future - ha ha not."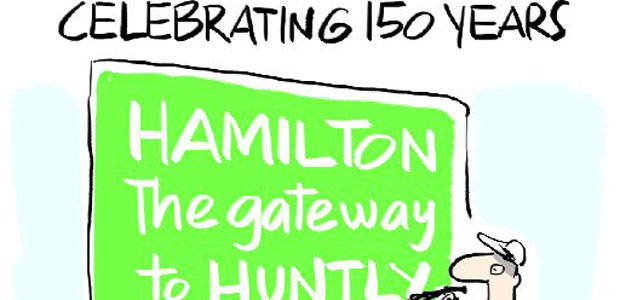 Illustration / Rod Emmerson
Ms Hardaker said: "In the next 100 years we are not projected to be a huge city like Auckland, but I think that's good. I think our growth projections are absolutely right for the role we play, and they maintain our great lifestyle."
Comedian Jesse Mulligan spent his first 22 years in Hamilton and said the city was often tagged "the chlamydia capital of New Zealand".
"For Hamilton, that nickname has been a bit like chlamydia - we don't know how we got it, we're not sure how to get rid of it, and it's really starting to hurt."
Hamilton-based Labour list MP Sue Moroney said a joke she had heard about the city was: "That's the airport where they can get away with charging a departure fee because people are so keen to leave they are happy to pay."
The joke was redundant as the airport did not charge departure fees.
Radio host Kerre McIvor attended Sacred Heart Girls College in Hamilton in the 1980s and said that after living in smaller Waikato towns, she thought of it as the big smoke.
"A lot of people sneer at it as being the cow town but for me it was a big deal coming to Hamilton."
The biggest change for her was how the city's hospitality area had grown from just a Chinese restaurant to having some superb eateries.
"It's a town with good solid values. You work hard and nobody is too flashy."
She remembers being at the 1981 Springbok game at Rugby Park when the game was abandoned after protesters marched on to the field.
"The street was burning rubbish and people fighting and the attacks on the protesters - it was awful."
Richard O'Brien, creator of the Rocky Horror Show who is celebrated with a Riff Raff statue at Embassy Square in Victoria St, immigrated to Hamilton in 1952 at the age of 10. His first memory is running along the bank of the Waikato River.
"I remember thinking 'I'm home'. Hamilton was where I wanted to be and should be - it was such a joy after postwar Britain."
The Hamilton he grew up in was more like a rural town - "They were selling milking machines on Victoria St when I was there."
Dame Malvina Major returned to her hometown in 2012 to work for Waikato University after more than 40 years away, and felt the city had diversified to include arts, music, theatre and innovation.
And while winter mornings were still cold and frosty on some days, she said they were nowhere as severe as she remembered from her childhood.
Memories of royalty, tornadoes and hospital drama
Mabel Jenkins has witnessed a phenomenal amount of change in Hamilton since she first moved to the city in 1937.
The immaculately presented 105-year-old is likely to be Hamilton's oldest resident, having left her home city of Auckland at the age of 29 when husband Laurie Jenkins decided to head south and open a menswear store.
Back then Hamilton was much smaller and the residents seemed unfriendly.
"No one said a word to me."
Initially Mrs Jenkins hankered to return to Mt Albert but she joined groups, made friends and one day she visited Auckland and discovered she had become a true Hamiltonian.
"You couldn't pay me to go back there."
The couple lived in some "ramshackle" and hard-to-come-by rented houses with rotting wooden floors in Hamilton East before buying a section near Lake Rotoroa for 28,000.
They built a couple of houses - she can't remember the cost - and stayed near the lake where Mrs Jenkins watched Waikato Hospital grow from a few buildings to the biggest medical campus in the Southern Hemisphere.
She remembers sitting metres from a cavalcade carrying the Queen Mother once, a visit from Queen Elizabeth at the Hamilton Gardens, and a tornado that ripped through the suburb of Frankton in 1948, killing three people.
Widowed 19 years ago, Mrs Jenkins, who still lives independently, says the funniest sight she ever glimpsed was an elderly pyjama-clad patient making his escape from the old Braemar Hospital with a bunch of nurses giving chase down Tainui St.
The most notable change, though, is the increasing traffic.
"It's non-stop."