A group of former whalers are lending their hand to humpback conservation efforts in the Cook Strait.
An annual Department of Conservation (DOC) survey that measures the recovery of humpback whales in the Cook Strait has recorded the second highest number of sighting on record.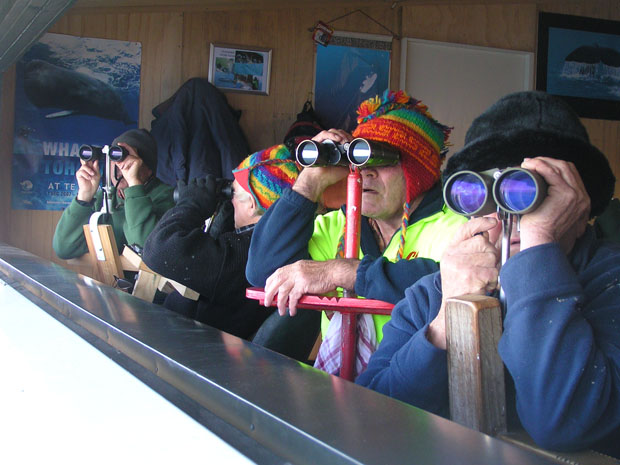 Ex-whalers whale-spotting as part of the survey. Photo / supplied
The four-week survey, which ended yesterday, was timed to coincide with the whales' annual migration from Antarctic waters to their breeding grounds in the South Pacific.
This year was the first time former whalers were involved in the spotting work, Conservation Minister Dr Nick Smith said.
"A feature of this annual survey is the lead role of six former whalers in the spotting work," he said.
"Their transformation from whale cullers to whale conservationists is illustrative of the change in community values towards these iconic marine animals."
Ninety-two humpback whale sightings this year were second highest only to the 106 spotted in 2012, and well above the average of 66 over the last six years.
Findings were compared to the whaling station records from the 1950s and early 1960s to assess the species' progress since New Zealand outlawed commercial whaling in 1964.
"The findings to date indicate the New Zealand humpback population is increasing but slowly," Dr Smith said.
"Whales were slaughtered in appalling numbers in New Zealand waters throughout the 19th and 20th centuries. It is great news to see our conservation effort are paying off with these improved sightings but with a slow breeding cycle we would expect it to take many decades for their populations to fully recover."
The research team also noticed some unusual behaviour among the humpbacks this year including more "milling around" and activity close to the surface.
Warmer than normal sea temperatures were thought to have played a role in this.