Helicopter monsoon buckets were yesterday used to clear loose material from above two highways -- one of which was closed by an early morning rockfall.
On State Highway 36, between Rotorua and Tauranga, more than 5000 litres of water was dropped on a section of highway to clear tonnes of soft soil and vegetation threatening to come down onto the road. The section in the Mangorewa Gorge had been restricted to one lane since Easter, when heavy rain caused a slip.
Contractors were able to clear three areas affected by slips this week, and a helicopter was needed for the fourth and largest section, said Brett Gliddon, the NZ Transport Agency's Bay of Plenty highway manager.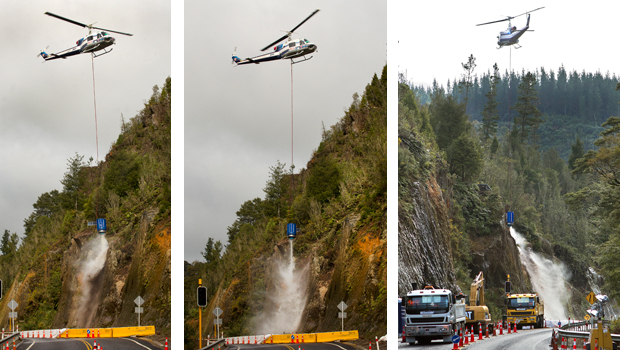 The Transport Agency decided against using a digger at this slip, opting instead for aerial help to dislodge the debris with water. Photos / Alan Gibson, Ben Fraser
"The last area was very large and we couldn't get the digger in to work underneath it," he said. "Using the helicopter was the safest option."
The highway reopened late yesterday afternoon, but last night State Highway 6 south of Makarora, near Mt Aspiring, remained closed after 2000cu m of material came down and blocked the road yesterday.
A monsoon bucket was used to clear remaining loose material above the rockfall, which was roughly 50m long and 4-6m deep and was thought to have been caused by recent heavy rain.
Meanwhile, forecasters are expecting improved weather for much of the country this weekend, after a week of heavy rain and strong winds. A showery westerly flow over the country today is expected to be followed by a clearing ridge during the weekend.
Video: Chopper uses monsoon bucket to blow debris off cliffs
The NZ Transport Agency is using a helicopter carrying a monsoon bucket to wash away debris on the side of cliffs that are threatening to crumble and cause slips on State Highway 36 between Tauranga and Rotorua.
"With the skies clearing for many on Saturday morning, there will be a great opportunity to celebrate Matariki," MetService meteorologist Rob Kerr said. "Eastern New Zealand, from Dunedin to Gisborne including Wellington and Nelson, should have a starry start as well as patches of clear sky over the Bay of Plenty, Auckland and Northland."
But strong northerlies and rain would return to the South Island on Sunday and the North Island on Monday.
WeatherWatch analyst Philip Duncan said a belt of nor'west gales was also expected around eastern and central parts of the country on Monday.
"Generally speaking, conditions remain mild for this time of the year, with temperatures mostly above average across the country on Sunday and/or Monday."