Thousands of holidaymakers might think of the Coromandel as their summer playground, but for those who live there year-round, it means so much more. In a six-part series this week, reporter Jamie Morton and photographer and videographer Alan Gibson meet some of the champions of the sunny peninsula.
Hidden below the water off Coromandel's east coast lies a blue wonderland Darrell Bird considers his own personal picture theatre.
Huge red crayfish scuttle over reefs and ridges, and masses of school fish dart down into cracks, caves and canyon drop-offs.
It's a deep blue canvas for the colours of yellow moray eels, red moki, and bright hydroids and ascidians.
If you're lucky, you might befriend a curious dolphin or get alongside a pod of orcas chasing stingrays through Mercury Bay.
When he's not manning his Whitianga dive store, Mr Bird is gliding over kelp beds and sandy seafloors, taking in whatever new underwater spectacles have popped up.
What separates him from your average diver? He wants everyone else to see the show as well.
Now a pillar and popular face of his tight-knit town, Mr Bird was just another Kiwi roaming the globe back in the mid 1990s.
One day, his travels led him to Dahab, a small town on the southeast coast of Egypt's Sinai Peninsula.
A few fellow backpackers had signed up for a local dive course, and Mr Bird - up for anything - decided to stump up the cash to join them.
At first, he wouldn't realise this would be among the defining moments of his life. Diving for the first time in the canyons off Dahab, he was awestruck.
"Just the fish life and being in a 3D picture theatre ... all of this stuff swimming around you ... . that was me, I was sold."
After exploring the diving playgrounds of the rest of Egypt, Africa and Europe, he knew that returning to his old council office job in Manawatu wasn't going to work.
"The dive shop was having an enrolment for their first instructor course, and I thought, hang on, this could be me," he said. "I signed up on a Thursday, the course started on the Monday, and I've never looked back."
His newfound career would take him to outfits in Wellington and Australia, but the time came when he wanted to begin his own legacy in the diving world.
He started looking for the right place to open his own shop, turning down options in Auckland and Northland. Driving home, he saw a turn-off to the Coromandel and took it.
"When I came over the hill to Whitianga, just looking out all over the islands and the sea was amazing, and I thought, hey, this could be a home to me."
That was April 2004. By October, he was in business.
Ever since, Mr Bird has used his business, Dive Zone Whitianga, to give to others that feeling he first felt in the water in Egypt.
Thanks to him, Whitianga now has its own marine academy, taking local high school students through open water courses and into rescue diving programmes.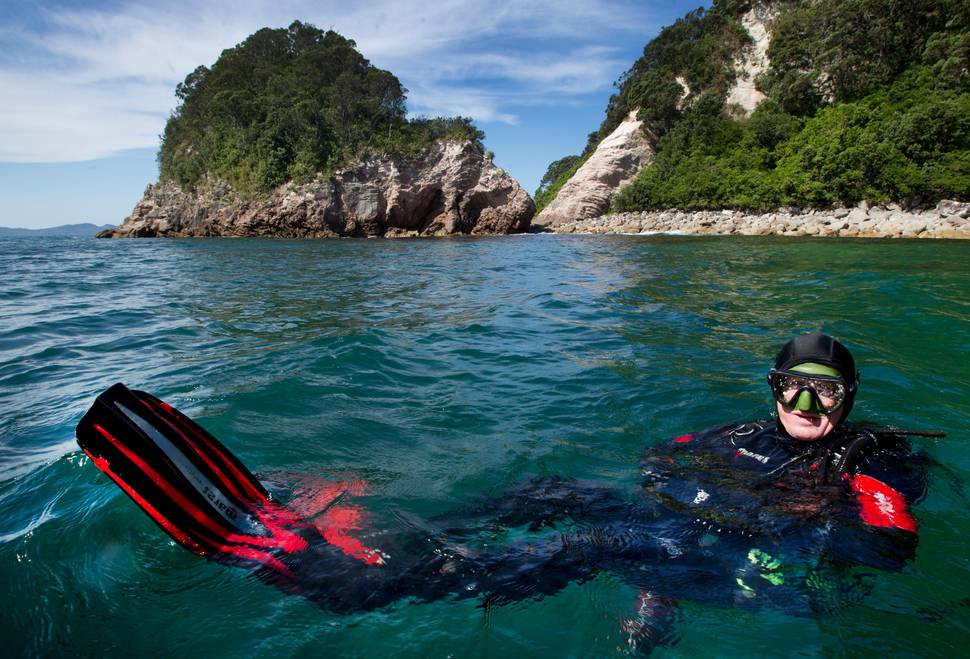 "That gives them an opportunity to pursue that as a career, whether it's in the aquaculture industry or the recreational dive sector."
Thanks to his vision, more than 1200 people are now certified open water divers.
There is also a tertiary arm delivering instructor programmes, and more recently opportunities for disabled people to get in the water.
After running a well-received course for the disabled in October, he's looking to do it annually.
"That's one of my biggest loves, seeing the expression on someone's face that first time they surface after their dive."
For Mr Bird, the teeming waters of the Coromandel rank among the top dive locations in the world, with dolphins calling throughout the year.
"It's so rewarding to actually see these creatures when you're under there, in their environment."