The most intense downpour some Coromandel residents had seen in decades sent campers fleeing to higher ground yesterday.
The fierce deluge sent slips across roads, left rivers swollen and had many residents along the peninsula's eastern coast cleaning up flooded sections and streets, at a time when visitor numbers at the summer destination are at their peak.
Read: Sun set to come out after stormy weekend.
Some campers at Cooks Beach were moved to a local community hall early in the morning, while campers at Opoutere near Whangamata were given the option of moving to a local primary school.
Several other holidaymakers at Tairua also chose to evacuate to the town community hall.
Other badly hit areas were Pauanui, Matarangi and Whitianga, where 120mm of rain fell in just 12 hours.
Scott and Joanna Norris and their children Kate, Amy and Hannah were camping at Pauanui Glade Holiday Park when they were woken by the sound of torrential rain on their tent.
The noise of the downpour was so loud she could hardly call out to her children, just a few metres away.
"We were all right until about 6.30am when my husband got up and stood in a puddle of water, and it all went from there," Mrs Norris said.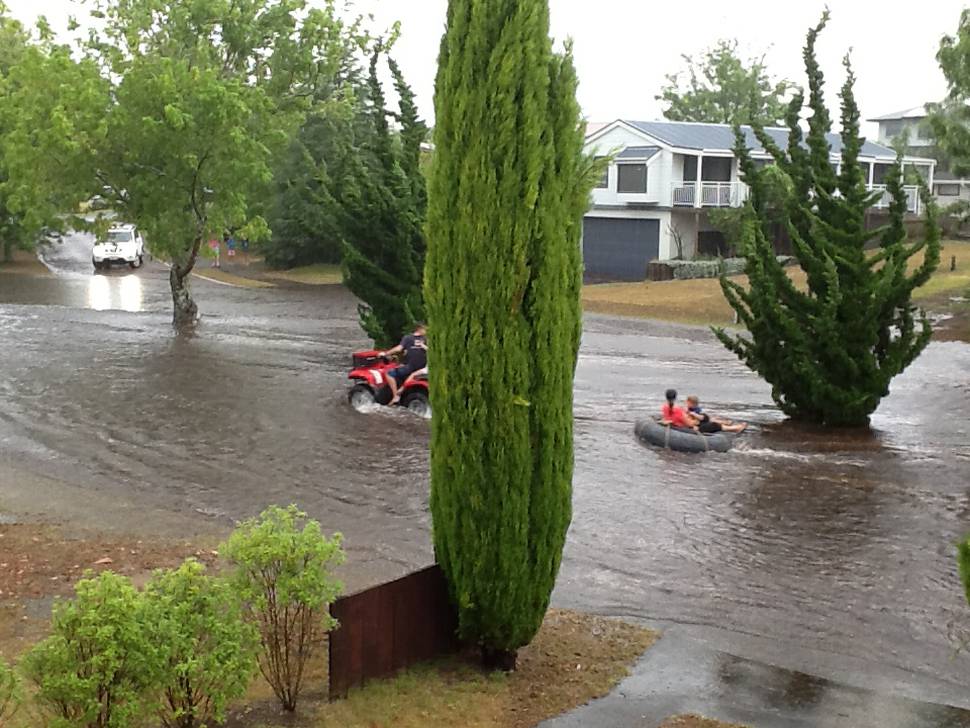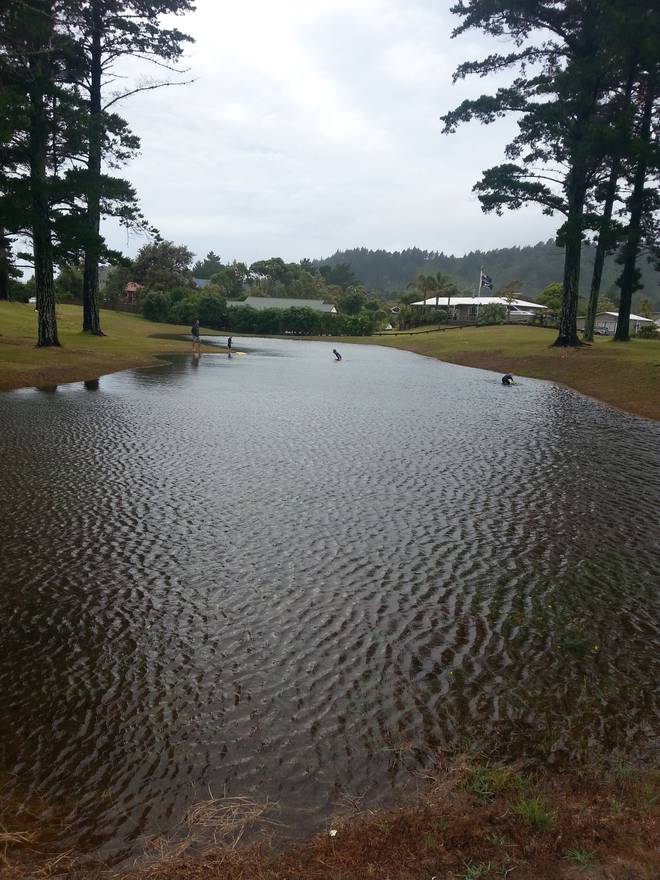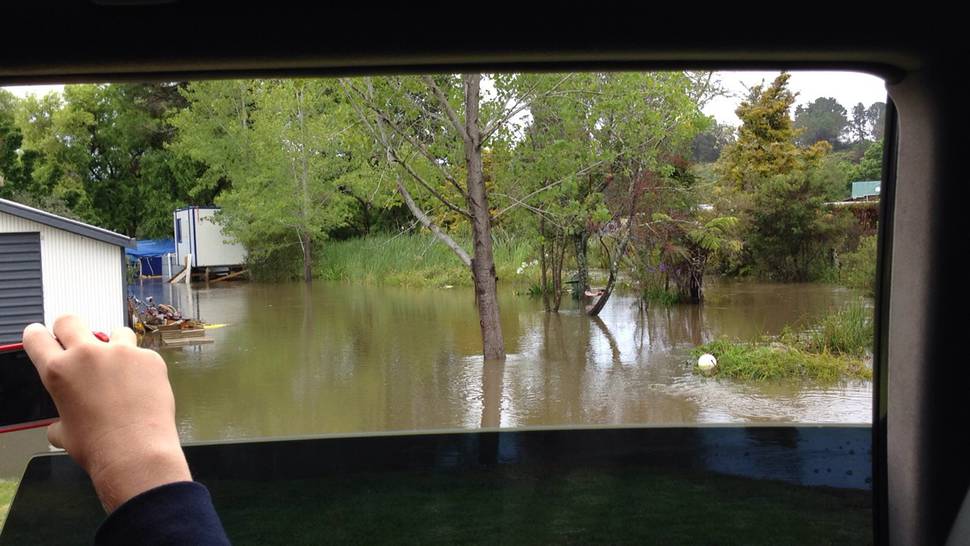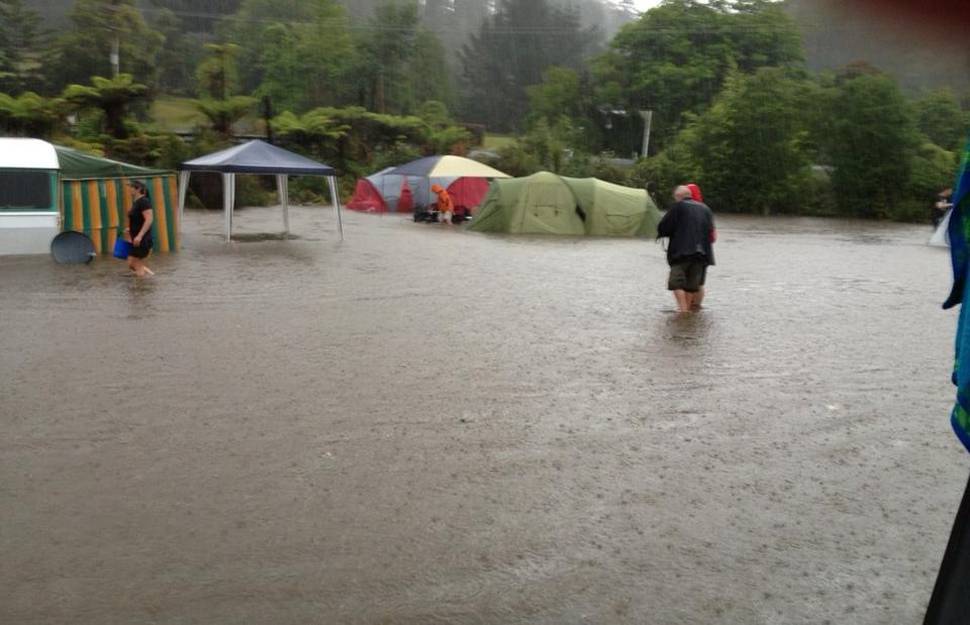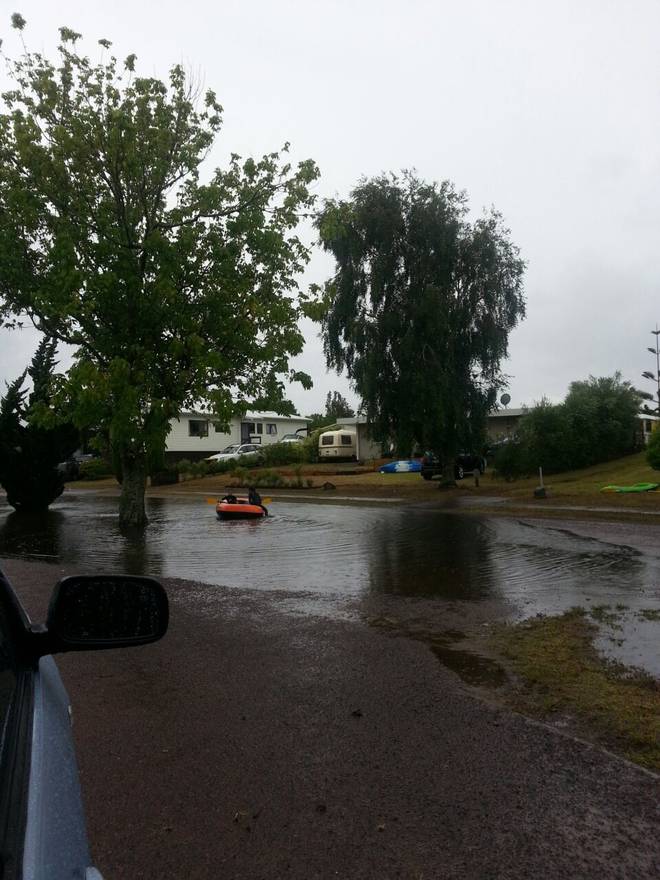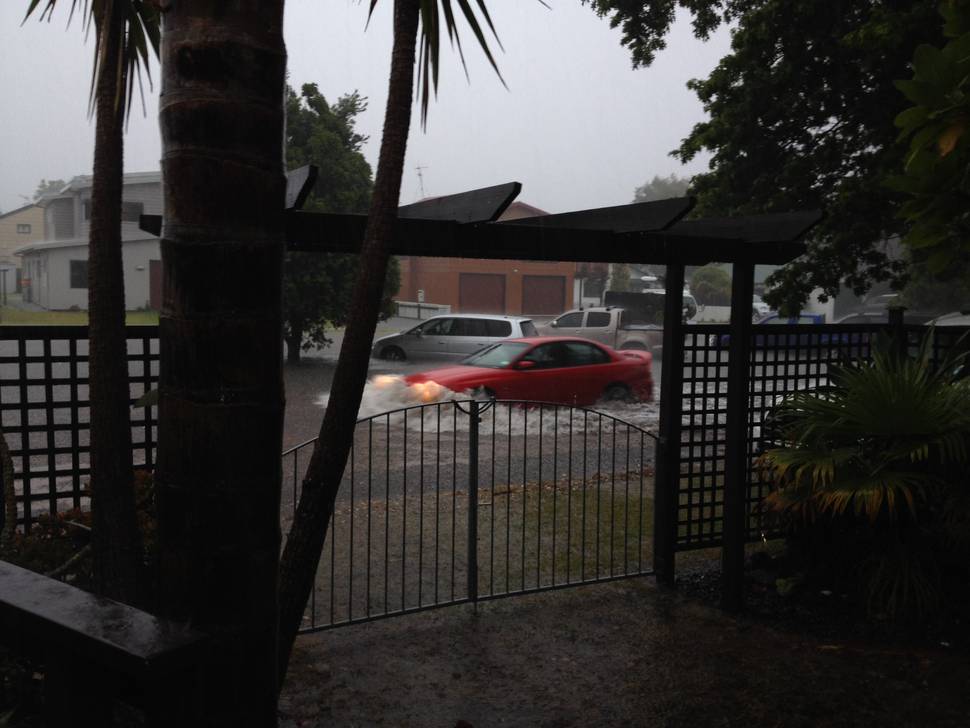 The family, staying in Pauanui over the Christmas and New Year period, had to use a cardboard beer box to bail water from their tent, but were thankful nothing valuable had been soaked.
Later in the morning, streets around the holiday spot were so flooded that children set out in their kayaks, while locals began stacking sandbags to combat surface water.
At several campgrounds elsewhere along the coast, tents were submerged in knee-high water.
Long-time Pauanui resident Bruce Burt described the deluge as one of the worst he had seen in more than three decades in the area.
"All of the years I've been here, it's never come down like that - I was down in my garage, having to use a broom to sweep all of the water away," he said.
"It started off relatively lightly, but then just got heavier and heavier, and around 6am it just started pelting down."
He said a friend's son tried to leave for Wellington in his brand new BMW but it suddenly filled with water and the engine was flooded.
Tairua traffic controller Russ Harmer said many sections around the coastal township were flooded after water poured down surrounding hills. He said the fiercest downpour came after a "big thunderclap" around 6am.
He set out to check on the roads around town and could hardly see in front of him - even with windscreen wipers at full speed.
"Fortunately it was low tide and there were few cars on the road, otherwise things might have been different."
Niki Flanagan, of Wentworth Valley Campground in Whangamata, described the downpour as "bloody heavy rain".
Worried about the nearby river rising, she went out and checked on her campers. "But no one seemed stressed about it all, and everyone was going about their business."
By late yesterday, many fields along the eastern coast of the peninsula were still under water, and at the highway entrance to tourist hot spot Hot Water Beach, vehicles queued to negotiate a long stretch of road submerged by a swollen river.
The flooded state of many waterways caused authorities to closely monitor high tide at 4.40pm yesterday, but there were few problems.
Sergeant Jim Corbett, the officer in charge of road policing in the Thames-Coromandel area, said local council, traffic management and volunteer fire fighting crews had done "sterling work" in areas affected by flooding and slips.
Thames Valley Civil Defence manager Gary Talbot said a final check last night found no lingering problems.
"While all the campers in tents didn't, everyone else seems to have got off lightly."
Mr Talbot encouraged motorists travelling around the region to keep driving carefully, and for campers to be aware of how quickly weather conditions could change.