Six weeks after the killer typhoon, 3rd Degree reporter Paula Penfold and producer Eugene Bingham discover a fighting spirit.
At first it's hard to comprehend exactly what it is we're looking at. Our driver has pulled up at the side of the highway in a spot near his village, outside of Tacloban. There's a sight he wants to show us, so we can remind the world that the Philippines is still so desperately in need of help six weeks on from Typhoon Haiyan.
Quickly, the stench of decay confirms what is before us: row upon row of body bags lie in the burning sun awaiting forensic identification.
It's the crudest of temporary morgues - there is no power and no water for the small team slowly making their way through the gruesome task.
We start to count the bodies in the field but soon give up. It's pointless. A number would fail to convey the horror anyway.
And yet, when we meet the people carrying out the work we're overwhelmed - for all that this seems to be inhumane, we're struck by their sense of humanity, their respect. In the harshest, most difficult of conditions they refuse to surrender an ounce of dignity on behalf of the victims.
One doctor is embarrassed as he explains that tarpaulins put up to shield the bodies from the road have been stolen; he's concerned for the dignity of the deceased, for whom he feels responsible. But what can he do? Imagine the desperation that would drive someone to steal shelter from a morgue.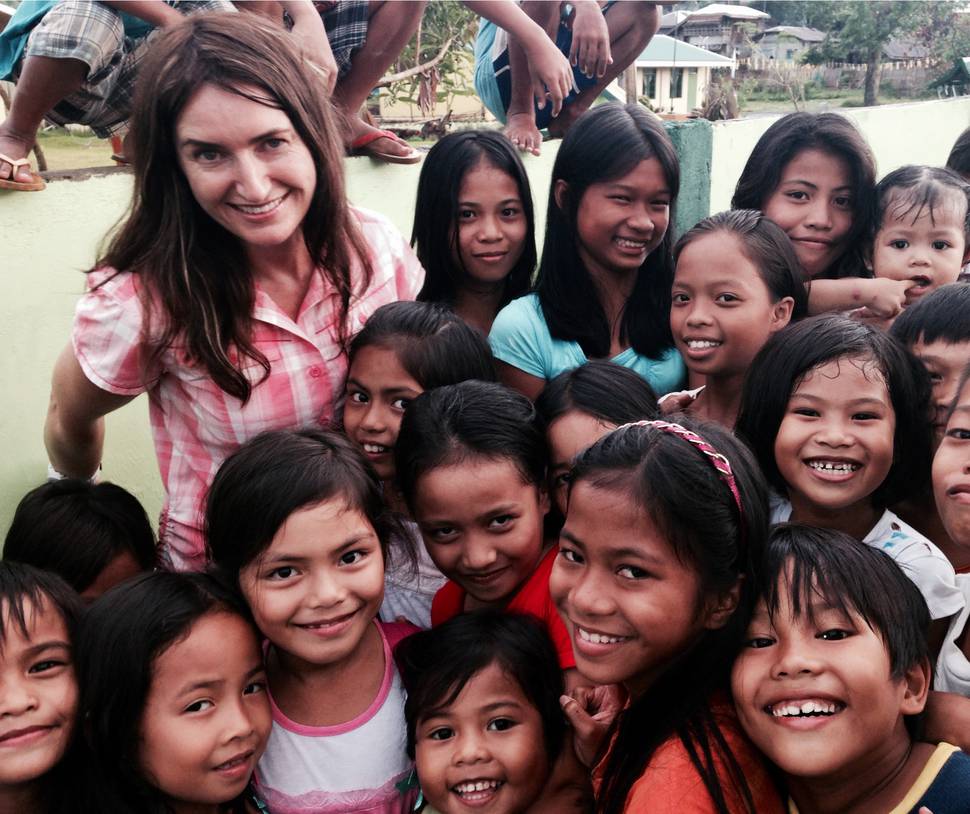 These doctors have seen many disasters, countless typhoons in the Philippines, and elsewhere. But this one, they tell us, is "the greatest calamity" they've witnessed. They acknowledge the personal toll it takes: each member of the team of just 13 is - understandably - rostered on for a week at a time. It's not only physically exhausting work - it's mentally sapping too.
Such limited resources and rudimentary equipment further slows the already crawling process. And with resignation they concede the consequence is that so many of these bodies will never be identified. Let alone those that still remain among the rubble.
The decomposition is already well advanced; there are few if any fingerprints left, but the task of looking for them is a process that's required regardless, because it's in the rules. But more than that, they tell us that if they can get just one fingerprint that leads to the identification of someone's loved one, it'll be worth all the other vain attempts.
The head of the team starts talking to us about the Christchurch earthquake, acknowledging that both our countries know grief on a large scale.
"But unfortunately here, it is many thousands of times more ..." he says, trailing off. "Though it is fortunate that the storm surge happened in daylight hours. If the water had come during the dark, the death toll would have been so much higher. We have to thank God for something."
It is typical of the Filipino way. Even in misery, finding whatever mercy there is to salvage, and thanking God.
We see it everywhere, an unyielding spirit. A determination to bounce back from the blow Mother Nature dealt.
About 80km south of Tacloban, we end up stranded in a small village for three hours thanks to a vehicle break-down. Here they didn't suffer the storm surge, but their houses were plundered by the 300-plus km/h winds and they have no idea when they will get electricity again.
Forget thoughts of anyone feeling sorry for themselves, though. Any mention of their plight is a mere aside - they're far more interested in gathering around these strangers. The children bombard us with questions - eager to practise their English.
Their manners are gorgeous, their laughter contagious and their generosity humbling. One young mother, concerned nightfall is approaching and our vehicle shows no sign of being repaired, offers us beds for the night - no matter the fact she's already having to squeeze her own family into a dark, storm-damaged home.
There's no need to take up her kind offer - eventually, we make it back to Tacloban City.
Here, even among the ruins, commerce is sprouting again. Stalls spring up along the sides of the roads where the rubbish and sludge lies rotting. The stallholders are grateful for our custom and one who's selling water has a running joke every time our cameraman returns: "Keep the change," he says to himself.
Some of the goods in these makeshift stalls are no doubt looted - for a while it was all but impossible to get anything that wasn't. Even the mayor had to resort to wearing clothes appropriated from a destroyed mall - he had nothing else.
In the aftermath of a disaster of this scale, people do whatever it is they need to survive.
Locals lucky enough to have a roof over their heads have taken to renting out space to foreigners - we're staying with a family who have given us one of their bedrooms and the lounge of their fourth floor apartment.
Crucial business documents which were soaked when the water inundated the entire bottom storey are drying out in the stairwell.
Without the right documents in this red tape-ridden country, people can't work. Jeepney drivers who've lost their licences can't drive; restaurant owners can't open for business.
So what do they do? Many have flocked to sign up with a Chinese charity which is paying locals to help with the clean-up, removing the rubble and debris. By Tacloban standards, it's good money too - P500 ($13.68) a day, almost as much as doctors are earning. A recent medical school graduate tells us he's paid P600 a day. Not that he minds. Money isn't exactly a priority right now - though it would certainly help.
He's sleeping at the hospital because his house has no roof and he doesn't feel dry, let alone safe. Even if he could find a builder, he can't afford to pay one - carpenters have doubled their daily rates. The rule of supply and demand is unbending.
Even the doctor himself has spotted an opportunity, pocketing some extra cash by driving us to the airport. Along the way, he tells us about those grim, early days.
They were inundated by floods of people, many crushed or with lacerations from flying iron.
"We ran out of supplies," he says. "People died because we had no medicine. They had wounds but we had nothing to treat them with. One died because we had no oxygen. People died because we had no asthma medication."
They had no morgue at his hospital, so they took to piling the bodies in a corner. And what happened to them then? "They rotted ..." It's yet another awful reminder of what these people have been through. Trained doctors reduced to helpless bystanders. This young medic who's been chatty as he downloads his own trauma with us, is quiet as he contemplates how wrong it feels for doctors to be able to do nothing.
The psychological wounds must be deep and raw. And yet the overwhelming sentiment is anything but sombre. There are no tears.
But there is plenty of evidence of grit and fight. At a roadside stall, a man is proud we're filming his sign which says "Laban Tacloban" - Fight Tacloban. Again, when he finds out we're New Zealanders, he acknowledges the devastation that the earthquakes left in Christchurch.
At home, we tell him, we say kia kaha - stay strong. It instantly appeals to his combative spirit.
"Kia kaha Tacloban!" he hollers. Even if it was the only thing we left in Tacloban, it would be a privilege to think that we had given one man some inspiration to cling to, our gift from New Zealand.
Laban Tacloban. Kia kaha.
* Tonight, 3rd Degree visits the demolished city of Tacloban to film an extraordinary gift from New Zealand, TV3, 8.30pm.
3rd Degree travelled to the Philippines with the assistance of the Asia New Zealand Foundation.