Reporter David Fisher and photographer Mark Mitchell travelled from Cape Reinga to Bluff in a Kea campervan meeting amazing Kiwis. Today, Bernie Walsh's daughters describe the anguish of putting their father into care
He wasn't a big man, the halfback Bernie Walsh, yet he was a giant in many regards. He's 87, but it isn't age which has diminished him but the dementia which came with it.
In truth, it is a bastard of a thing. That's not language Bernie would have used himself, daughters Anita and Bernadine say, except perhaps in the milking shed.
It's hard, though, to know what sort of a tag to hang on a condition which robs a person of the life they lived even while they're still living it.
Bernie Walsh was always the greatest storyteller in their Taranaki farming family, say his daughters Bernie and Anita. The stories are disappearing one by one as dementia takes its grip. His daughters tell of the anguish involved in putting their father into care, and the sorrow they have at watching the strong role model they love and adore lose grip on the life he filled completely.
Bernie's daughters, Anita, 53, and Bernadine, 47, said their dad was the storyteller in their family. Come and hear his stories, they said, before dementia steals them all away.
The invitation revealed a story of their own - one familiar to any family faced with a parent needing care.
We met in the New Plymouth waterfront apartment Bernie bought for his retirement. It's 18 months since they winkled Bernie out of here yet it is preserved as if he'd walked out yesterday.
"If he didn't have dementia, he would be here now. If he had his mind he could live here happily. This should have been his glory years," says Anita. "He thought he'd come up here and watch the rugby."
They never realised he was so prepared to leave behind the farm he'd run for four decades, at Mahoe in Okaiawa, south Taranaki. Bernie moved in after returning from a trip to Ireland. He became ill while travelling, and never went back to Mahoe.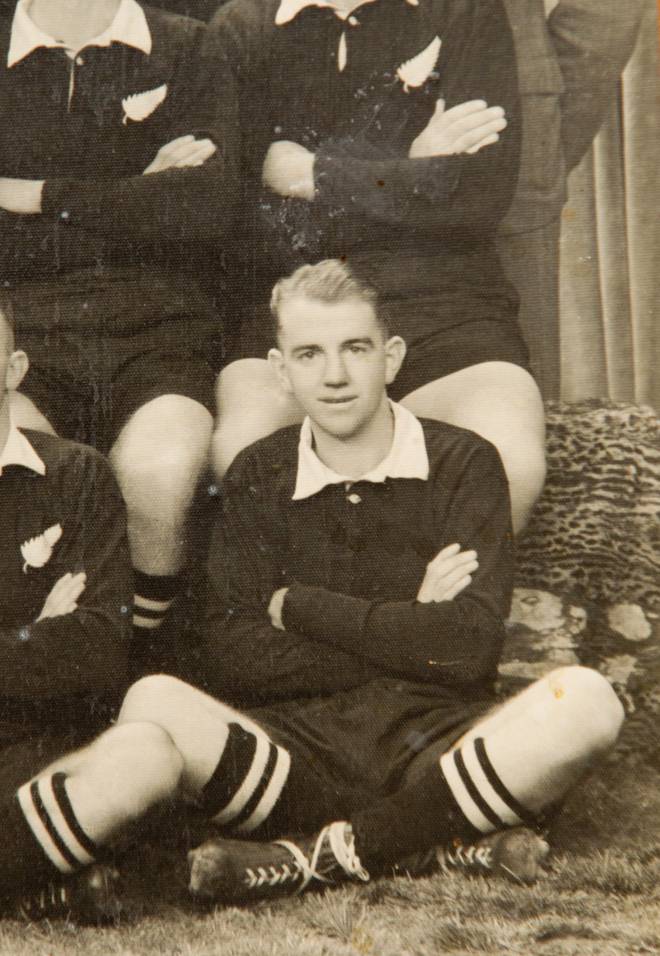 Modern, open, tastefully furnished - the apartment has all the touches of home.
The only item missing, really, is the photograph of Bernie sitting with the 1950 All Black team which faced down the touring Lions.
Anita looks out at the breakers unfolding from the sea on the New Plymouth foreshore. The view was always the wrong one, in hindsight. "Dad never appreciated the sea," she says.
The apartment he'd chosen didn't help. As Bernadine says; "At the farm, people dropped in." But with the apartment, it was different, Anita says. "People couldn't work out how to push the button to get in here and Dad couldn't work out what button to push to let them in."
His whole life, he faced the mountain. He'd look at it and say: "It's going to rain tomorrow." So now he faced the sea, dislocated from the life he had dominated for so long.
It didn't end there. He knew his old kitchen - there was stability in the rhythm of life. Anita gestures to the modern kitchen: "Here, there's this amazing gas thing and a microwave that looks like a spaceship."
The appliances weren't anything he wanted to change - but life swept him along with its own motion. "I just think now he couldn't cope. He moved in here and it was flash. If he could have swapped, he would have gone home to Mahoe.
"He struggled with the concept of changing from one environment to another."
Signs of problems emerged through Bernie's attempt to bring the farm to the city, in a manner of speaking. He was brought back to the apartment, confused. "They found him walking down the (coastal) walkway, looking for the cows to bring in."
They got him a help service, so lunch was prepared daily. While it seemed enough, there was a later shock when they found their dignified and lovely dad was having Weet-Bix for dinner.
Shock, too, when he went away on a bowling trip with friends who felt compelled to call after a few days to ask for help. Routine had masked many issues but the close proximity of a trip away exposed weaknesses in Bernie's management of life.
It brought a frightening realisation. "He was getting confused. It was frightening him," says Anita. "When I look back now, he was probably in a much worse state than we realised."
There was the struggle, then, as the children came to realise the balance had finally shifted, and they needed to make sure Bernie got the care he needed.
"It's this conflict," says Bernadine. "You want him to feel he's an independent person. At the same time, you're thinking, 'can he cope?"'
Eventually, says Bernadine, came a realisation their father was no longer able to live alone or even make the choice to do so. "He needed that 24/7 care. He didn't want to go and none of us wanted to put him there."
Anita: "I packed his bag the night before. The nurse came and said 'come on Bernie, it's time to go to the hospital'."
And that's how they got him in the car and down the road. "He trusted us and we took him somewhere he didn't want to go," says Bernadine.
"I couldn't go in there and look him in the eye," says Anita. "I never brought him back [to the apartment] because I knew we couldn't take him twice. We tricked him, really."
Bernie adapted to his new life. Now recognised, dementia was exposed as a constant companion. Once, when Anita took him out for a haircut, he looked about at the world outside the rest home, saying "we got to New Plymouth quickly", thinking he was still living back on the farm.
Another time, friends called to say they'd seen Bernie walking away from the rest home.
When Anita caught up with him, he told her he'd had enough of the hotel. "I left because that lunch was rubbish, just rubbish. The good news is I left without paying!"
"Come on, Bernie," she had said, "we'd better get you back to your hotel." But there were moments of clarity, too. They take him out, because the home shouldn't be all he sees. Once, returning, he asked: "You're not dumping me there?"
Among the outings was church. Bernie, devout and Catholic, always went to Mass on a Sunday. "People would come up to him in church and he wouldn't know who they were," says Anita. Then people started to simply walk past; stopping to say hello had become too awkward and uncomfortable. Bernie was isolated in the home but also now on the few occasions he left it.
"And this is how people are going to remember him," says Anita.
The sisters worry people will not remember that fine young man who farmed this land, or tore a streak across the rugby field for Taranaki.
Bernie's family roots were in Ireland - his dad one of 15 children, and the one given into the care of an emigrant uncle at age 7 more than 100 years ago to help farm in the new country.
After finishing school, Bernie farmed for family around Okaiawa before the 1965 move close to the southern side of Mt Taranaki, and the farm he bought at Mahoe.
"His great loves in life would be family, farm and rugby," says Anita. In that counting, there was his wife Rita, who died in 1989, four girls, five boys, one farm and three rugby teams.
In rugby, he played for and coached the Okaiawa team while also playing for and helping administrate Taranaki, serving for a while as the union's president.
He was a great speaker, say his daughters. There was a great dignity about him, too, which accorded people consideration and respect.
And he loved a yarn. "He was the family storyteller," says Bernadine. Anita says: "He knows all these great stories that make you laugh. They're there - but nothing past his 20s. It's either in his 20s or he jumps straight to now."
When I visited, Bernie told of being a ring-in for a neighbouring district in a rugby game, winning 100 for the coach. He didn't see a penny, for all he cycled 30km there and back again.
And he laughed to tell of a famous rugby trip to Southland, during which there was competition against the home team's beer drinking champion. Bernie mimes the opponent's head flip-topping open to allow beer to be poured into a bottomless gullet.
But one of the greatest stories peers out of a photograph hanging on the rest home wall - the only one removed from the abandoned apartment, of young Bernie in an All Black team photograph from 1950.
It was the first tour in which the touring British Isles team was known as the "Lions". They bowled through three provincial sides, got knocked over by Otago and Southland and then held the All Blacks to a nine-all draw at Carisbrook in Dunedin.
Ron Polanski's centennial history of the All Blacks tells how Vince Bevan played halfback in the first test but the selectors were cautiously waiting, interested in Bernie.
There was a weekend's break between the first and second tests. When Bernie ran out to play for Taranaki against Wanganui, it was with the selectors on the sideline, gauging the mettle of their new candidate for halfback.
Played at Spriggens Park in Wanganui, it went badly for Taranaki who lost 6-13. It went badly for Bernie, also, who was taken from the field with a gash to the chin after a collision with teammate and All Black Roy Roper, who lives in Taranaki. An x-ray later revealed Bernie's jaw to be broken.
"It was his one big chance and he missed out on it," says Bernadine.
Bernie was named in the reserves for the second test. He sat on the bench and watched the All Blacks put down the Lions 8-0, and later was included with the other reserves in the team photograph for the test. While the reserves wore the black jersey, none of them had the silver fern on the breast.
The picture hangs on the wall of Bernie's sparsely furnished room in the home - a room half the size of the bedroom in the apartment he never quite settled into. After a lifetime of sleeping in a double bed, he's relegated to a single.
Bernie's wife Rita looks down from the wall - it's 24 years since she died and his connection to her can be as distant as many other parts of his life.
Bernie looks about and asks: "What room is this room?"
"This is your room," says Anita.
There remains a sharp wit and humour which emerges on occasion, and you can see how Bernie kept and still keeps his girls on their toes.
They keep him on his, now, prompting and cajoling and watching, always, to make sure he's being treated like the man he has always been and not something less.
Anita asks: "Which would you rather? Your mind or your body to go? Dad wouldn't want to be where he is. He certainly wouldn't want to be there. 'Shoot me first', he'd say."
Bernadine: "It's a bit like you've lost your dad already - but he's still there."
One day, Anita was rubbing liniment into her dad's knee when he asked: "What you reckon about that knee?" She replied: "It's good, dad."
"Ready to play?"
"I think so."
"Got practice tonight," he said. "If you're in a team, you have to go to practice."