It's the 20th anniversary of Splore. Weekend magazine looks back on the top 20 moments in its history, and what to look forward to.
2. Hope
By 2002, Splore had moved to a beautiful new location in Waharau Regional Park in the Hunua Ranges, 11km south of its present site. That was the year that Fat Freddy's Drop played in a geodesic dome that had been specially imported from America. And you don't have to imagine how it was – it's captured in the official video for the band's classic single, Hope.
3. The art trail
2002 was also the year a 25-strong alternative circus arrived from the Burning Man Festival – and the first time an art trail was presented. It was, says Wright, "the tipping point in Splore moving from being a dance party to something bigger".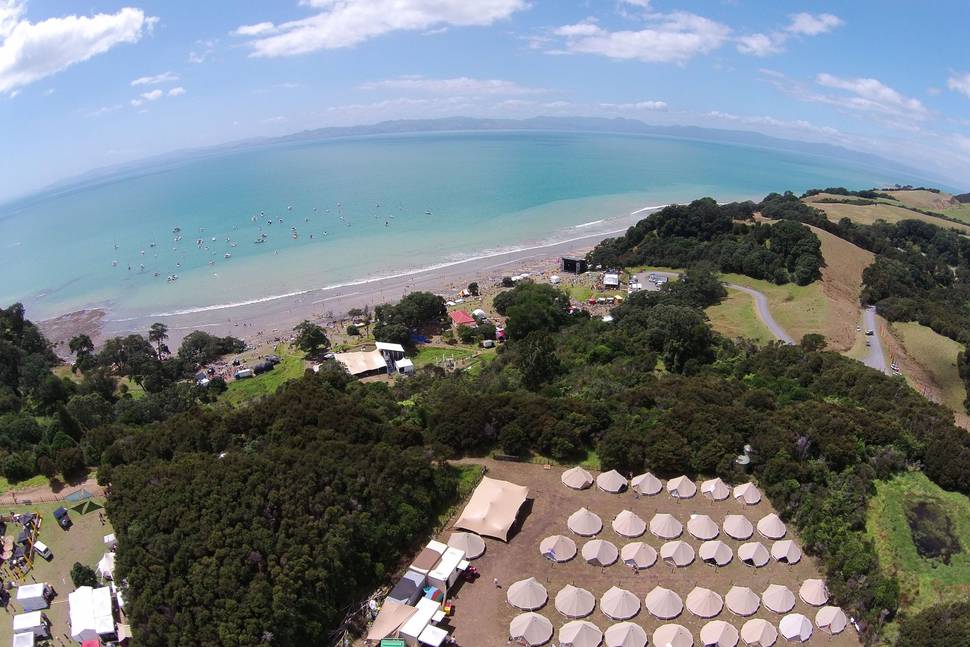 4. Tapapakanga
After unhappy locals blocked any more festivals on the Waharau site, the team (now with present-day festival owner John Minty on board) had to find a new home. Once-hostile park rangers, says Wright, "had come to see that we were serious. One said, look we know this other park and took us down to Tapapakanga. And we went, oh my God, this is quite nice. Let's give it a crack here!"
5. Tangata whenua
The move to Tapapakanga in 2006 produced a new and enduring relationship with Ngāti Whanaunga and Ngāti Paoa, whose ancestral lands lie within the park. The relationship between Splore and the tangata whenua is both strong and reflected in history. One of the two pou whenua at the park entrance depicts James Ashby, a farmer who formed a lifelong friendship with the local chief Tukumana Te Taniwha. Ashby's turn-of-the-century farmhouse is now the base of operations for every Splore. John Minty says iwi representatives were immediately supportive of the festival because "they were on the ground and could see what was happening. They've always been pretty cool." Streetwise US hip-hop artists have been left in tears by the annual powhiri.
6. Wedded bliss
One of the most remarkable things about Splore is that every year, two or three couples choose to get married there. The first Splore wedding, in 2006, was conducted by celebrant (and long-term Splorer) Hilary Ord, who has since officiated at all but two of the festival's nuptials. She says ceremonies at the far end of Tapapakanga beach, by the lagoon are the loveliest, and her favourite of all has been "the one where I married two young people who went to Splore as children. They'd been there as toddlers and young kids with separate family groups and got married in their early 20s. I think that's pretty significant. There was real generational sense to it." There are two scheduled for this year's Splore – and for the first time, the festival has a dedicated wedding planner.
7. Hip-hop turns up
The new site also ushered in a more expansive line-up, and Minty regards Brooklyn rapper Talib Kweli as a pivotal booking. "He was what many people regarded as a non-Splore act. But that really put us on the map – people saw that it wasn't just a hippie fest, with breaks and trance music. It was a good way of stamping a new look on Splore."
8. Dressing up
No one's quite sure who first started calling Splore "New Zealand's biggest dress-up party" but the Saturday night costume turnout is now emphatically part of the Splore culture. The tradition began in 2008, with the introduction of the Living Lounge stage. A Saturday night Living Lounge event called the Butterfly Zoo made dressing to a Shanghai Lil theme a condition of entry. "Everyone dressed up in these crazy outfits, this beautiful attire," says Wright, "and it just grew from there." Now, the whole site is alive with finery on Saturday nights.
9. Mistress Trash
These days, the Splore site is kept clean by well thought-out systems and bright-eyed volunteers. A decade ago, things were a little more alternative. "Back in those days we had a lady called Mistress Trash [Zandra Palmer]," says Minty. "She used to go around dressed up as a dominatrix on a dirt bike and whack people with a whip if they were dropping rubbish."
10. Erykah and the deluge
No one who was there could forget it. It was Friday night at Splore 2012 and neo-soul queen Erykah Badu was holding court on the main stage. And then the heavens opened – saying "it rained" really doesn't capture the magnitude of what took place. If Badu really had summoned down the deluge, as she claimed from the stage, she was a powerful queen indeed. Some punters stayed in place and partied, while others raced up the hill to shelter in the food stalls – and, in a very Splore way, pitch in to help stallholders prevent their shelters from collapsing. It was all over in about 45 minutes and the weather was quite nice for the rest of the weekend.
11. A better way to go
The unprecedented crowd of 2012 had put Splore on the map – but also exposed weaknesses. Although the festival had long prided itself on a focus on sustainability, its systems didn't cope. Toilets and bins overflowed. "And I thought, you know what?" says Wright. "I'm going to do one more Splore and I'm going to do it right. It's going to be the most sustainable festival you can have." For 2014's festival, reusable Globelet cups were introduced, food vendors were required to use compostable serveware and – momentously – the first composting toilets were installed. (They were actually quite good.) These and a raft of other changes set a new standard – and won Splore an international Greener Festival Award. "2014 was so different from 2012 – and the attitude of the punters was so different," says Wright, who retired happy as festival chief. "If you create the right pathways for people to be able to engage, they will want to do the right thing."
12. The raver's return
Ageless English raver and club pioneer Barry Ashworth first came to Splore in 2017 with his group Dub Pistols – and since then it's been impossible to keep him away. He was there as a DJ last year and he's back with the band for 2019. He sums up Splore's appeal as, "Beautiful location, beautiful people, beautiful country."
13. The mud people
Rain fell for days before Splore 2017, meaning the site was soaked before the crowds even arrived. "Friday was daunting that year," recalls festival producer Fred Kublikowski. "The site slowly turned into mud and we had all kinds of challenges getting people in and getting set up." And yet many punters recall 2017 as their favourite Splore of all. Perhaps it was the mud people. As Fat Freddy's Drop played their Sunday headline set, a growing group of dancers simply embraced the mud in front of the main stage and got covered head-to-toe. And as the band signed off, the muddy mob streamed out of the crowd and into the sea to wash off.
14. The volunteers
In the crowd at Splore it's increasingly common to hear foreign accents. The festival has become a big draw for young travellers. "A lot of those kids are part of our volunteer team," says Kublikowski "It's a great opportunity to experience our festival for free and get amongst it. Some of them could afford to pay for a ticket but they like the camaraderie of being on the volunteer team."
15. The kids
Splore's original party people grew up and started families – but they still wanted to go to the party. The beachside Rumpus Room was created by Anne and Jamie Larnach, who helped found the festival, to provide activities for families like theirs. As their kids have grown up, they've passed on the mantle, but, says Anne Larnach, it's still a place that recognises and nurtures the "different experience of Splore" that taking the family represents.
16. Feed your body
Most of Splore's food vendors having been coming for a long time – they're Splorers like everyone else. In recent years, the Banquet Club has provided a next-level option. Splorers can book Friday and Saturday night dinners and Saturday and Sunday brunches – all prepared by Mint Kitchen and curated by Myken.
17. Feed your head
Splore's talk programme, the Listening Lounge, is curated by journalist Russell Brown. Saturday morning at the Living Lounge stage sees the kind of discussion you won't find anywhere else, with local and international guests. This year's topics include psychedelic therapy and strategies for keeping Auckland weird.
18. Get well
Wendy's Wellness is now in its third year, with a free programme curated by Wendy Douglas that incudes multiple yoga and healing practices, a kombucha-making workshop and more. Founder Wendy Douglas emphasises that it's all open to everyone. And what's popular? "Laughter yoga was an absolute hit last year."
19. Get wet
The restorative power of a swim – ideally more than once a day – is a key part of Splore. Where else can you bathe at a beautiful beach and listen to the festival main stage at the same time? For a more tranquil (and somewhat brisker) dip, there's the freshwater lagoon at the end of the beach.
20. Lucky Star
What goes on at Lucky Star stays at Lucky Star – and so, quite frankly, do the punters. Splore's late, late zone is hard to describe – but oh, so tempting.