Kimbra shows her fighting spirit in her new album, finds Paula Yeoman.
Kimbra's second album comes with great expectations. And no one feels it more than the Hamilton-born singer. "She's got the potential to be like Prince," the chairman of Warner Brothers Records, Rob Cavallo, told us in 2012 when her first album Vows debuted at number 14 in the US Billboard charts. The young star brushed off the comments as flattery and nothing more, and went on her merry way, winning two Grammy Awards with those exquisite vocals on Gotye's global smash hit, Somebody That I Used To Know.
The New Zealand media lapped it up - the girl from the "Tron" done good. She need only sneeze and we wrote about it. The hype has long died down. Thank the Lorde. But on the eve of the release of The Golden Echo, everyone wants to know, does Kimbra Johnson have staying power?
"I don't think expectation is a bad thing. I think of it more as a challenge," the 24-year-old says.
"If expectation is something that cripples you in your creativity and stagnates you and makes you insecure about every decision you make, that's negative. And I am human, so I've had moments like that, where I'd doubt myself immensely. But for the most part, that sense of expectation I felt was like a driving force to be more ambitious than I have ever been."
Johnson is chatting from Los Angeles, where she has been based since that head-spinning night early last year when she stepped on stage at the Grammys to accept one of her awards from none other than Prince. The next day, she moved to a small city farm in the Silver Lake neighbourhood and set about writing record number two.
The excitement and passion in her voice as she talks about the new music is palpable. She is speaking so fast it's hard to keep up.
"I was consumed. Consumed! But you know, it was joyful consumption," she says of the months she spent poring over this album, almost to the point of obsession.
Johnson worked on pre-production at her house on the farm, "sitting up in my bedroom, living and breathing the songs" before entering the studio with producer Rich Costey where the pair would toil for hours.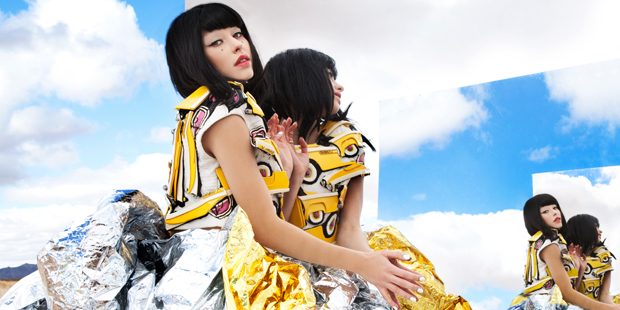 Kimbra has proved she is in the music business for the long haul.
"We'd go into the studio at 9 in the morning, which is not normal. Most musicians start around 1 or 2 in the afternoon and go late. But we started our days around that time and we'd finish most nights after 1am."
Having had success with Vows and Gotye, Johnson was presented with numerous opportunities to collaborate and met a number of producers before she finally clicked with Costey, who has worked with everyone from Muse, The Mars Volta and Arctic Monkeys to Foster The People, Fiona Apple and Birdy.
She recalls with amusement the tough job Costey had when it came to reining in her enthusiasm.
"I would get to that extent where I'd done so much experimentation with a song I was crashing Pro Tools [digital audio workstation] in the studio. I'm serious, over 300, 400 tracks on a Pro Tools session," she laughs. "It's a positive thing because you're allowing yourself to go wild but Rich would never tell me that it was the wrong way to go about it. He would help me come to my own realisation."
Johnson clearly got some of that wild side past the keeper. The Golden Echo is a rich and experimental tapestry of influences - pop, disco, funk and much more - in which songs take unexpected twists and turns. Those hoping for an instantaneous hit might be disappointed, however. These tunes are growers and this isn't music made just for commercial purposes. It's textures and layers of sound; music made by an artist who has honed her craft to perfection on stage.
"I was used to directing a band and working on collaborations with the band, where rhythm and experimentation was so much more of a driving point on stage. You know, I came up with whole new versions of songs on stage. In the studio, I knew I wanted to be much more focused on rhythm and knew what I wanted to get out of the live musicians."
It is a departure from Vows but Johnson says it was very much made with the same spirit.
"I approach music with the same intention as I did when I was a 14-year-old doing songs in my bedroom on my guitar. I really put ambition on a high pedestal when I create. How can I be fearless about this and take risks halfway through songs? How do I not be too self conscious about how people are going to perceive it?" she says.
This fighting spirit shines through in everything Johnson does. She is incredibly talented and there's no question she could have churned out a bunch of radio-friendly tunes to please the masses, and those who control the purse strings. But cookie-cutter pop tunes haven't earned Johnson her success thus far and that's not about to change. She has made The Golden Echo on her terms and that's to be applauded.
"It's hard, because when it comes to getting a tour together, having money and having commercial success can be extremely helpful. So I have empathy for artists who have gone down that road. And I've thought to myself, it would probably be a lot easier if I did that," she says.
"But at the same time, this is something I can't shake. I need to be able to stand behind every word and sound and feel that it comes from a place of conviction. It's very hard to walk into a studio and come out with a song you wouldn't want to listen to yourself."
She is fully prepared for some people not to like the new album. But she has a legion of loyal fans who have already embraced the first singles - the colourful mash 90s Music and the disco-fuelled Miracle. Add to that the young singer's fierce determination and you know Johnson is in it for the long haul.
"It's like, man, I know now that a song I sang on in a bedroom and songs I wrote when I was 16 can resonate with people all over the world and have more than a million YouTube hits. I know the potential, the infinite possibility of work, what work can do when you put your heart and soul into it. That's created a spirit of fearlessness in me."
Kimbra's new album The Golden Echo is out on August 15. Kimbra will perform a DJ set at 1885 in Auckland on Saturday.