Two classic cars that profoundly influenced automotive design and aerodynamics from opposite sides of the Atlantic will cross the block at Shannons Sydney Winter Auction today.
In order of age before beauty, first up from the United States comes a 1934 Chrysler Airflow CU "Eight" four-door sedan, considered the first mass-produced streamlined car.
The Airflow was a milestone car, both for its aerodynamic design and steel tube frame construction.
Its shape was the result of extensive studies carried out in a wind tunnel by the company's engineers under the direction of Carl Breer, charged with developing new ideas by Walter P Chrysler.
Adopting a "cab-forward" design, with the engine positioned above the front axle to maximise interior space, the Airflow's construction was equally ingenious, consisting of a steel tube frame with steel panels welded on, an aircraft-inspired technique predating unitary construction by some years.
The Sultana Sand Airflow being auctioned on Monday is well known in classic car circles for its starring role in the 1953 Redex Round Australia Trial as the first car to leave the Sydney start, proudly wearing Number 1.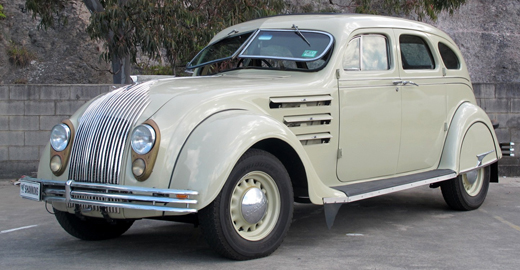 1934 Chrysler Airflow sedan
Originally sold through Lane's Motors of Melbourne to a dentist in Wangaratta, Victoria, it has been in the current family's possession for two generations, having been purchased by Eric Hoy from its first owner when the car was just a couple of years old.
The Chrysler was subsequently restored for the Redex Trial 50th Anniversary re-run of 2003 and remains in fine condition throughout, with a delightful patina, according to Shannons, who are quoting a realistic guiding range of $28,000-$42,000. However, given its excellent provenance and future investment value, the selling price could easily be higher.
Meanwhile, from the UK is an incredibly beautiful 1951 Jaguar XK120 Roadster that stunned the world on its launch at the 1948 Earls Court Motor Show with a combination of streamlined styling and 190km/h performance in an era when most sporting cars could barely get up to a speed of 160km/h.
The Jaguar XK120, with its film-star looks, arrived like a thunderbolt out of the gloom of post-World War Two Britain, capturing the public's imagination in a way few cars have done before or since.
It immediately lived up to its performance promise, setting speed records in Belgium and winning the Le Mans 24-Hour race twice.
The factory right-hand-drive Jaguar XK120 being auctioned by Shannons was originally delivered through Jaguar's Victorian agent Bryson Industries in 1951 and is in excellent mechanical condition following limited mileage since its engine was apparently completely rebuilt in 1997.
It still looks stunning after a refurbishment in 2005 with new ivory paint and contrasting red leather interior, with Shannons believing a surge in XK120 values in recent years should see it sell in the $100,000-$125,000 range.